Resource:How to lead a startup workshop about civic technology
Jump to navigation
Jump to search
Introduction
This article provides information on how to lead a startup workshop about civic technology that can help connect several different campuses. The process is based off of Bradley Dice's work with #OneDayKC and the effort of those who helped plan the event. #OneDayKC was meant to bring together a group that had a common purpose of furthering lean startups and design thinking within the Kansas City area. This can be done on your own campus to kick-start a generation that thinks about the needs and problems in the surrounding community.

Why?
Have you ever thought about jumpstarting design thinking and change strategies in an area where those concepts have yet to be established? Or if you want to see an increase in involvement of students in the local community/institution, then leading a startup workshop for civic technology is just what you need to do. The purpose is to foster collaboration through interdisciplinary partnerships and the joining of multiple institutions. This allows for a greater variety of students to be reached. It will also help gain community awareness and support that will increase participation in innovative design and entrepreneurial thinking.
Get Support
The importance of stakeholders cannot be stressed enough. They are a crucial part of getting the workshop together. Stakeholders will provide funding and may even help connect you to people and places that will be able to host the event.  Make sure that you set up the appropriate meetings and gather support from those that really want to see an improvement on innovation and entrepreneurship in the community. This also goes for influential speakers and hosts for the event; if it matters to the speakers, the participants will see that and respond positively to it. You may consider requesting help from mentors, speakers, sponsors, or judges.Also, gather support from local innovative centers, like incubators/accelerators, and speakers that specialize in fostering design thinking. The purpose of this event is to get students thinking about startups and changing the community they live in.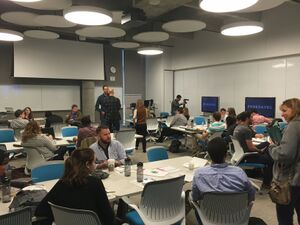 Who's invited?
Don't rule anyone out. This event can be geared specifically toward college students, but you can never begin thinking about startups too early so you might want to reach out to high schoolers as well. As far as getting the students on board, pitching workshops to showcase what they would see, do, and learn is a great way to go about it. Remember: investment equals seriousness; have participants submit a resume and/or application and they will be more likely to show up and become invested in the event.
Timeline
Start early and pick a reasonable date that you know you can make work. Three months is typically a safe place to start. This will give you time to get plans, stakeholders, curriculum, and locations squared away if planning starts on time. You will not need to start getting participants on board until about a month and a half out. That will still give you time to get plans finalized and to get students thinking about the event but not enough time for them to forget about it.
Activities & Curriculum
The activities you plan to provide should fall into accordance with the amount of time you have set aside for the event, i.e. a 12 hour one day event or a three day long event. Think about the locations that are hosting the activities and the time it will take to travel in between. As far as the startups go, it's all about getting out of the building. Take the participants into the community to get actual feedback and validate the problems in the area. Keeping the group's "home base" in one place for the day can be beneficial, since every minute is valuable for students to be getting out of the building and validating their Lean startup ideas. Make sure to mix it up with speakers as well as hands-on collaboration.
You must also have a desired curriculum for the event and an idea of what you want participants to take away from it. Have someone who is involved with innovation/startups in charge of this. It would be beneficial to focus on an area that everyone relates to but engage different demographics and different majors/departments because this will allow other perspectives to be brought to the table. Remember: start with the problem and work toward the solution. Have participants ask questions in the form of 'how might we…' in order to offer up an open-minded set of solutions, instead of locking into a single solution before understanding the problem.
= Extra Links = Check out the #OneDayKC Description here: https://docs.google.com/document/d/1Qy_HAnQHhZlHS37VA1oM3TTcqgxvr_b0pTzg-BnOkSk/edit
Written by: Jessica Zahn, Sarrah Truong, and Talha Rehman