Resource:How and why you should organize a 'Free Hugs' event to kickoff the school year
Jump to navigation
Jump to search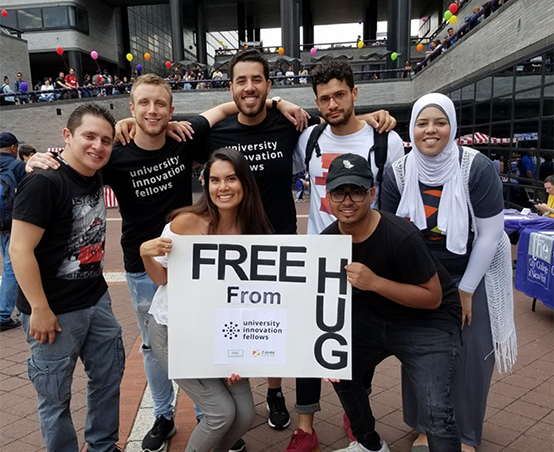 ''In hugging, as in life, there will be'rejection. Don't worry about it, keep doing good!"
Introduction

The concept
With all of the problems in the world today, everyone could use a little more love in their lives, so having an easy, low stress way to do that can make a large impact on the campus and everyone in it, so what easier way is there than giving hugs to people?
The Origin
The idea of a 'Free Hugs' event on campus came about as an idea to "spread the love" as students get back in the swing of the semester.

The Importance
This event gave students a way to talk about how they feel, what kind of things they might want changed on the campus, and someone with whom to talk. The goal was to make students more comfortable on the campus.

Simplicity
One of the major advantages of this initiative was the simplicity of the idea and its execution. A Free Hugs event can create a big impact on individual students. This big impact was seen as especially true for new students who did not yet feel included in their university community.
Possible outcomes

Possible outcomes of this event include:
Spreading love, care, and friendship among students.

Making students, especially the freshmen and transfer students, feel welcomed.

Building local and community awareness of UIF through personal marketing and potential media coverage surrounding the event.

Interviewing students and asking them about their lives, and their stories; what they are going through, what they are excited about for the upcoming semester, etc.

Learning about opportunities for improvement at your university, for example course signup, information services, workload, etc.
Key elements of success



Timing
Mahmoud leveraged existing welcome events on campus to ensure that many students would be in the vicinity when they held the event. This ensured that the event was properly framed in the students' minds as a welcome event, and it increased the number of students that Mahmoud was able to reach. Other options include stressful times like examination periods or the ends of the semester.
Mentality
Some people don't want a hug, Mahmoud cautioned his team that this might be the case, and stressed that it's not the team's job to force anyone to hug them. Their purpose there was to share some love with the people that passed.
"Some people just don't like touching people, or it's a cultural thing, or whatever. Don't force hugs on people! You can just smile at them and try and spread love through some other way instead!," Mahmoud said.
Organization
Mahmoud's event
Structure of the event:

During City College of New York's Welcome Back event, in front of the university's main building, Mahmoud and several volunteers held "Free Hug" signs and wore beaming smiles as a way to brighten their fellow student's days.

Where:

Mahmoud positioned himself on campus near where the welcome event was happening for his College. Can be done anywhere on campus, from one location or multiple depending on the amount of so-called 'huggers'.

Cost:

For Mahmoud and team the cost was nominal, just the cost of purchasing two posters.  Mahmoud stressed that this event could be held for free. If you wanted something like t-shirts, you would need to pay attention to the jump in cost.
Scaling the program
One way to scale the program is asking those who receive free hugs to pass it on to others. So instead of having 2 agents giving out hugs, there are an increasing number of huggers, creating viral love on campus!