This site will go under maintenance from 25-11-2020 to 30-11-2020. It might not reachable during the maintenance period.
Fellow:Ramya Sripada
Jump to navigation
Jump to search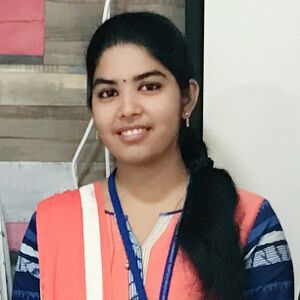 Ramya sripada is currently pursuing her under graduate program in Sagi Rama Krishnam Raju Engineering College(Bhimavaram, India). She is from palakol.  She is one of the Senior Body Member in Indian Society for Technical Education.She focusses mainly on one quesion on any topic that is "what is the origin that lead to a vast development" and a strong believer of "practice makes man perfect". She is a hardworking person and confidence is her srength. she is passionate about dance. Her interests are travellig, playing shuttle giving speech in front of huge number of audience. She believe's that the way we speak represents ourselves. So she keep on improving her speaking skills.
Her aim is to bring change in the current education system. Mainly the syllabus being followed in the schools. The books that were published long back are in usage and we are learning the old technologies. The syllabus should be updated. She also want to establish a startup nothing but creating a website which acts as a platform for technical communication between two parties.She wants to organise Ted talks and also want to learn skills on how to become a speaker for TED talks.
Related Links
Landscape Canvas Link&nbsp: https://docs.google.com/spreadsheets/d/1-dOlC6GBhA_3LdkaQbYvjlIHxsgXkwTuF7teGI_VCxM/edit#gid=0
Campus Overview Link : http://universityinnovation.org/wiki/Sagi_Rama_Krishnam_Raju_Engineering_College
Student Priorities Link: http://universityinnovation.org/wiki/Sagi_Rama_Krishnam_Raju_Engineering_College_Student_Priorities
College Website: http://www.srkrec.ac.in/
College Technology Centre Website: http://www.srkrcampus.net/techcentre/
College Pitch Video: https://www.youtube.com/watch?v=FHA2zzINaf4&feature=youtu.be
Spring 2017 Team: Dinesh, Ajay , Srikanth , Susruth
Fall 2017 Team :  Uday, Phani, Ramya, NagaMani
---
---