Priorities:University College of Engineering JNTUK Narasaraopet Student Priorities
Jump to navigation
Jump to search
OVERVIEW
After the completion of Landscape Canvas, we had an idea of improving Innovation and Entrepreneur Culture in the institution. We believe that"When you focus on problems you will have more problems when you focus on possibilities you will have more opportunities".  So we focused on four strategies to reinforce Innovation and Entrepreneurship in our campus. Strategies include Innovation Club, Inspirational talks of successful entrepreneurs, Industrial visits and internships and workshops with hands-on experience.
FALL 2018 PITCH VIDEO

STRATEGY #1: INNOVATION CLUB
Startup culture in our college is at its early stages. To develop Innovation and Entrepreneurship culture in college, first, we would like to have students to work together. There is a saying "We learn 25% from teachers, 25% from observation, 25% from oneself and 25% from student peers". The purpose of Innovation club is to bring students from different domains together on a single platform to share ideas, help and learn from each other and provide solutions. This club will have a President, Vice President, Secretary and members. The President takes the responsibility in organizing meetings and making club active.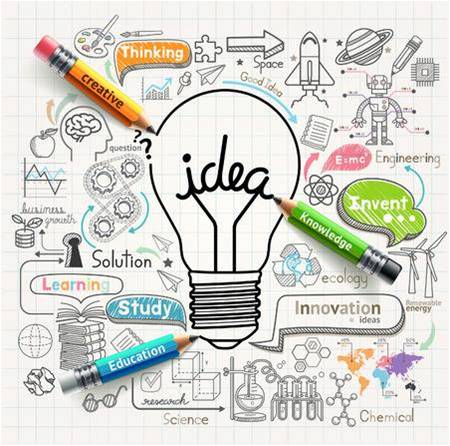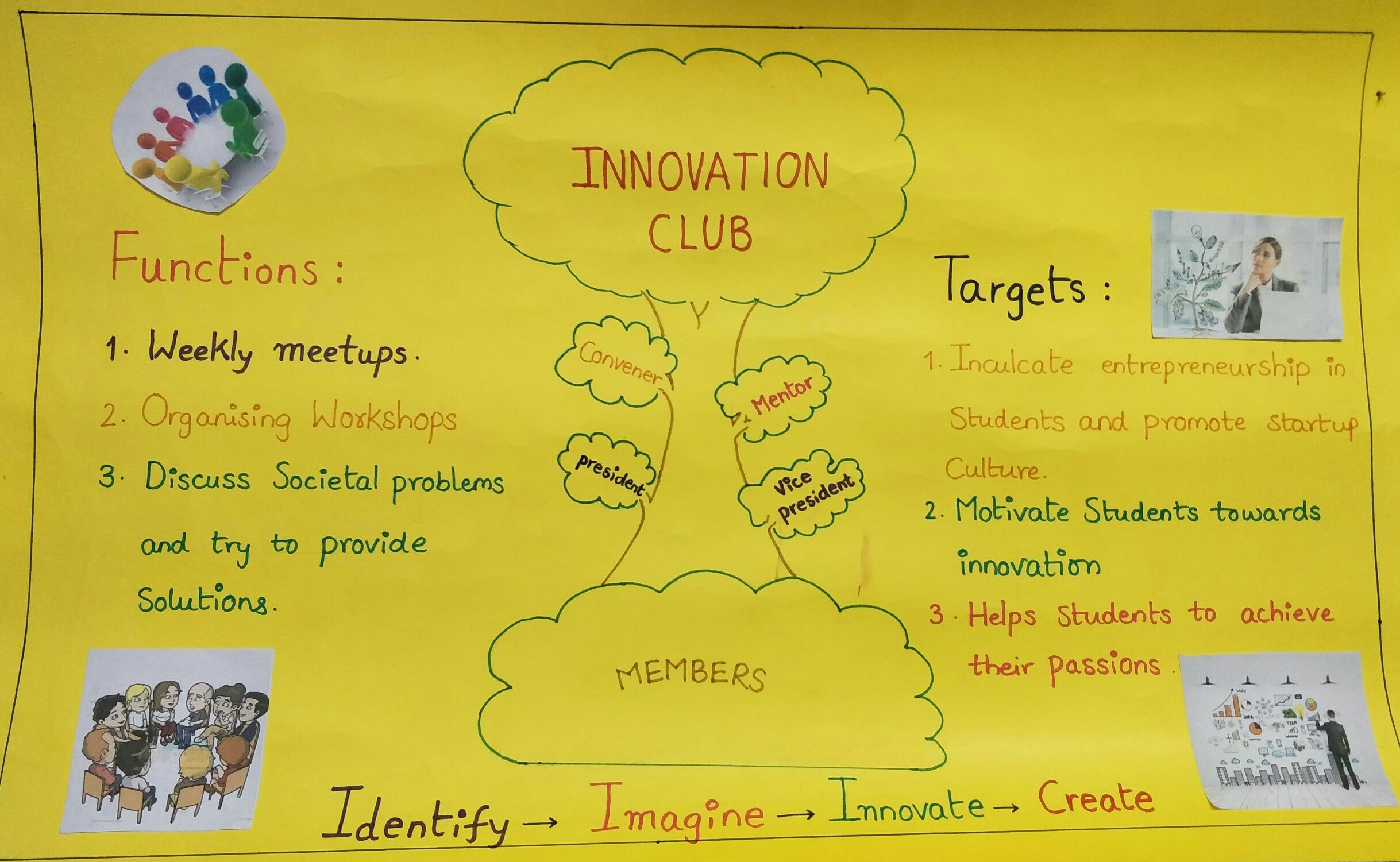 Objectives of Innovation Club
Helping students in achieving their passions by providing a platform to express their ideas.

Motivating students to focus on societal problems and encouraging them to provide novel solutions and work on them. This helps them in coming forward to set up a startup.
Achieving great solutions by making a team of interdisciplinary teammates.
Students are finally promoted as entrepreneurs
STRATEGY #2: INSPIRATIONAL TALKS OF SUCCESSFUL ACADEMICIANS AND ENTREPRENEURS 
Experience teaches us many things; experience and last mistake are the best teachers. There is a saying bySwami Vivekananda "Take risks in life if you win you can lead If you lose you can guide". If you observe the life of an entrepreneur from his initial stage of innovation to end we can learn many things from his ideas, decisions, mistakes, learning and experience. So we would like to have their presence in our college to have their words as sparks to ignite us towards Innovation and Entrepreneurship.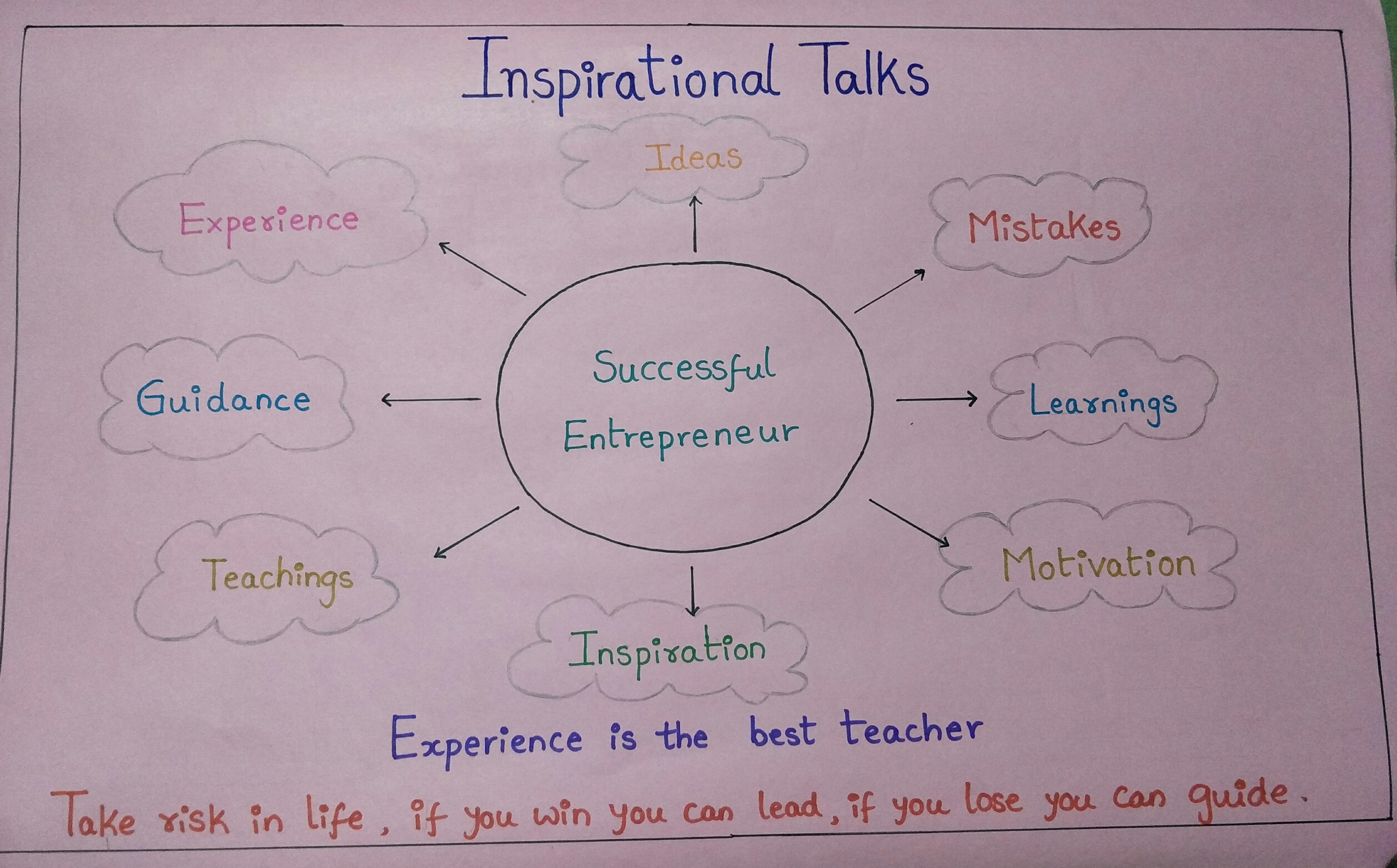 Objectives of Inspirational talks
Learning from what they did during the initial days.
Increase motivation for Innovation and Entrepreneurship in students.
Learning from their experiences.
Helps students to initiate a startup. 
Inspirational Talks

1.      We had an Inspirational Lecture from K.Ravi, CEO of Ennovator Ingineering.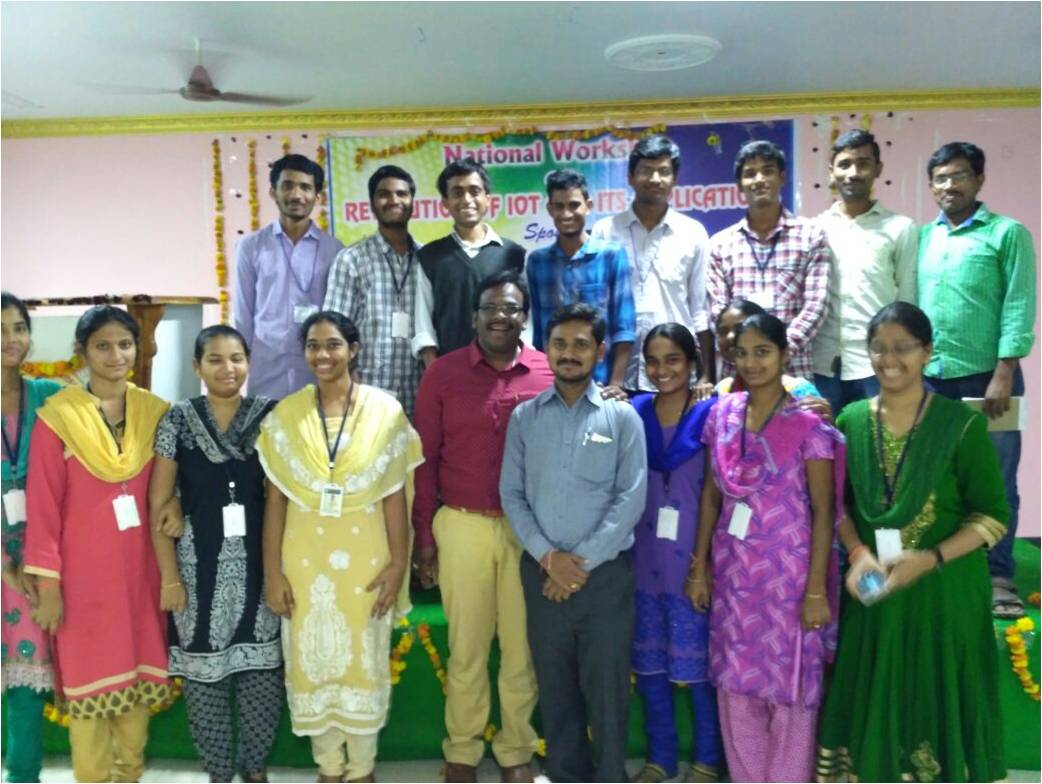 2.      We also had an 'Inspirational Lecture' from V Chaitanya, Marketing Manager of South India Ford.
STRATEGY #3: INDUSTRIAL VISITS AND INTERNSHIPS
There is a saying "OBSERVE, ABSORB,  APPLY". This can be achieved when we first observe things which are well established successfully. So, when students visit industries, they will have an idea about the functioning of the industry and when they do internships in industries over a period of time, they will have an overall idea about it which inspires them to establish industries based on their Innovative Idea and this turns them as Entrepreneurs. When we do an internship in industry, we are exposed to the working environment and will come to know how an industry is solving people problems and meeting their needs.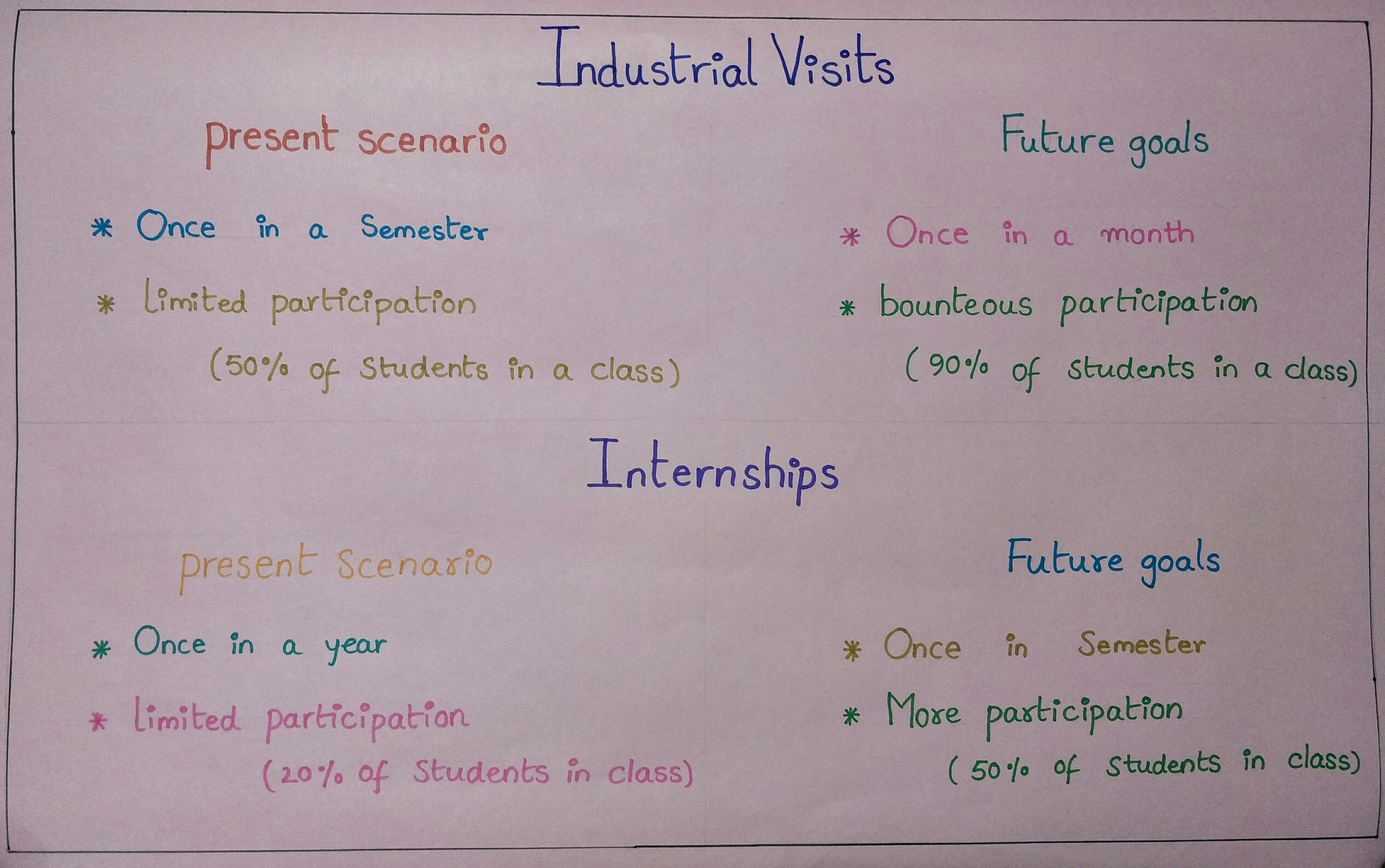 Objectives of Industrial visits and Internships
Knowing industrial needs.
Providing solutions for problems in industries.
To run a good industry.
An idea about the components and functioning of Industry.
Finally, get inspired to start a new industry. Our students visited several industries and have done many internships.
Industrial Visits  

During Industrial visit, we followed a concept of SHADOW ENGINEERING. It means always following an engineer to know about the work process completely. 
1.        Cement Manufacturing Industry
2.        Plastic Bag Manufacturing Industry
3.        Srisailam Dam and Nagarjuna Sagar Dam
4.        VTPS (Vijayawada Thermal Power Station)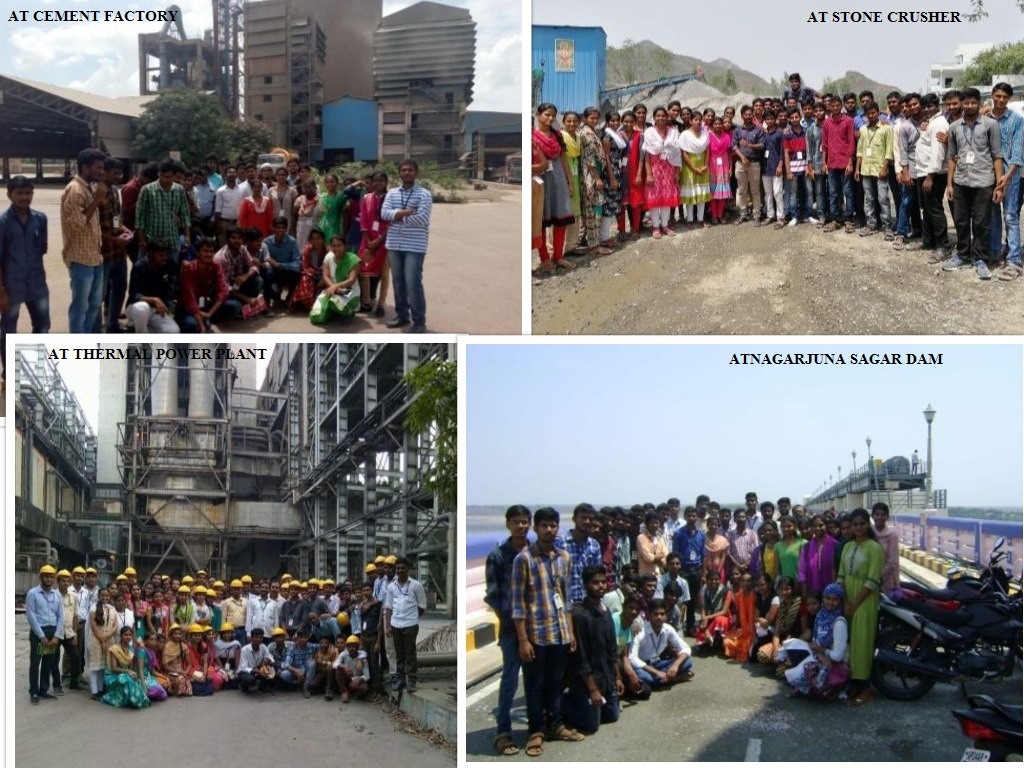 Internships

1.      Polavaram Irrigation Project, Life Line of Andhra Pradesh 
2.      BHEL ( Bharat Heavy Electronics Limited)
3.      APTRANSCO (The Transmission Corporation of Andhra Pradesh)
4.      DRDO (Defense Research and Development Organization)
5.      ECIL(Electronics Corporation of India Limited)
6.      BSNL(Bharat Sanchar Nigam Limited )
7.      BEL(Bharat Electronics Limited)
8.      IDGC( Indian Game Development Challenge)
9.      Andhra Pradesh Janmabhoomi for development
10.    Uppalapadu Swachh Bharat Summer Internship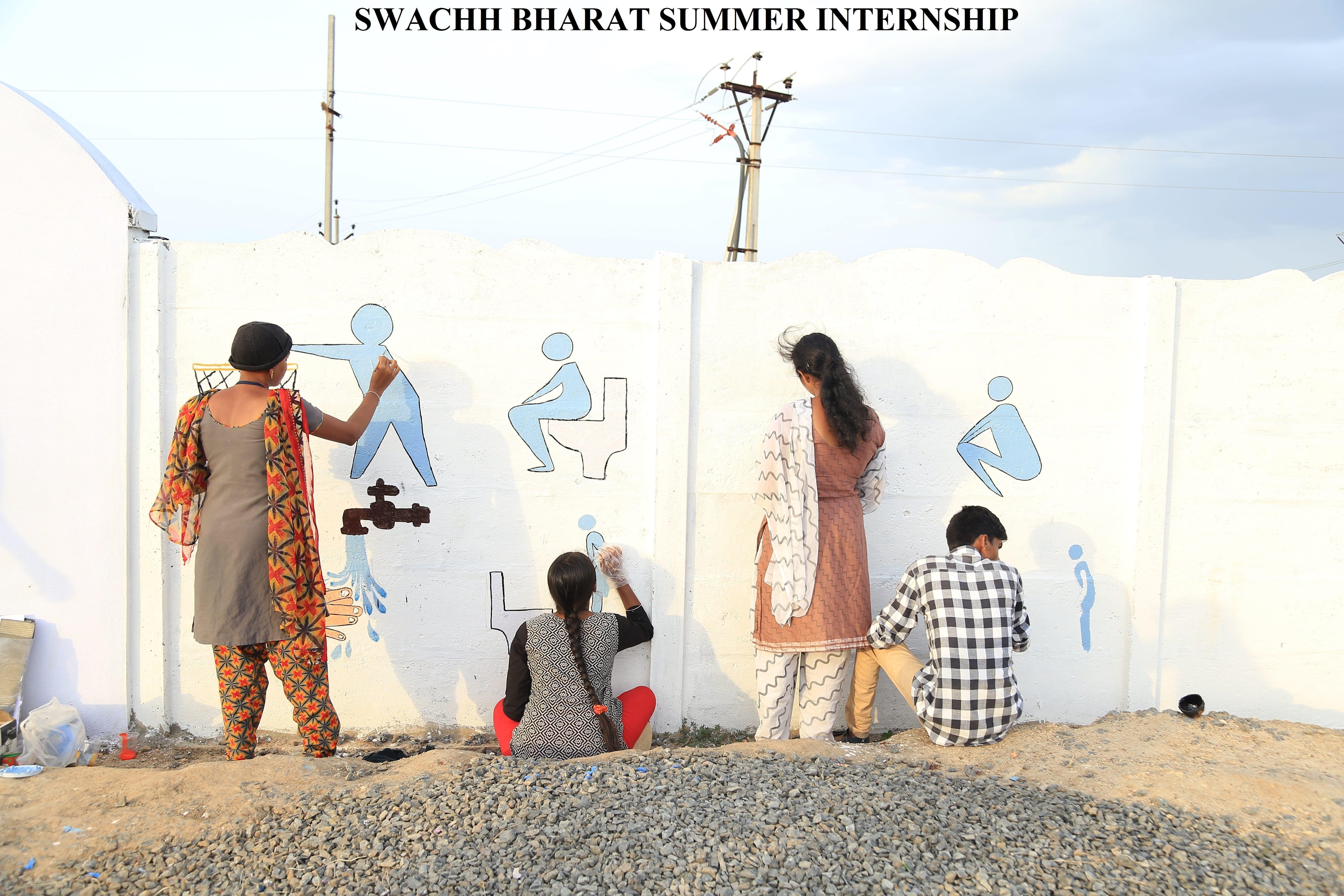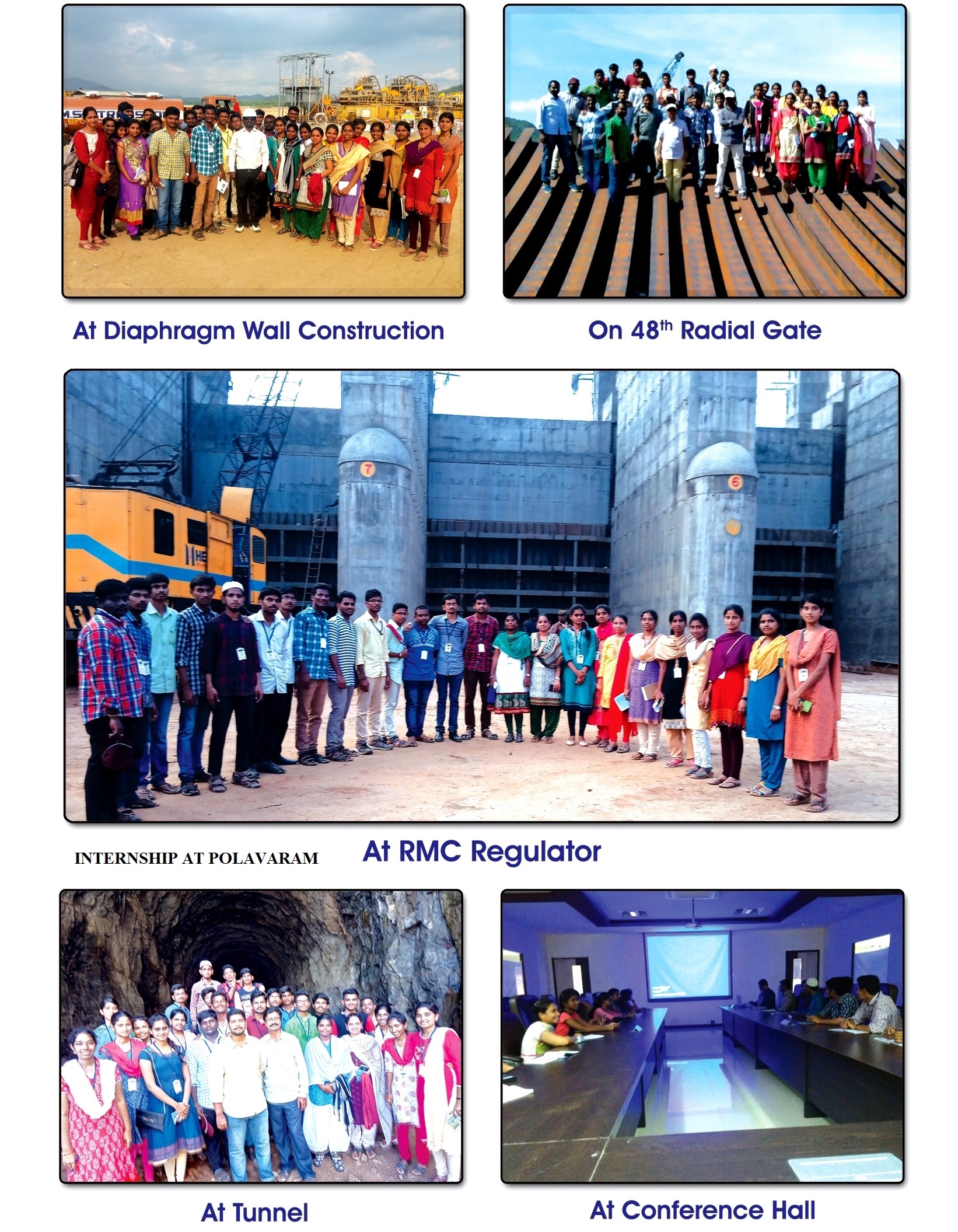 STRATEGY #4: WORKSHOPS WITH HANDS-ON EXPERIENCE
There is a lot of difference between theoretical learning and learning by doing (hands-on experience). When we organize workshops with great involvement from students, they learn things with fun. Because we believe "learning should be fun". Organizing workshops with students also give good results because the learning environment will be very friendly. We would like to inculcate DESIGN THINKING process in students through workshops. When we give them some material and ask them to design something or prepare a prototype they will think as a team and work together to make it successful which is the most required skill for an innovation to happen. We believe organizing workshops will be one of the best solutions to promote Innovation and Entrepreneurship in the campus.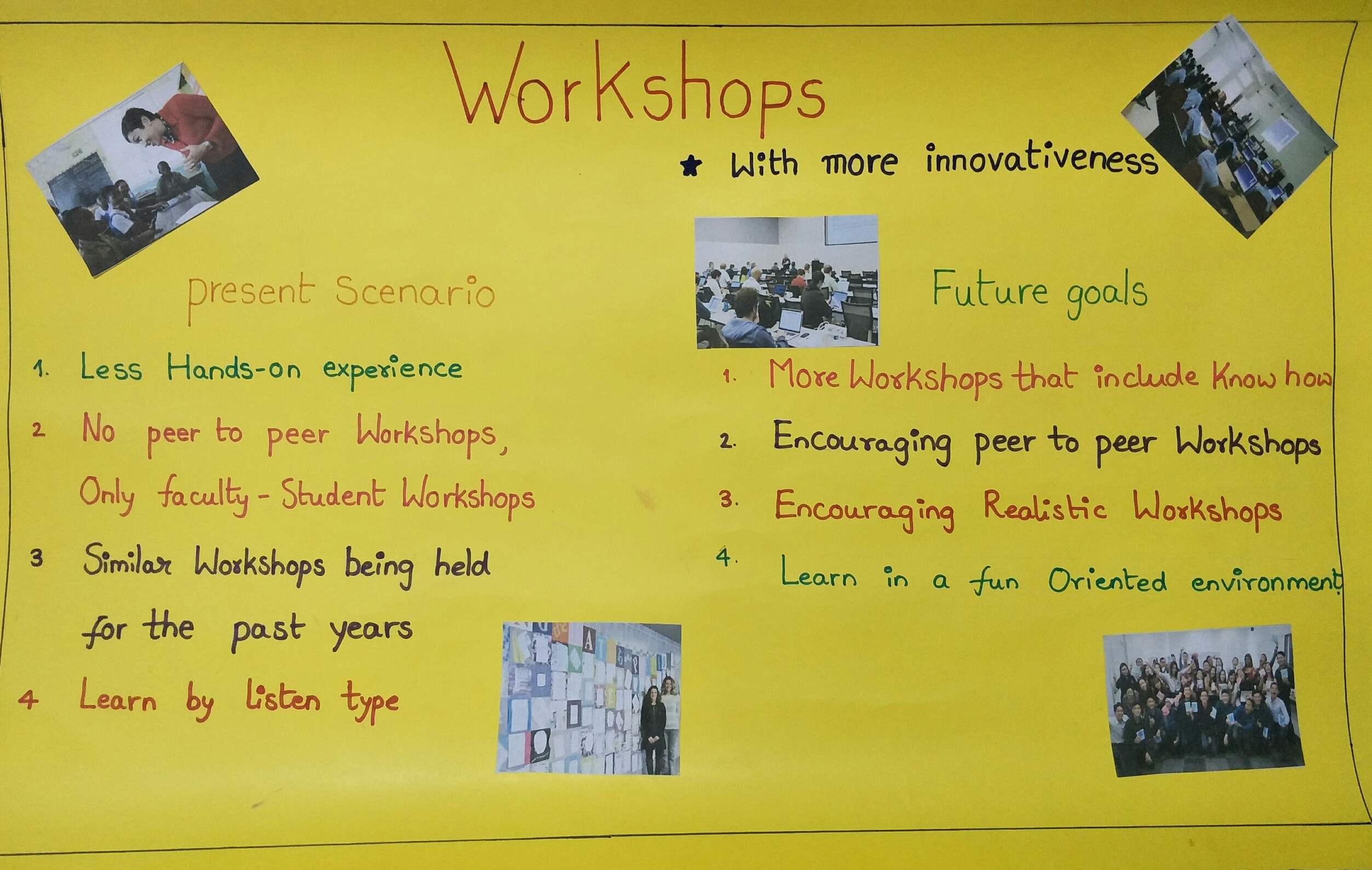 Objectives of workshops with hands-on experience

Peer to peer education
How to work and coordinate in a team?
Learning by doing
Time management
Inculcate Design Thinking
Student Workshops in Campus

 



1. IUCEE SCALE Workshop with attendees of 250 students.
2. Game Development Workshop with Unity with attendees of 120 students.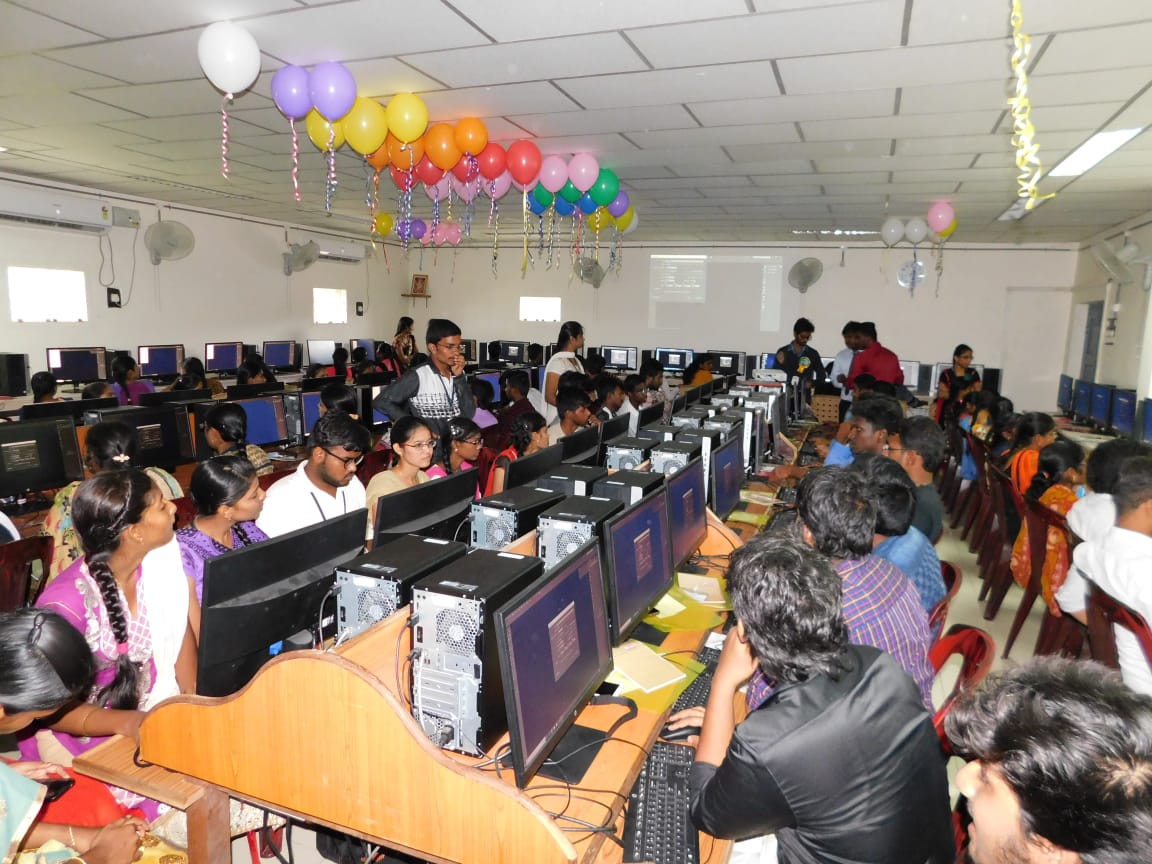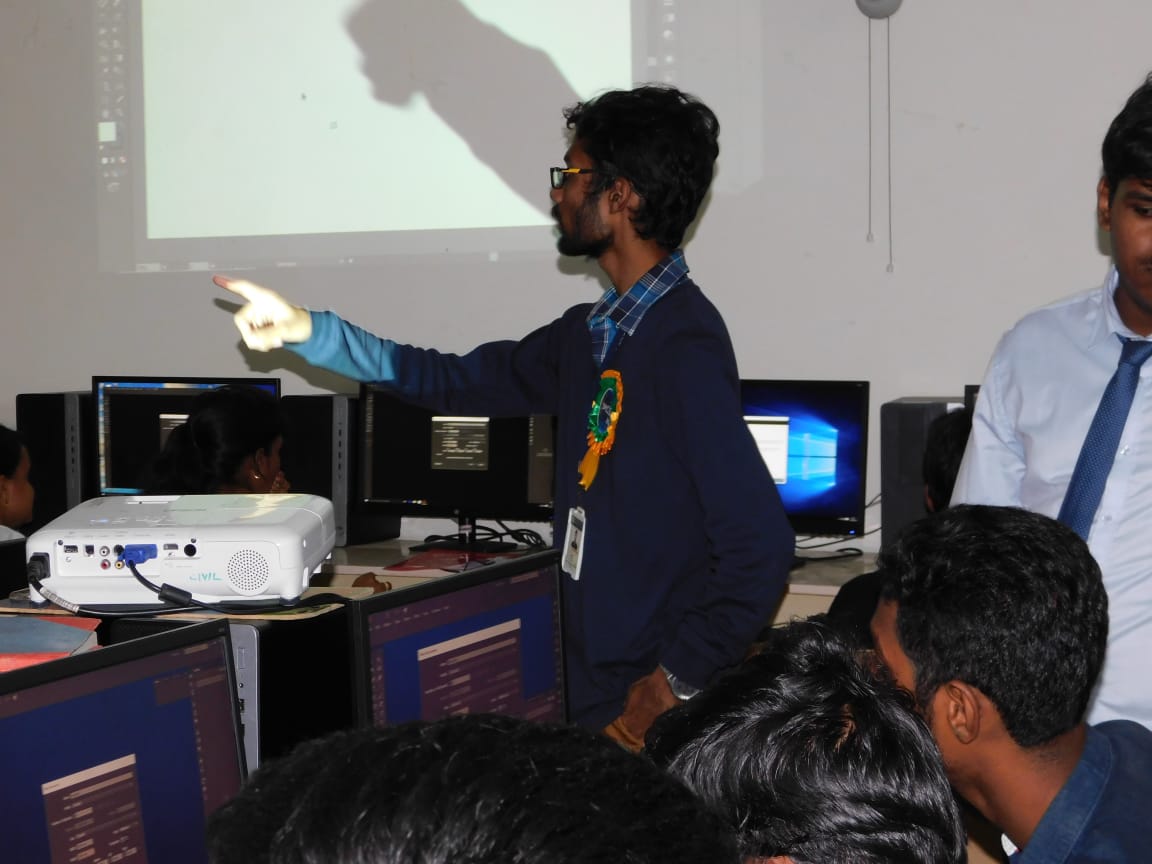 OTHERS 

In Harmony with Nature
Our college banned single-use Plastics and took a decision to promote handlooms by taking an oath to wear handloom clothes every Saturday.
We have designed NAKSHATRA VANAM (ASTRO FOREST) for our new UCEN Campus, which is a micro-forest with 270 trees and 27 spiceswhich indicates 27 ''''ZODIAC SIGNS. It is the brainchild of our Principal Dr KVSG Murali Krishna.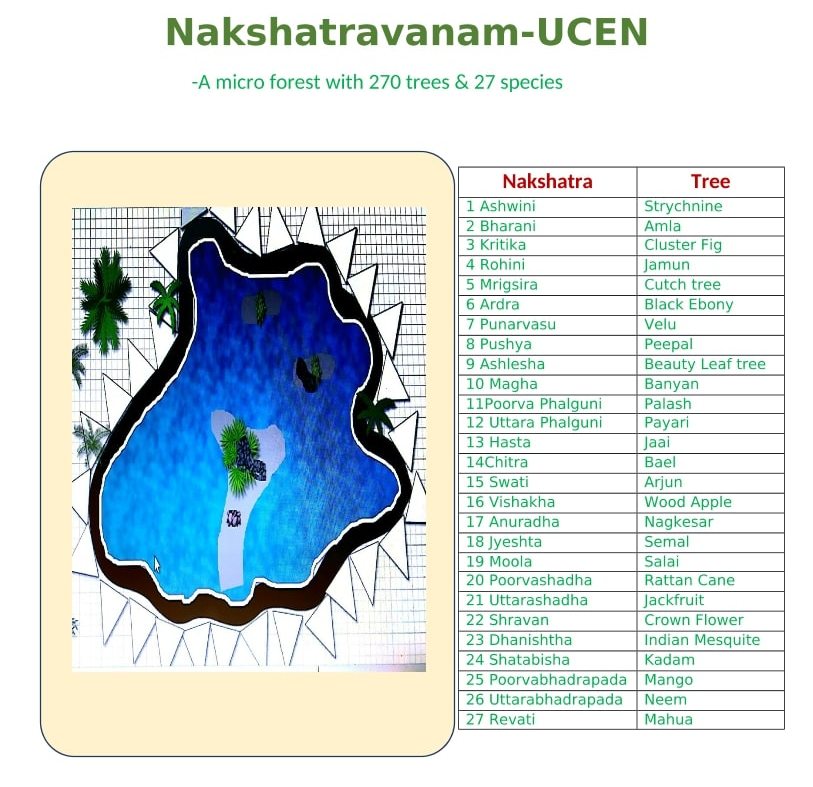 Monolithic rocks are placed in the path of our campus by our students which are exactly aligned using hydraulic jacks and each rock size is 2m*4m*9 inch.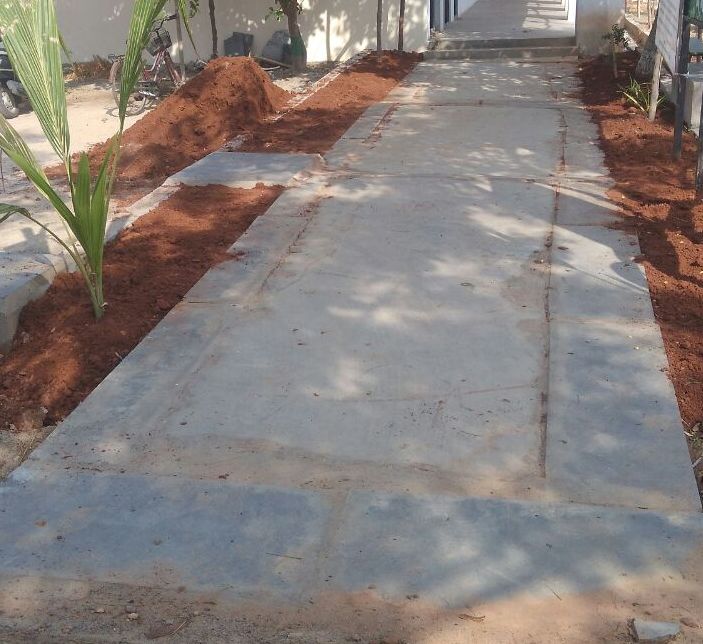 Sports
Positive thinkers have a solution for every problem. Negative thinkers have a problem for every solution. Our institution encourages students towards sports, games and yoga. Healthy mind lives in a healthy body. Girl students are encouraged to excel in their lives and protect themselves in difficult situations by Self-Defence Trainingand make them fearless in their lives.
After accidents, many people lose their lives in water, due to a lack of skill in swimming our institution encourages students in

swimming

and the training fee will be paid by the institution. 
Our institution maintains an excel sheet which is unique and contains details of students' height, weight and analyses their performance in various games and sports.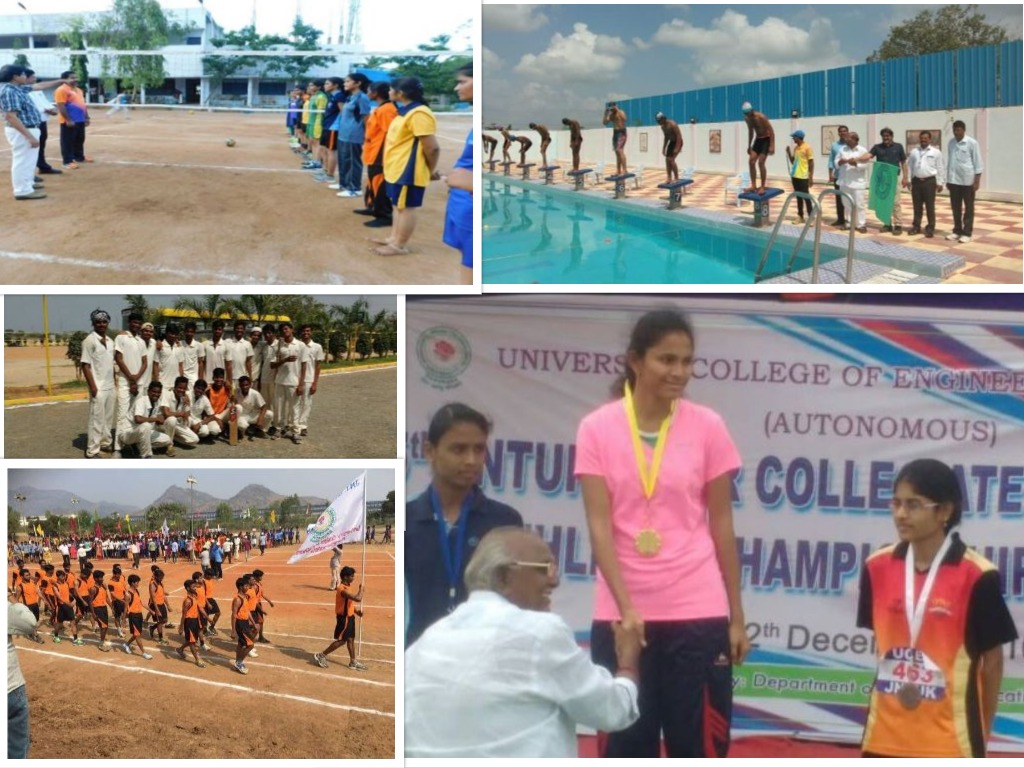 Best Practices by students of UCEN JNTUK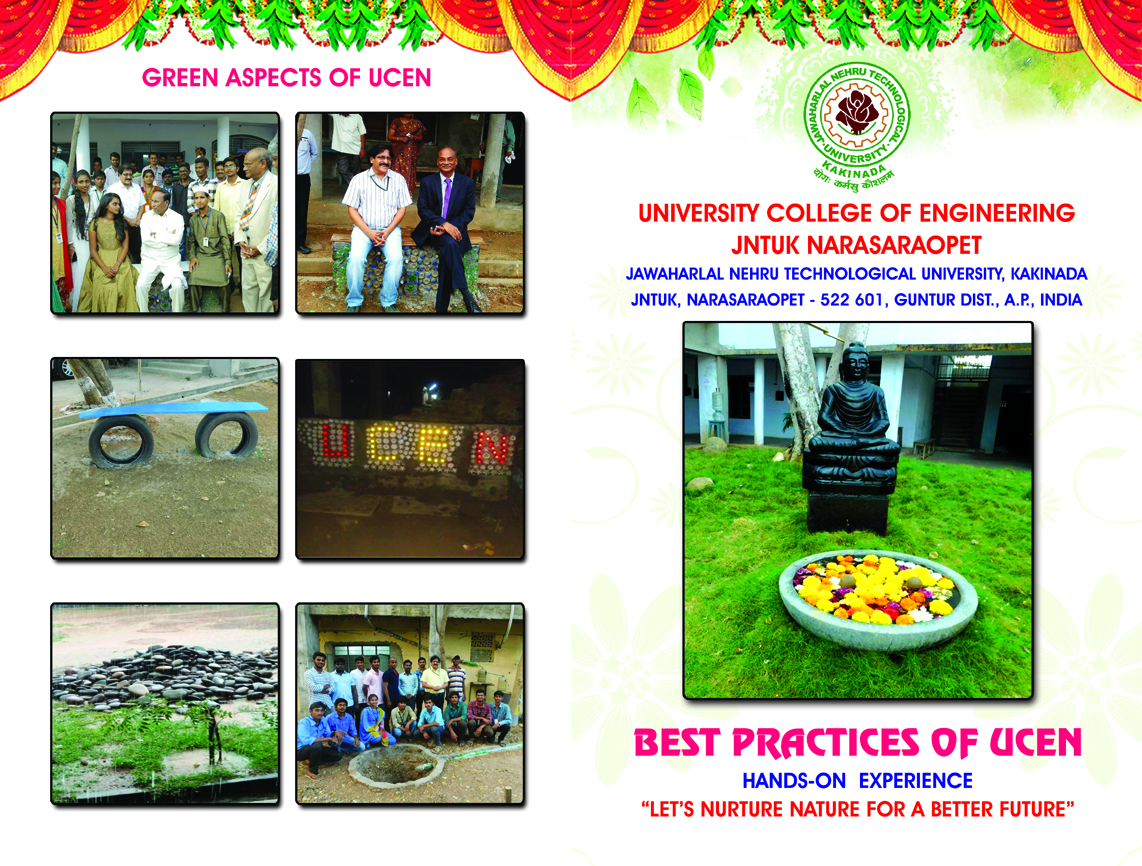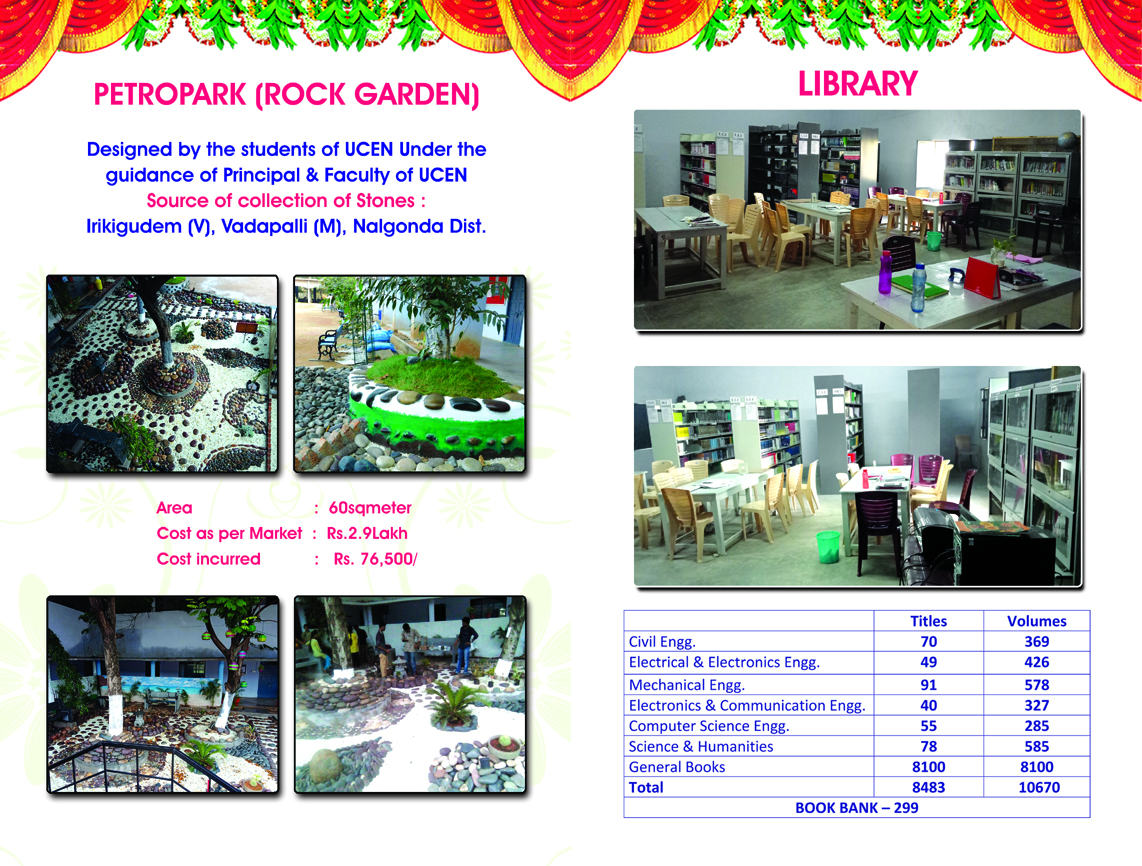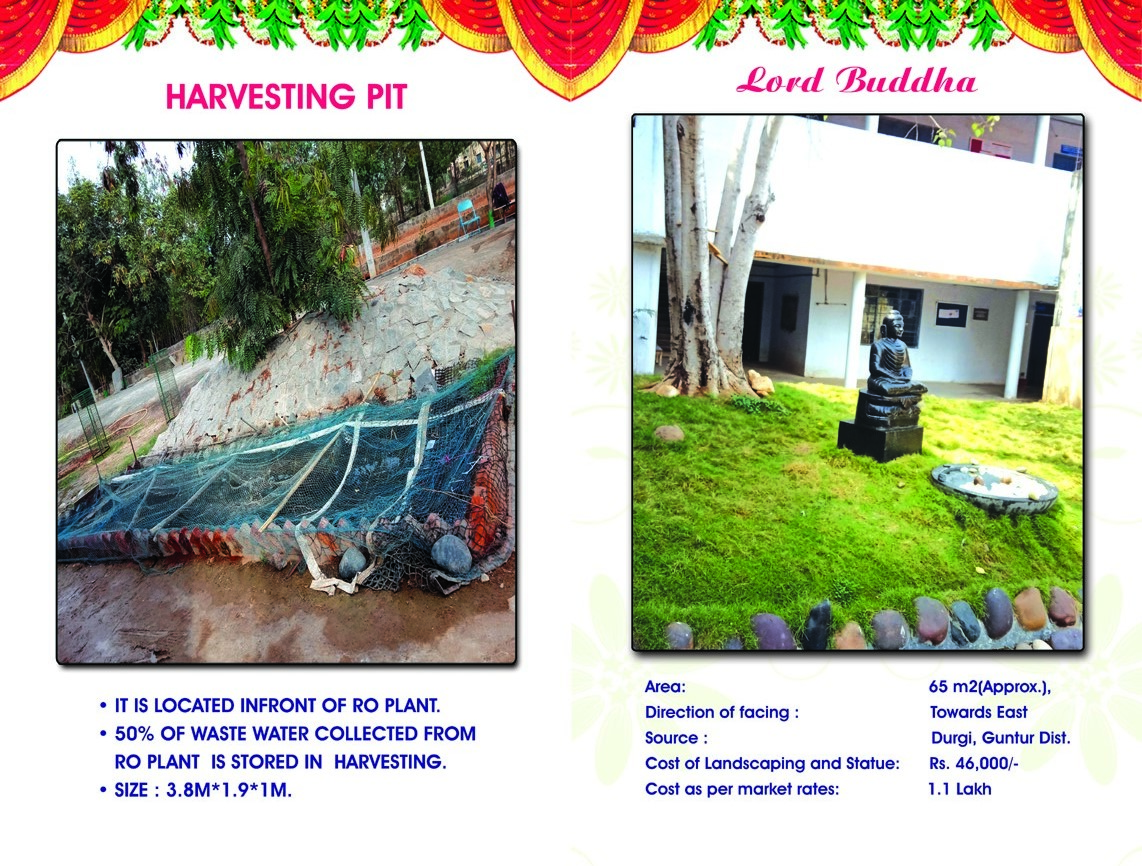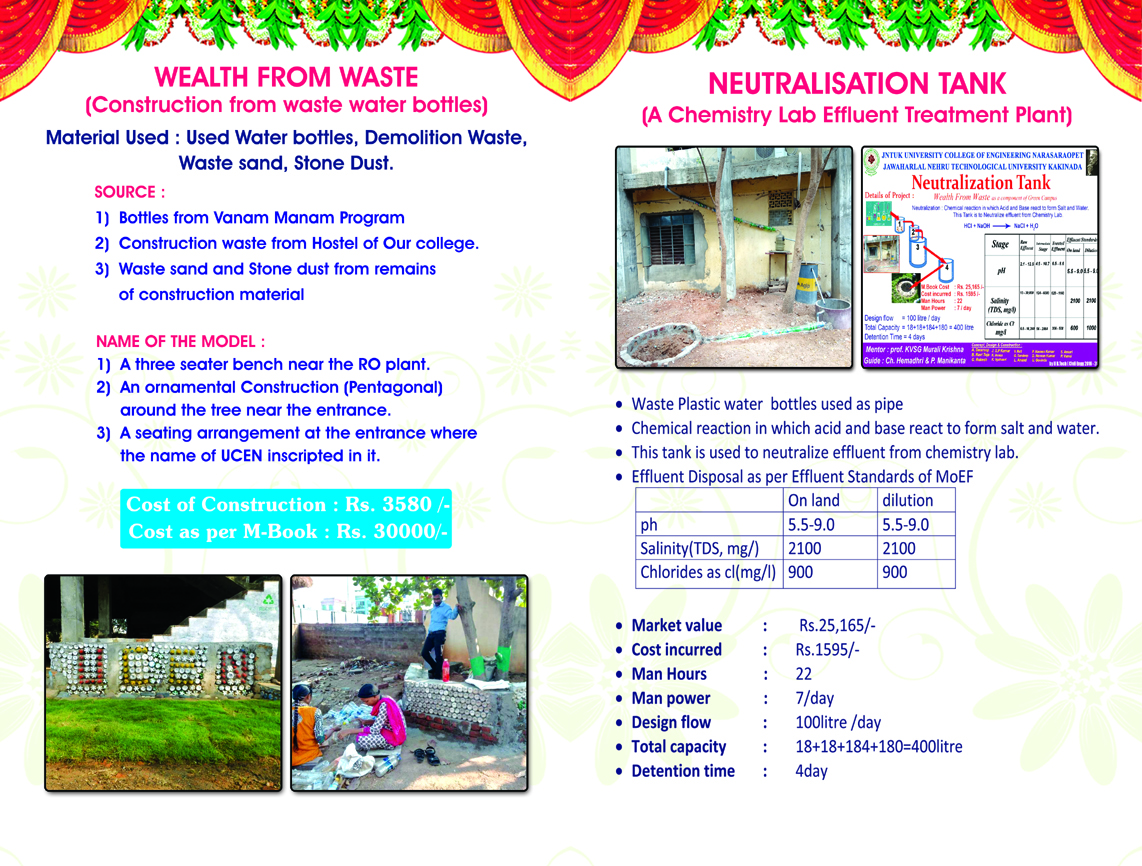 RELATED LINKS 

FOR MORE DETAILS VISIT COLLEGE WEBSITE
UNIVERSITY COLLEGE OF ENGINEERING JNTUK NARASARAOPET
UIF FALL 2018 :
---
---