Priorities:Narasaraopeta Engineering College Student Priorities
Jump to navigation
Jump to search
NEC Pitch Video:
STRATEGY #1: EXTERNAL EXPOSURE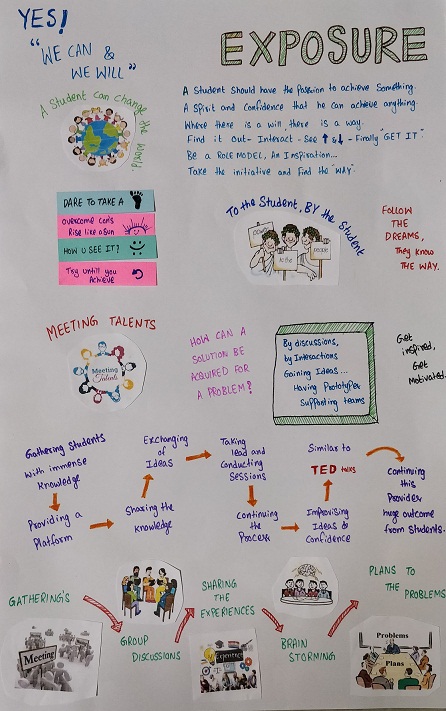 GIVING IMPORTANCE TO PRACTICAL KNOWLEDGE  
A professional engineer means a perfect blend of theoretical and practical knowledge to give a solution of day to day problems. There are numerous colleges but most of them are up to the mark as per the above criteria. Even after the completion of four years of engineering course, pass out engineers are still called fresher engineers. This shows a big gap between theoretical education and poor intelligence level towards a practical approach to solve the industrial problem and also poor power handling. Most of the engineering colleges today simply follow the conventional university curriculum and work on a primary phase of campus placement.
 COLLEGE COMPANY INTERFACE
In this scenario, all colleges have to come forward to bridge the gap between industry requirements and engineering education. College should add special job oriented training modules in its academic curriculum for students from the third semester onwards so that they can get more practical exposure. Moreover, industrial tours are regularly organized for the students where they can visit the all the topmost industries covering the different sectors of different branches. This step towards practical learning helps them to visualize the concepts and processes that they study in their course curriculum.
 INNOVATIVE TRAINING
This innovative learning and training process gives tailor-made professional engineers to the industry. These special training modules are helping students to boost their confidential level with high and real-life industry exposure. This practice will enhance their skills so that the industries will not treat them as fresher and offer them appropriate jobs according to their abilities. In addition to that, being at a good place and good position, they can do better for their career, society, and country and adds a little towards the development of a nation.
STRATEGY # 2:

Awareness of current technologies
Many students are unaware of what technologies are going on in the market. In order to overcome this we wanted to implement these type of activities in our college.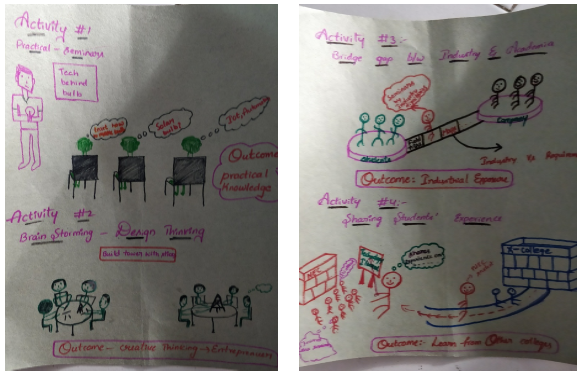 Practical workshops on Trending Technologies
To make students familiar with the present technology, conducting theoretical seminars is not productive. Because, practical learning has an impact on students rather than boring theoretical. For example, under the technology IOT, instead of speaking continuously for two hours, we can give an application of it as example and show the way to design it which makes students more involved, it should be conducted at least once in two months.
Inviting Industry Designators to make students familiar through contemporary technologies
People, who are in industry, are more familiar with the technologies and they are capable of determining the technology and their scope. By this student get the awareness on technologies that are in market and they will have a vision on which technology builds their career. So making them visit our college can be an efficient solution.

Frequent industrial trips.

Inviting graduated students to motivate students and to share their experiences.
Seminars by Other College Students
Sharing the knowledge from other college students can help students to get exposure. It can be achieved by:
Inviting other college students/faculty for guest lectures.

When our college students attend the workshops in other institutions, hosting lectures by the students.
Design Thinking sessions
Yeah, through design thinking sessions, students can activate their thinking power. This will helps them to think out of box. This makes them to enhance their grasping power. It should be conducted before every session as an warm-up activity. Through this, they may acquire some knowledge on technology.
STRATEGY #3: Increasing in the number of I&E Events in the College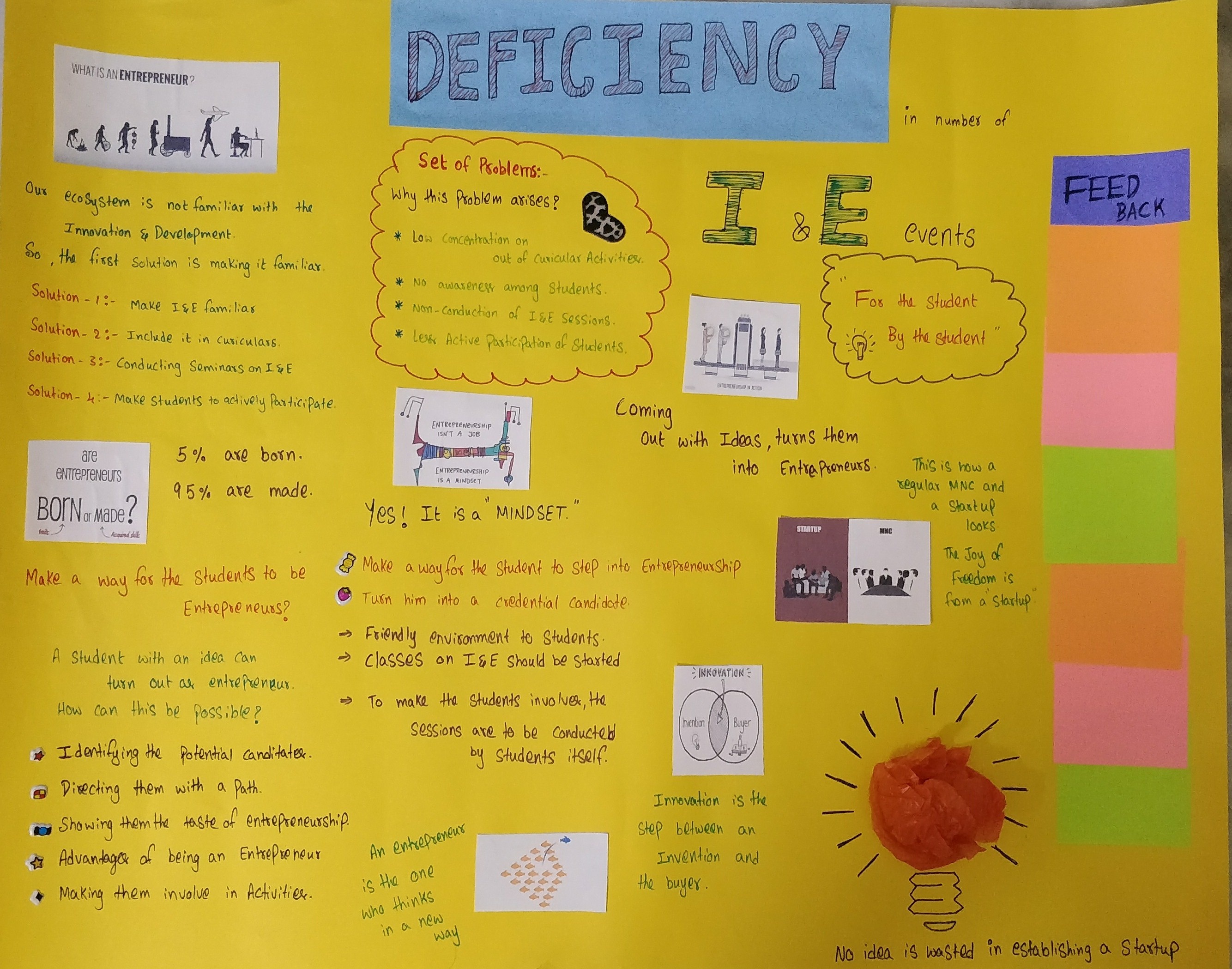 Make I&E familiar to the Students   

This can be achieved by conducting Interaction sessions with the students who are familiar with this and also by the faculty. Making the students to interact over a wide range of people can leave an impact on I&E.
Include I&E in the curricular
I&E should be a part of Time-Table. Hosting I&E events regularly to help students in exploring new ideas. One period from regular classes should be allocated to this in Promoting Entrepreneurship.
Creating interest in the Students
The students who are Passionate about doing something are welcomed and providing them with a vision of fruitful output. All this can be achieved by creating an interest in the student by:
Interesting Infrastructure

Colourful Environment

Friendly Ecosystem

conducting Fest weeks
Planning some Guest Lectures                      

Inviting Successful Entrepreneurs to share their experiences creates curiosity among students which can improve start-up rates.
STRATEGY #4: Uplifting Extra Curricular Events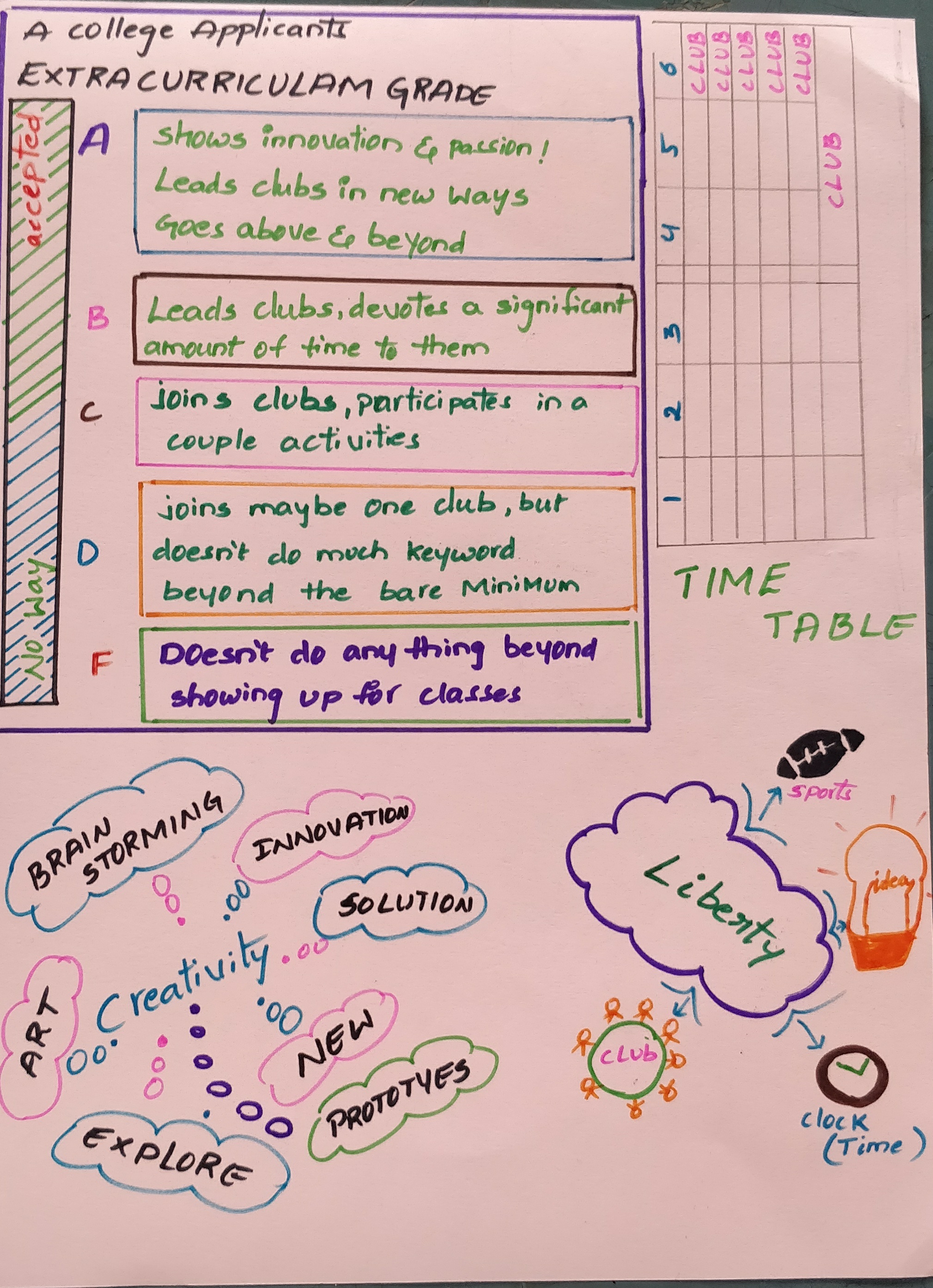 Liberty to students

College should not force students only for tech study all through the college timings

Students should have free time to work on their thoughts

They should have an idea building zone or developing zone in the premises of the college

Students should be allowed to concentrate on both tech and extracurricular practices
Time Table

The timetable must be flexible to have some space in brain tuning games

By providing special time in the curriculum timetable will help more students to focus on their interests

The timetable should be modified in the way that it can be balanced by both core and extra curriculum

The timetable should have a special space for once in a month to allow maximum utilization in clubs
Encampment in Sports

Special clubs for sports

More facilities for brain tuning games

Make clear knowledge to all about the use of physical strain in the educational life

Continuous appreciation on extracurricular events makes others focus
STRATEGY #5: English Club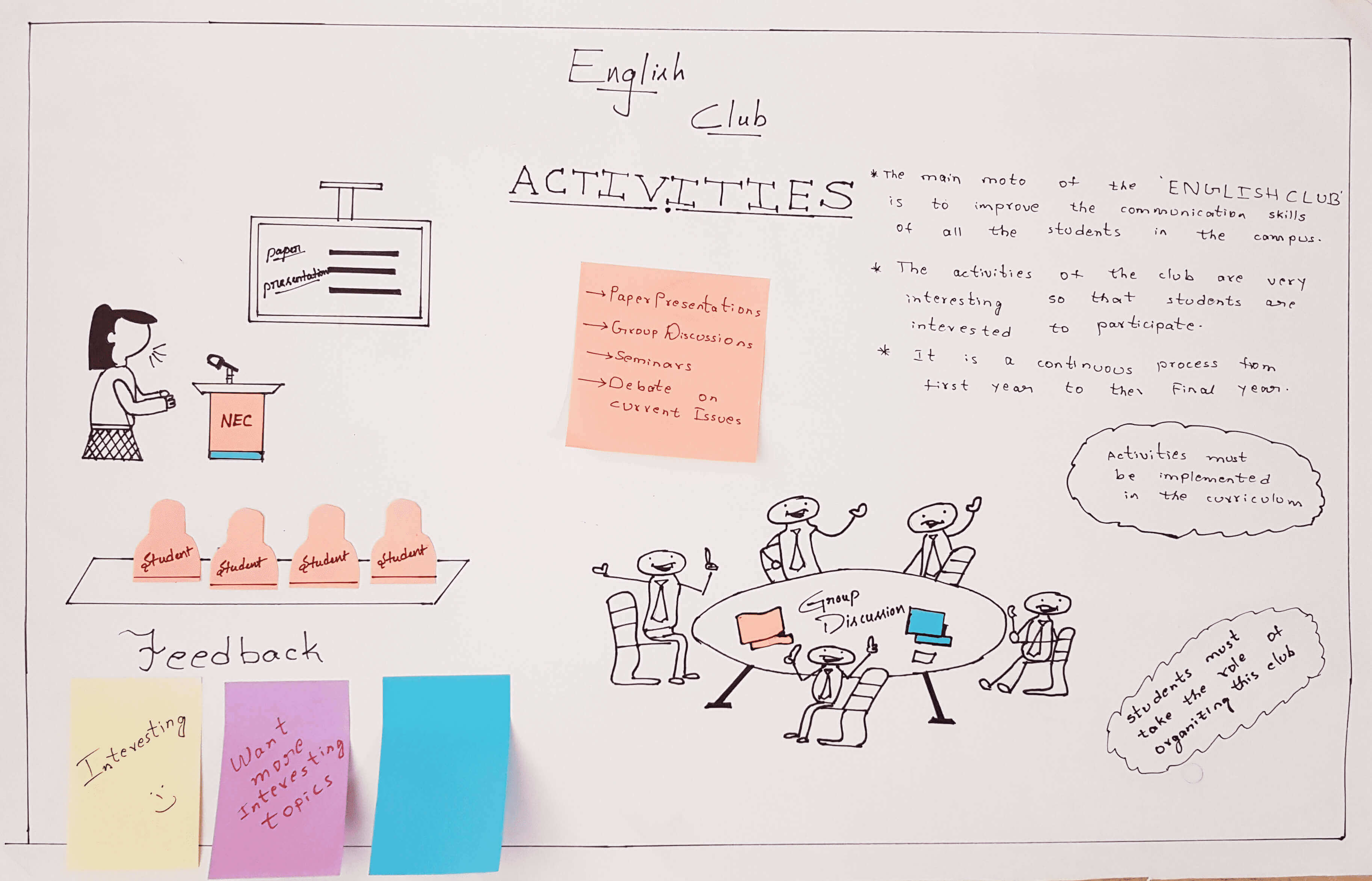 Intensive English communication training
Bringing awareness among all departments faculty

To let the students know the importance of such activities

Utilize the available resources effectively

Increasing peer to peer communication
Paper presentation
Awarding the students to increase the competitive spirit in them

Establishing good quality equipment in labs

Train the students to perform well
Group Discussions and Seminars
These type of sessions are to be implemented in the curriculum

Discussions should be encouraged between various years students

Topics chosen should be useful for all types of students

Encourage the students to increase the participation count
STRATEGY #6: 

Certificate of Excellence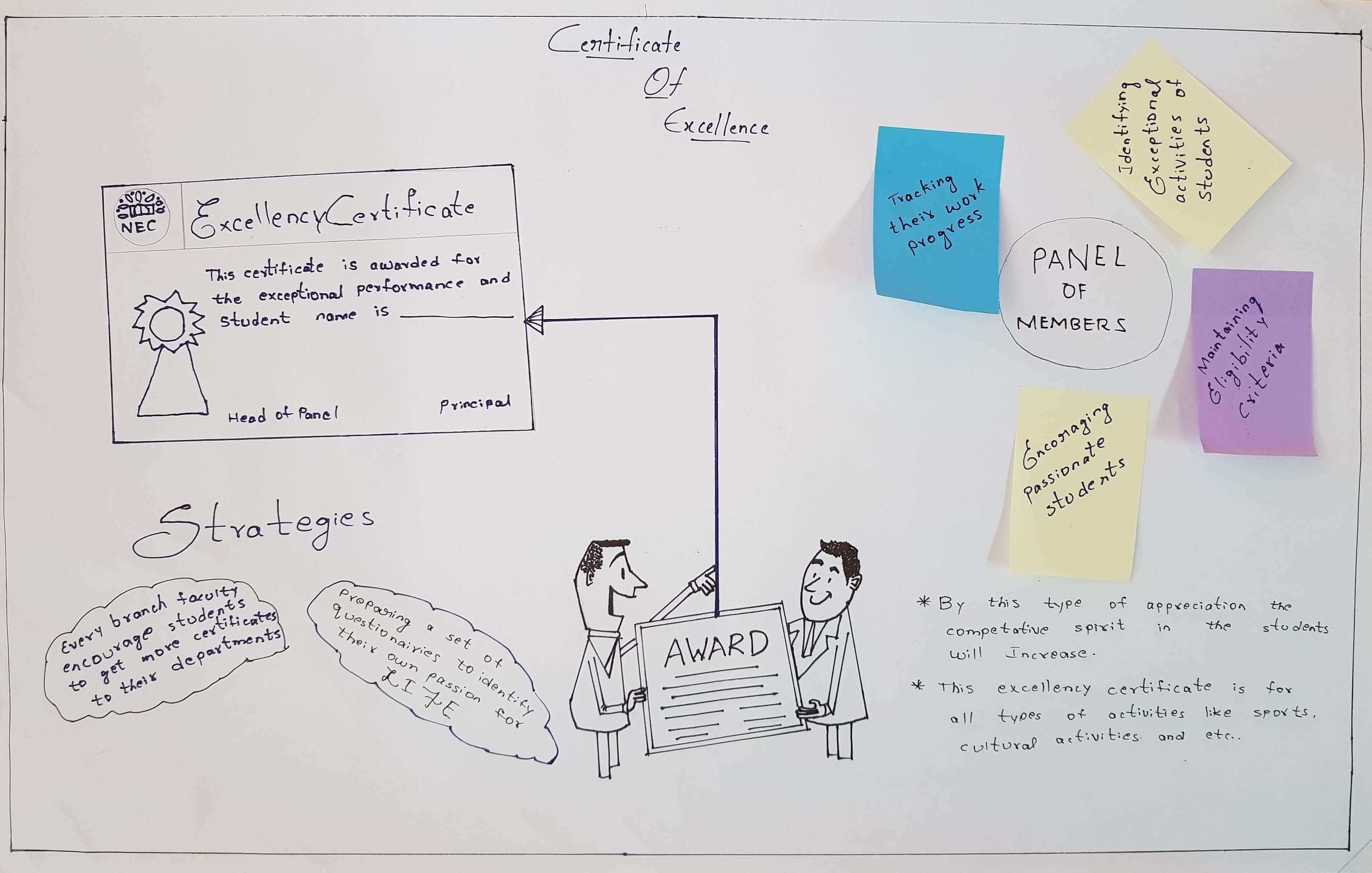 To identify the exceptional performance of students
It should be awarded based on the extracurricular activities of student

Designing a plan of action (certain constraints should be considered)

Creating a panel of members who are highly qualified in the campus
Identify Students passions
Preparing a set of questionaries to identify their own passion for life

Encouraging the students to pursue their passions

Helping the students to know about the ongoing events based on their interests
 Tracking their work progress
Panel members should track the student's works

Updating  the student's information regularly

Implementing new methods of curriculum functionalities
STRATEGY #7: 

Paperless communication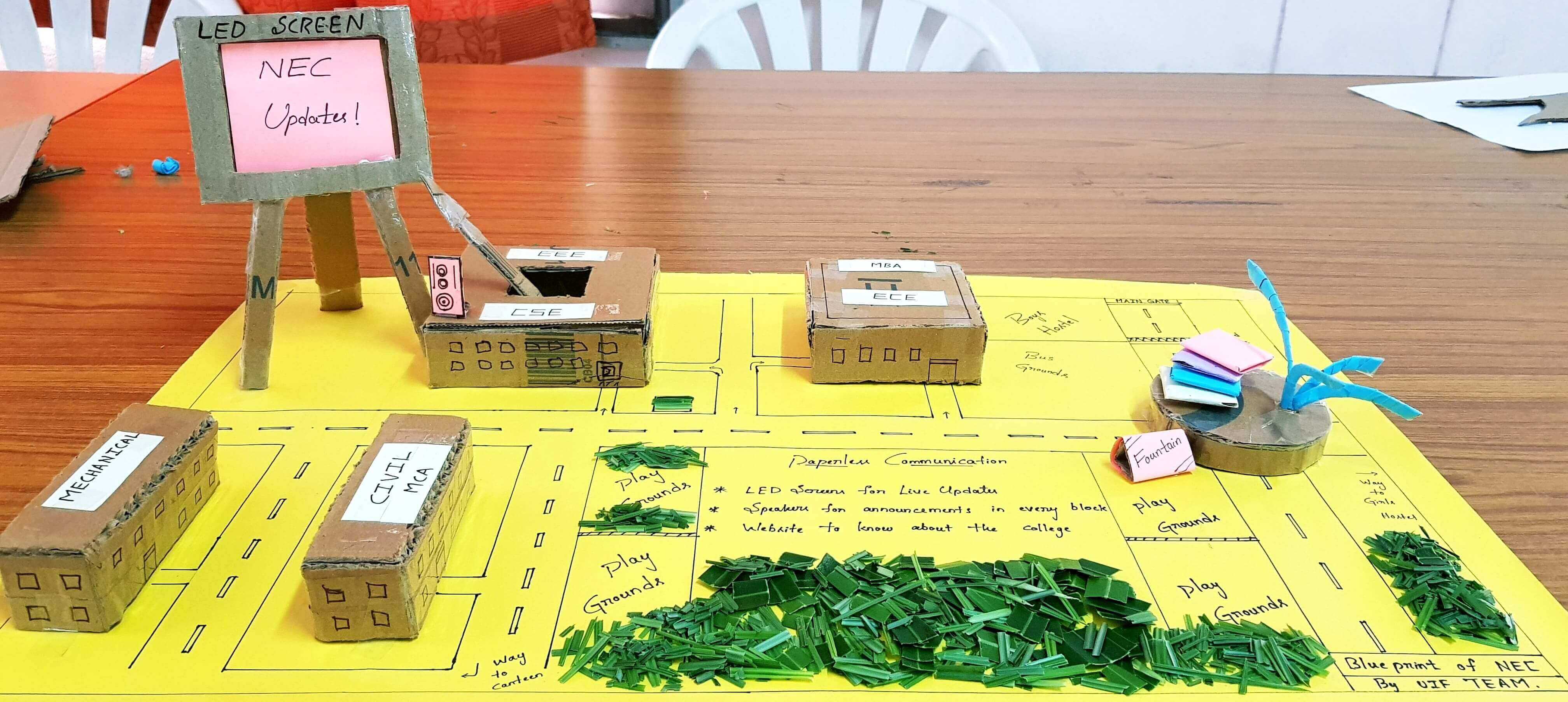 LED screens and speakers
Arranging LED screens and speakers in all the blocks of campus

To reach the information to every student in an effective way
College Website
Effective utilization of the website

Proper maintenance of the college website

To know the outsiders about the college through this website
STRATEGY #8: 

Ridesharing by the college students network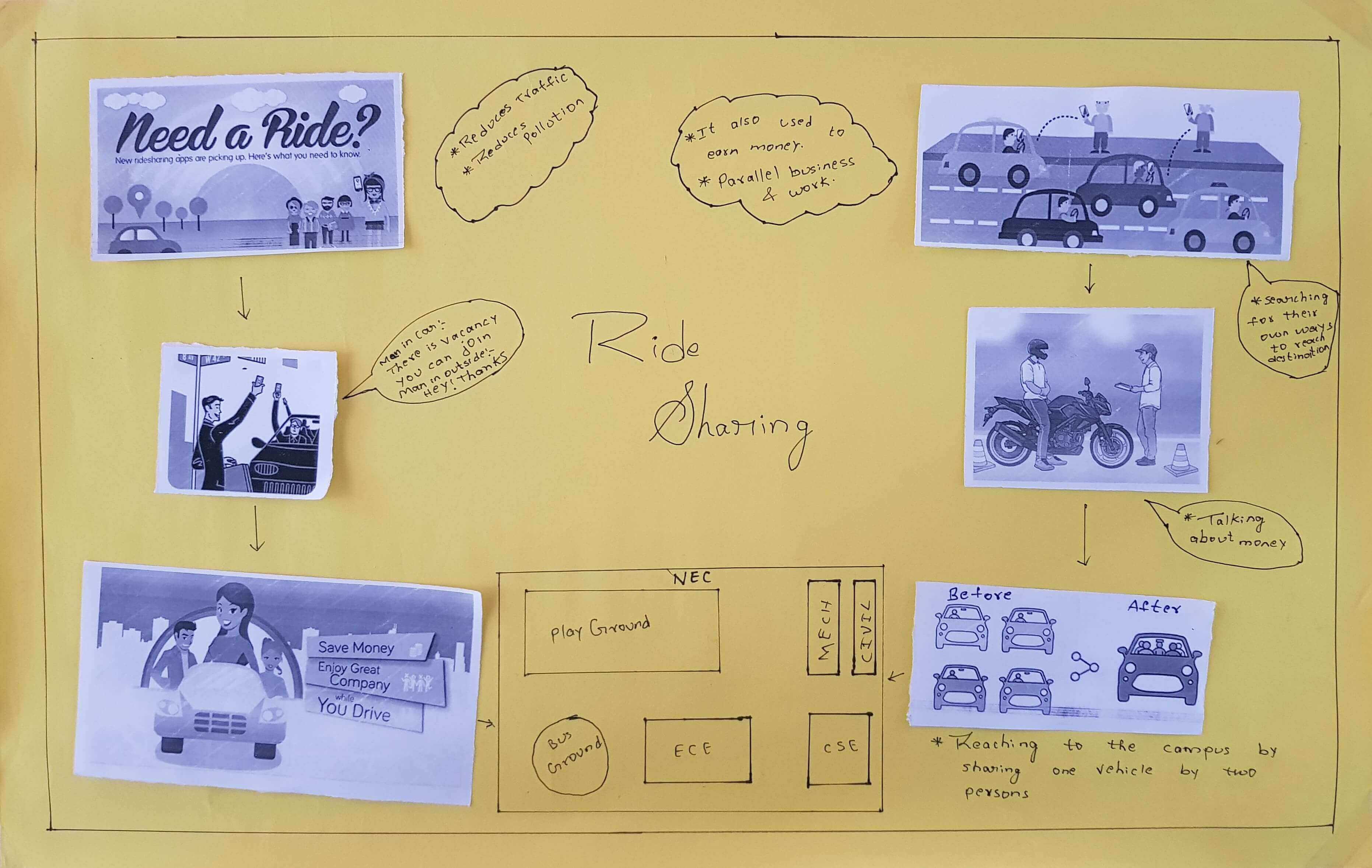 Developing an Application to organize the riders
The app should be user-friendly, simple with the elegant design so that every user will be able to use the app more effectively as it saves both money and time of the user. It also reduces the traffic problems using its accurate location of the biker
Creating awareness
Students will never start to use unless they know how it's going to bring a profit from it for both parties. But this app will make an impact on the environment and students. By sharing the ride number of vehicles is going to decrease on road and pollution from it.
Advertising  and Marketing
By enabling the feature to give the rating to the other rider who they have shared with. This is the game changer this is where the trust builds on the app. When the customers started to believe it they share it other. 
RELATED LINKS:
| | |
| --- | --- |
| Spring 2018 Batch | Fall 2018 Batch |
| | |
Other Links of Spring 2018 Batch:
NEC Final Change Story:
NEC Prototype Video:



Changes by Change Makers:



---
---