Organization:Xcelerator
Jump to navigation
Jump to search
Overview
Xcelerator is a program by VentureWell with the main goal of cultivating creators and entrepreneurs who can turn ideas into successful commercial products. The Xcelerator program consist of an eight-month program that provides the necessary knowledge and skills, networking and partnership opportunities, and coaching and mentoring to help innovators introduce products and services to their target market. The Xcelerator training program is currently only available to individuals and team that are part of Saving Lives at Birth, Grand Challenges Explorations, and Powering Agriculture.
"Turning inventive global health and development ideas into products with real impact"
Purpose
The purpose of the Xcelerator is to help teams speed up the process of turning their ideas into products that can have a real impact and potentially save lives.
Eight Month Program
Teams take part in an eight-month long program. This is aimed at teaching innovators the skills they need to address the complexities of implementing new technologies in the developing world. The goal of the program is to familiarize teams with the global health market.
Phase I: Pre-workshop
Phase one of the eight-month long program is the pre-workshop stage which lasts for six weeks. During this time, teams take online team self-assessments and partake in virtual meetings. The purpose of phase one is to orient innovators to the Xcelerator, the global health market value chain, and the mentoring process that they will soon be undergoing. 
Phase II: In-person Workshop
Phase two is a four-day, in-person, highly interactive workshop. The purpose of this workshop is to focus on building knowledge that will be critical to the understanding of the global health markets and to develop innovations that fit the market. This is done through the development of practical tools that can aid in the strategic planning of actions. Such tools include, but are not limited to: value proposition, value chain mapping, building partnerships and marketing and communication. A key activity conducted at the workshop is the strategy mapping of value chains to help visualize the requirements needed to bring your innovation to the market. 
Phase III: Post-workshop
Phase three is the post-workshop. Lasting six months, phase three is the longest phase of the eight-month program. Phase three is characterized by regular phones calls between teams and VentureWell. Phase three also includes consultations with mentors and peers, including Xcelerator alumni and technical experts. It is during this phase that innovators have access to more in-depth knowledge about technology and market validation, business and team management, and innovation marketing and communication. The type of support each team receives is unique to each team and is customized based on the strategy maps the team created during the previous phase(s). In essence, phase three is the phase where teams are expected to begin executing on the coaching and advising plan that was created during phase two. 
Distinct Differences From Other Offerings
"A holistic package that is difficult to find in any one place"
The Xcelerator program is different because it is made up of innovator teams that are focused in a variety of sectors and topics. Participants of the Xcelerator program range from single college student innovators to PhD scientists and even seasoned entrepreneurs. The program pushes teams to consider their contribution in the greater health ecosystem and to see things in the broadest view possible. Another unique feature of the Xcelerator program is that it combines practical experiential content modules and hands-on strategy development tools to create individualized team experiences. This process consists of facilitators and coaches who bring depth and diversity into their work. The most important and distinguishing feature about the Xcelerator is the remarkable culture. The culture is like a holistic package that is difficult to find in any one place; where facilitators are able to adopt your feedback to address the issues you are most concerned about. 
Impact Achieved For Students and Campus

Since January 2013, 175 teams have participated in the Xcelerator program. 
Xcelerator provides students with the tools needed for them to step back and evaluate their ideas. 
Creates a cohort building aspect that allows teams and participants to explore the experience of other teams and the different paths they take
Grants to institutions create capacity to engage students in experiential education. 
In 2016 - 2017, 2,692 students were impacted by faculty grants distributed.
Coordinate networks to drive change in areas ranging from student access and success to more productive engagement of industry in university innovation
2016 - 2017 Impact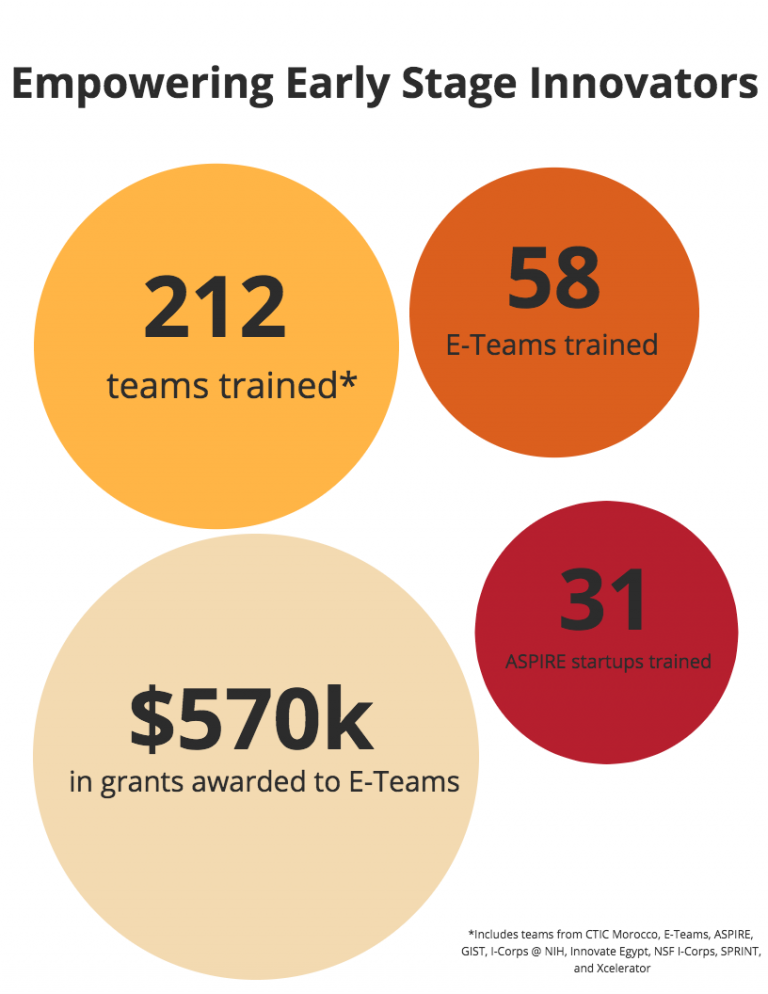 Steps Required To Bring Resource to Campus
To bring the Xcelerator to your campus, you must be in a team in at least one of the following groups:
   This program is sponsored by USAID, Norad, The Bill and Melinda Gates Foundation, Grand Challenges Canada, DFID and Koica. It is in its eighth year currently (2018) and provides innovative change by supporting a project, selected through an application process, through mentorship and funding.
   Launched by The Bill and Melinda Gates Foundation, Grand Challenges also uses an application process to choose which projects are supported. "Initial [0=field_challenge%253Afield_initiative%3A37073 grants] of $100,000 are awarded, and successful projects have the opportunity to receive follow-on funding of up to $1 million."
Funded by USAID, the government of Sweden, The German Cooperation, Duke Energy, and Opic, this program focuses on making agriculture more sustainable through innovative renewable energy sources.
Contact Information
---
Cara Barnes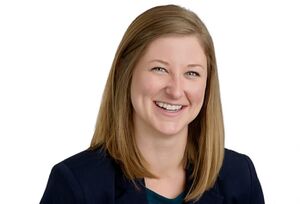 Cara implements VentureWell's Xcelerator Training Program, which supports early-stage innovators developing healthcare technology for emerging markets. Combining education and experience in chemistry and public health, she helps innovators overcome the challenges of developing and implementing technology solutions in complex global health systems. Prior to joining VentureWell, Cara was a scientist at Diagnostics For All, where she developed point-of-care medical diagnostics for low-resource settings and led field trials in rural Zambia. Cara has an MS in chemistry from the University of Utah and an MPH from Johns Hopkins University.
email: cbarnes@venturewell.org
---
Xcelerator Address:                    Xcelerator Number:
100 Venture Way                           tel: (413) 587-2172
Hadley, MA 01035                         fax: (413) 587-2175
Related Links
Created by: Folasade Adekanle and Oyare Victor Oko on January 11, 2018