Organization:Engineers Without Borders
Jump to navigation
Jump to search
 http://universityinnovation.org/images/1/12/EWB-logo.png
Overview
Engineers Without Borders (EWB) started in 2002 with 8 students and 1 faculty member that shared the same vision of supplying sustainable basic human needs to underdeveloped communities worldwide. Since then their vision has grown to over 16,800 members across 180 campuses with almost 300 chapters working on nearly 700 community development programs in 43 different countries on 5 continents. EWB-USA strives to create transformative experiences and responsible leaders by empowering members to find community solutions for water supply, sanitation, energy, agriculture, civil works, structures and information systems. http://universityinnovation.org/images/8/83/Tate_EWBUSA_1.jpgFrom gathering information, designing a thorough solution and implementing that design, members of Engineers Without Borders have impacted more than half a million lives.

Mission

Engineers Without Borders USA (EWB-USA) is a nonprofit humanitarian organization established to support community-driven development programs worldwide through partnerships that design and implement sustainable engineering projects, while creating transformative experiences that enrich global perspectives and create responsible leaders.
EWB-USA builds a better world through engineering projects that empower communities to meet their basic human needs and equip leaders to solve the world's most pressing challenges.
Vision

EWB-USA's vision is a world in which the communities we serve have the capacity to sustainably meet their basic human needs. Today, more than two billion people lack access to the most basic things -- clean drinking water, adequate sanitation, reliable passage to local markets and more.
Summary

Non-profit with the potential to give students experience using their skills to help the world.
History
http://universityinnovation.org/images/0/03/EWB-img-inline-our-history.jpg
Civil Engineering Professor Dr. Bernard Amadei at the University of Colorado-Boulder was the pioneer of a partnership program connecting the engineering skills of his students with the community of San Pablo, Belize. His engineering team of 8 students traveled to San Pablo to install a clean water system powered by a local waterfall; a sustainable and low-cost solution to provide the community with clean water and a sanitation infrastructure.
Dr. Amadei decided to harness the power of professional and student engineers to complete similar low-tech, high-impact projects in other developing countries by officially founding Engineers Without Borders USA in 2002. The students at the University of Colorado - Boulder became the first EWB-USA student chapter following the San Pablo, Belize project. This chapter expanded to 96 students working on three projects by the end of 2002. These students gained soft skills not typically acquired in the engineering curricula.
International Programs
Community-Driven Development: Within a program, chapters implement multiple projects to address the needs identified by the community. Chapters work directly with the community to assess, design, implement, monitor and evaluate appropriate engineering solutions for small-scale infrastructure projects. Staff at EWB-USA's headquarters assist chapters by facilitating a robust quality assurance and quality control process that enables EWB chapters to work on hundreds of programs across the globe each year. In addition, the EWB-USA Technical Advisory Committee (TAC), comprised of experts in their disciplines, review and approve all project designs.
Project Types: Water Supply, Sanitation, Civil Works, Structures, Energy, Agriculture, Information Systems
Framework:
Planning - EWB-USA Headquarters provides resources for our chapters to establish an understanding of the baseline situation in their partner communities and plan for long-term sustainability.
Monitoring - The chapter uses consistent organizational tools to assist them in monitoring the program's impact in the community.
Evaluation - The chapter evaluates the technical functionality of each project and their role in reaching the community's overall objectives for at least one year after construction is complete. We conduct periodic impact reviews after the chapter closes out their involvement in the program.
Learning - EWB-USA uses impact assessment tools to be accountable to our partners and to learn from our experience to improve our community-driven development delivery model.
Country offices
Since 2015, EWB has opened offices in Nicaragua and Guatemala and is looking forward to having offices in 5 countries up to 2020.
EWB-USA country office staff help to:
Make connections with communities requesting their partnership and providing cultural training about partners.

Improve relationship management, and so will project outcomes. By increasing the reliance on staff experts in the field, projects will experience more accurate needs assessments and closer management on the delivery of high-quality and timely assistance

More cost-effective use of resources.
Nicaragua
Nicaragua is the second poorest country in the Western Hemisphere. Challenges to development regarding food security include deforestation, soil erosion and water pollution.Successfully, there is a large list of project work done in two regions of the country.
EWB-USA is currently building local capacity through two offices.
San Isidro, Matagalpa: Supports programs in the northern region, including the departments of Esteli, Jinotega, Matagalpa, Madriz and Nueva Segovia.

Managua, Managua: Supports the southern departments of Managua, Carazo, Boaco, Granada, Masaya and Rivas.
In this country, 11 out of 15 departments are having at least one active project with EWB-USA.
For more information about EWB-USA's Nicaragua work, contact admin.nicaragua@ewb-usa.org.
Guatemala
Guatemala faces several infrastructure challenges. The country's rating on the United Nation's Human Development Index, which reflects the standard of living and quality of life, is the third lowest in Latin America.Potable water, sanitation, access, and educational infrastructure are the main needs EWB-USA is working on.
EWB focuses on addressing these needs through two offices in Guatemala:
La Esperanza, Quetzaltenango: Supports programs in the departments of Quetzaltenango, San Marcos, Sololá, Suchitepéquez and Totonicapán.

Joyabaj, Quiché: serves projects in the departments of Quiché and Chimaltenango.
EWB-USA is working on more than 45 projects in Guatemala.  In the coming years, it is expected to expand coverage to other vulnerable parts of the country.
For more information about EWB-USA's Guatemala work, contact info.guatemala@ewb-usa.org.
Domestic Programs
Community Engineering Corps

Launched in 2014, EWB-USA formed a new alliance with the American Society of Civil Engineers (ASCE) and the American Water Works Association (AWWA) to harness the expertise of thousands of volunteers by providing engineering services that address the infrastructure needs of an underserved community inside the United States.
The CEC works collaboratively with communities to design solutions to problems that the community has identified. The CEC only partners with communities that do not have the financial resources to access engineering resources in a traditional manner.
Mission

Community Engineering Corps will bring underserved communities and volunteer engineering leaders together to advance local infrastructure solutions.
Vision 

The alliance's vision is a country where all communities have access to the technical expertise required to ensure the infrastructure capacity to meet their needs.
The Alliance

Founded in 1852, the American Society of Civil Engineers (ASCE) represents more than 150,000 members of the civil engineering profession worldwide and is America's oldest national engineering society.
Established in 1881, the American Water Works Association (AWWA) is the largest nonprofit, scientific and educational association dedicated to managing and treating water, the world's most important resource. With approximately 50,000 members, AWWA provides solutions to improve public health, protect the environment, strengthen the economy and enhance our quality of life.
Founded in 2002, Engineers Without Borders USA (EWB-USA) supports community-driven development programs worldwide by collaborating with local partners to design and implement sustainable engineering projects, while creating transformative experiences and responsible leaders. Their 16,800 members work with communities to find appropriate solutions for water supply, sanitation, energy, agriculture, civil works, structures and information systems.
Purpose

Community Engineering Corps is an alliance between ASCE, AWWA, and EWB-USA. The alliance combines the strengths of three organizations to provide technical expertise to underserved communities in the U.S. and ensure that their infrastructure meets their community's needs.
Opportunities

Volunteers with a range of experience and expertise will be recruited to work on project teams, serve on program committees and provide mentorship to university student project teams.
How does a community apply to start a project?
The application must come from a community group or a nonprofit organization that represents a community. The application includes information about the program eligibility requirements and the criteria against which the application will be judged. After you have completed the application, submit it to cecprojects@ewb-usa.org. If you have questions about how to complete the application, address your questions to cecinfo@ewb-usa.org.
The review of the application will take four to six weeks. If the application is approved, the CEC will identify a section of AWWA or ASCE or a chapter of EWB-USA that is best suited to work on the project. Next, the CEC will connect the community with the volunteer engineers that will be working on the project. If the project is declined, the review committee will detail the reasons that the project is not appropriate as a CEC project.
Example projects that the CEC might work on include providing a model sanitation solution to isolated homes in a tribal community or assisting a community where a public building is flooded on a regular basis.
Community Engineering Corps Volunteer Opportunities
Opportunities for Chapters and Sections
Project Teams – Chapters and Section can form project teams to work in underserved communities on improvement projects. Each project team must have a Professional Engineer licensed in the state in which the project will be constructed who is willing to serve as the Responsible Engineer in Charge (REIC). Also, the team needs a project lead and the technical expertise to complete the work.Project teams can view open projects online and apply to work on the community project.
Fundraising – Chapters and Sections are encouraged to fundraise to support the projects their teams have adopted.
Opportunities for Individual Members
Student Chapter Mentor – Professional members have the unique opportunity to mentor the next generation of engineers to make a lasting difference in the lives of others. University-based student chapters are in need of mentors to guide the technical aspects of their community projects.
Domestic Application Review Committee (DARC) – The DARC is a volunteer committee that oversees the project application process. This committee reviews project applications submitted by communities and will ensure the need for the project and lack of otherwise available engineering services. The DARC approves the projects that will be made available online for adoption by a project team. Qualified project teams may apply to work with a community on approved projects. Project team applications will be reviewed and approved by the DARC. Volunteers will be trained by the Program Director.
Technical Review Committee (TRC) – The TRC is a quality control committee that provides technical review of project plans. Members of the TRC are Professional engineering licensed volunteers and will be trained by the Program Director.
Legal Review Committee (LRC) – Volunteers on the legal committee are individuals with a large experience in law who assist the project teams in developing the engineering services agreement with the community.

Questions: CECinfo@ewb-usa.org
For more information or to apply as a legal volunteer, please emailcecsubmittals@ewb-usa.org
Purpose
To provide community-driven developmenthttp://universityinnovation.org/images/0/0c/EWB_TAMU_COSTARICA.jpg
To supply clean drinking water, adequate sanitation and reliable passage to local markets to communities in need of basic necessities
To assess, design, implement, monitor and evaluate appropriate engineering solutions for these needs
To create transformative experiences that enrich global perspectives while creating responsible leaders
Distinct Differences From Other Offerings
Through Engineers Without Borders, students will learn to:
Manage international engineering projects
Understand a different culture and how to respect it
Escape from behind the desk and apply what was learned through this experience to real world problemshttp://universityinnovation.org/images/7/77/Tate_EWBUmain_1.jpg
Lead or follow a project and watch the design become reality
Develop a 5-year commitment where members must continue their work through incoming students
Manage an organization - finances, fundraising, and relationships with faculty and donors
Impact Achieved For Students and Campus
With over 180 Universities involved in EWB-USA, the impact students have made is far-reaching.
EWB award videos can be found on YouTube.
Texas A&M
Texas A&M's EWB-TAMU chapter won the EWB-USAs "Premier Chapter" recognition for going above and beyond the mission of Engineers Without Borders. Texas A&M students visited Costa Rica multiple times to gather information about the communities needs in which they would be working. While back at Texas A&M, they spent a year assessing and designing solutions for those needs with other students and professional engineers. After that year, they went back to Costa Rica to implement and fulfill their design solutions. When construction was finished they had built a computer education center for children and made the communities water supply drinkable, while simultaneously providing 100 households with access to water. Read more about there experience here. You can also check out EWB-TAMU's chapter on their website.
University of Maine
The University of Maine (EWB-UMaine) is also well known for their professional work. Not only do they have strong student involvement, EWB-UMaine also has many professional engineers within the state working closely with students. EWB-UMaine is working on a portable water project for the village of Dorgobom, Ghana, to make water more accessible and safer to drink.http://universityinnovation.org/images/5/52/Tate_EWBUmain_2.jpg EWB-UMaine has been quite creative in funding this project. They hold many raffles, bi-annual yard sales, bowling events and even a beer and wine tasting. Perhaps their most innovative fundraiser, making jewelry from Ghanaian beads, provided students with the ability to get a closer look at where their time and effort was going. You can read more about EWB-UMaine's projects and reach out to the student team on their website.
University of Wisconsin-Milwaukee
Website, Blog
Email: EWB@UWM.EDU
Phone: 715-252-8877
http://universityinnovation.org/images/3/33/EWB-UWM-IMG_2847.jpg
Abroad Projects:
Partnering with Agua Para a Salud, an in-country NGO led by Lynn Roberts. Lynn and the members of the NGO have more than thirteen years experience implementing water distribution networks in Guatemala. The group will also be partnering with Quiche's La Asociación led by Diego Ramirez, a community-driven organization working to improve living conditions in the Quiche community.
EWB-UWM will be installing a pump-driven water conveyance system, with Phase One including implementation of various structures and surveying. Future phases will include the installation of a distribution network, pump, and conveyance pipeline. Also, additional water testing will be done to ensure that the water source that the community owns is providing a source of clean water.
Vitostix and Vijilom III – 2011/2012
La Libertad – 2010/2011
Quechip – 2009/2010

Local Projects
Sandburg Water Catchment
Concordia Victory Garden
Physics Building Water Catchment
Physics Building Water Catchment
Bay View Hide House

Overview of Projects: 
http://universityinnovation.org/images/7/7d/EWB-UWM.png
Steps Required To Bring Resource to Campus
Chances are a chapter already exists on your campus. To find out, or connect with your chapter, check out chapters near you here. Otherwise, start your own chapter with a four-step application. Download the application here.
Step 1: Review the Application Criteria
Recruit passionate members from various backgrounds
Commit to a 5-year partnership
Recruit a qualified professional lead mentor (generally a professor)

Step 2: Fill Out and Submit the New Community Program Application
Complete a new program application. Applications are reviewed bi-annually with deadlines on January 1 and June 1 of each year.

Step 3: Program Approval
Upon approval, a Chapter Agreement will be sent to your chapter. For your chapter to become official, you must sign and return the agreement to EWB-USA.

Step 4: Program Adoption
Provide EWB-USA with your chapter's officers and their contact information and pay the annual fee.
Student Chapter List

http://universityinnovation.org/images/2/26/EWB_Map.png
There are nearly 300 student chapters throughout the nation. For website and contact information of University Innovation schools which have EWB chapters, see the table below:
University Innovation Fellow schools 2018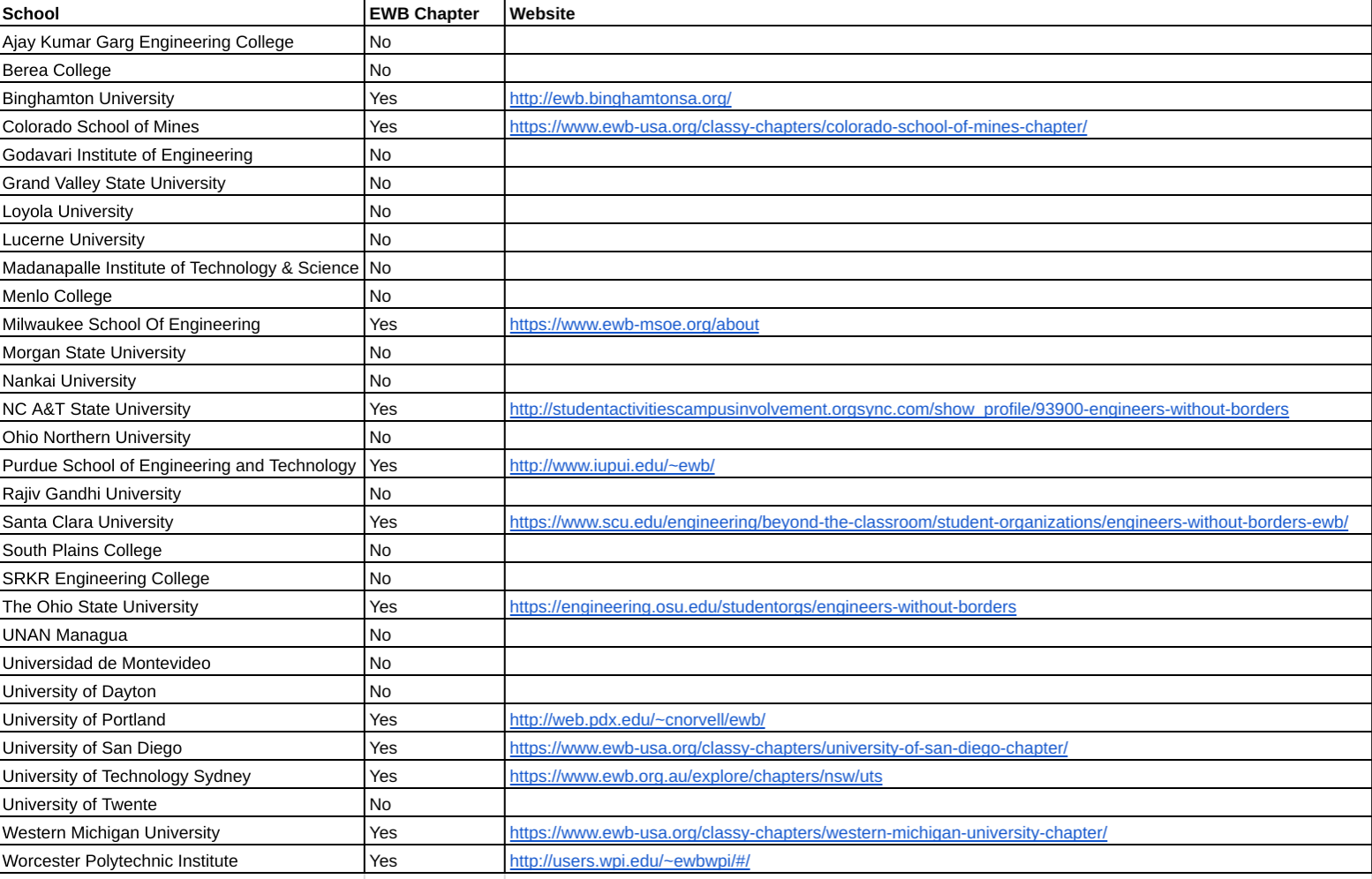 Collaborators 2018