Organization:DECA
Jump to navigation
Jump to search


WHAT IS DECA?
DECA (Distributive Education Clubs of America) is an international organization that works with schools, both high schools, and colleges to, educate aspiring entrepreneurs and soon-to-be leaders. They do this by holding conferences and competitions in the following fields of business; marketing, finance, hospitality, and management.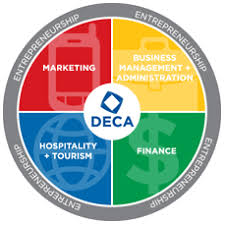 DECA has been changing lives and impacting futures since 1946, and with their constantly revolving research and education based technology, they have provided the very best program made possible to students in high school and higher education.
DECA has almost 30 competitive events, all aimed to prepare students for not only their future careers but also, the workload that comes along with it. DECA competitions often simulate what it's like to make big decisions pertaining to the company, or in the case of the entrepreneurship categories, you'd be the one founding the company itself.
WHAT EVENTS CAN YOU COMPETE IN?
DECA hosts competitions composed of various events relating to different aspects of the business profession. DECA competitions are aimed at providing students in business-oriented professions with experience in competitive environments. Students may chose to enter events as individuals or as a team with up to 3 members. 
Events such as individual case studies are designed to measure a broad range of knowledge, skills, and attitudes, both general business/marketing/management and industry-specific, identified by business and industry professionals as essential to success in a given occupation. Events include but are not limited to Accounting, Banking Services, Marketing Management, and Retail Management. 
Events such as prepared business plan presentations provide students the opportunity to prepare ahead of time a written prospectus and/or to present to a professional (judge) with experience in the area of specialty identified for the event. Events within the business plan category include but are not limited to Advertising Campaigns, Growing a Business, and Business Research. 
A full listing of available competitions can be found here: 
https://www.deca.org/college-programs/college-competitive-events/
WHAT IS THE IMPACT OF DECA'S ORGANIZATION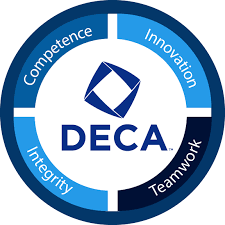 DECA was created to prepare high-school and college students for careers in the business sector, including budding entrepreneurs and hopeful business leaders. Through this program, they can become…
CRITICAL THINKERS through the academic rigor of the program.
LEADERS in their chapter and on their campus.
PREPARED for a career in management, entrepreneurship, hospitality, marketing or finance.
The skills gained through the DECA are important building blocks to students future, preparing them to enter the business world after college with a sense of knowledge and comfort in their area, already. Joining the chapter at your school will enhance business education, leadership skills, and academic success.
HOW CAN YOU START A CHAPTER AT YOUR SCHOOL?
There are two options that a student can choose when wanting to join the DECA organization. You can either join or locate a local DECA chapter either on your campus or in the community, or you can basically be a group of one and compete in competitions solo.
If you choose the first and most common option, which is to join or create a DECA chapter, it's basically like your creating a club on campus. Except in order to be official, and in order for you to compete in regional and global competitions, you have to register your Chapter(club) on the DECA organization's website, which is deca.org. After your club is registered with the organization, it's important that you get the necessary support from stakeholders at the school, like the President, Vice President, Provost, and your Student Government Association. This is really important to your chapter's success since for all competitive events and for your chapter's membership with the DECA organization, fees need to be paid. As you will see in the next section, there are many ways you can get the necessary funding your events and just for your club in general whether that be through the actual DECA organization or through your own school. The opportunities are endless!
HOW CAN YOU RAISE FUNDING?
Every year, DECA provides more than $300,000 in scholarships to students across partner chapters. Scholarships are funded by business and organizational partners within the DECA network. Sources of funding for the scholarships are sometimes dependent on what aspect of business a student plans to pursue. For example, scholarships for students with a focus on hospitality are eligible to receive awards from partner business Marriott International. Other scholarships and grants are merit-based and seek students with proven records of leadership and service in their communities.
A full list of available scholarships and grants to DECA college students can be found at the following link:
https://www.deca.org/college-programs/scholarships-college/
CONTACT INFORMATION
DECA Inc.
1908 Association Drive
Reston, VA 20191
(703) 860-5000
info@deca.org
Edited by Ash Hunt, Regan O'Donnell, and Alex Plazas </div>