Organization:Blackstone LaunchPad
Jump to navigation
Jump to search
Overview

Blackstone is the world's largest alternative asset investment firm founded by Stephen A. Schwarzman and Peter George Peterson in 1985. Blackstone currently has $311 billion in assets under management, and released an initial public offering in 2007. From its own description:
"Blackstone is the world's largest independent alternative asset manager, serving the investment needs of leading public pension funds, academic and charitable institutions and other investors for more than 25 years.  Our funds include private equity funds, real estate funds, customized hedge fund solution funds, credit-oriented funds and publicly traded closed-end mutual funds.  In addition, we provide investment advice and management services to institutional investors through a variety of separately managed accounts. "
The firm's culture of incorporating entreprenuerial elements began with the firm's founders and has continued to evolve through Blackstone's business units being very entrepreneurial in the way in which they provide solutions to their clients' needs. The Blackstone Charitable Foundation created the Blackstone LaunchPad organization in 2008 and was modeled after a successful entreprenurship program at the University of Miami. The Blackstone LaunchPad is a campus-based entrepreneurship program, accessible by over 600,000 students globally, designed to support and mentor students, staff and alumni - regardless of major, experience or discipline. This program is available mostly in economically depressed regions of California, Montana, Central Florida, Pennslyvania, Ohio and Michigan. Blackstone recently partnered with VentureBoard to supply services for the LaunchPad program. VentureBoard is two-sided 'Startup Data Platform', specifically oriented for universities and early stage startup ecosystems.
Purpose
Blackstone's Charitable Foundation includes an "Entrepreneurship Initiative," a part of which is their Blackstone LaunchPad program.  From their description:
"Blackstone LaunchPad is a national model for fostering entrepreneurship through higher education. Based on a successful program at the University of Miami, it encourages entrepreneurial thinking and activity among undergraduate and graduate students as well as faculty and alumni for the purpose of incubating a new generation of entrepreneurs who will contribute to the economic revitalization of distressed regions."
The main goal is to educate and "supercharge regional economies." They do this by focusing on areas in which the entrepreneurial ecosystem is underdeveloped. They connect these regions with an influx of what they consider to be "high growth ventures" from students and building a network of already successful entrepreneurs around them. 
They have a simple incubation process:
A young entrepreneur completes a profile that all members of the LaunchPad Community can access, and they complete a "Venture Assessment Form" that illustrates the details of their expected market, competitors, and the future of their product.

Pair a student with a master entrepreneur to develop a business idea. These entrepreneurs can recognize great potential and they guide subjects through the rigorous process. The subject can meet regularly with the LaunchPad staff as well.

Blackstone does the networking and provides the student with the proper resources - they are able to meet a number of business leaders in their area to recieve additional mentorship. Partnerships are also formed with programs, firms, and investors in the area.

Blackstone helps bring their product to the market, and this creates new jobs in the area, leaving a lasting, sustainable network
Blackstone Launchpad also has programs which work in regions that have some pre-existing entrepreneurial activity. They create what they call an "Innovation Hub" in this area to coordinate resources they already have and expand them to new territories. Blackstone LaunchPad in recent years has expanded to an international approach through developing partnerships with universities such as Trinity College, the National University of Ireland Galway, and the University College of Cork. The organization's goal is to create an unprecedented network that provides students opportunities that they wouldn't have otherwise with more unique partnerships coming in the near future.
Blackstone University Partnership Process

Blackstone LaunchPad looks for university campuses with significant size (population 15,000 students or more per campus). The organization assists at all levels within the university from students and alumni to faculty and staff in providing a entreprenuership-focused campus. Blackstone LaunchPad provides campuses with the initial stake in the ground that helps various departments on the campus engage and develop relationships to encourage entrepreneurship with the goal of optimizing campus resources in creating the most benefit. Blackstone LaunchPad has a goal to engage at least 10% of each partner campuses student population to ensure high participation in the organization. The organization also strives to well-position itself in each of its partnership campuses to provide the most benefit to the each university from a wholesome perspective.
Blackstone Launchpad's New Partnership
As of October 17, 2017, Blackstone LaunchPad formed a new strategic partnership with TechStars to further assist entreprenuers with reaching their goals. The new partnership is called the Blackstone LaunchPad TechStars Training Camp that will support top performing Blackstone LaunchPad ventures. More information about the new partnership can be found here.
Distinct Differences From Other Offerings
Blackstone LaunchPad is a unique resource for Universities because very few campus incubators are run by external resources. Typically, these incubators are somewhat limited to an alumni network and the resources they have to offer, where as Blackstone LaunchPad has a very diverse collection of Entrepreneurial Masters to educate, coach, and connect students with the rest of the entrepreneurial world. LaunchPad offers the networking and resources that come with being a leading global venture capital firm. One of the unique opportunities that the organization provides entrepreneurs is a 1-on-1 coaching model that begins with peer-to-peer and executive director or program director mentorship. As the entreprenuer's business model makes more traction, subject matter experts and other professionals are contacted to assist with mentoring.
One huge advantage to using Blackstone Launchpad as a resourse rather than one's university incubator is that the risk of a technology transfer, or the act of universities providing campus resources to students with the intentions of claiming ownership to intellectual property designed by students, is eliminated. 
Blackstone also has a number of organizational grants, funding the growth of entrepreneurship across the country. Many of these organizations either promote entrepreneurial action, provide funding and support for existing entrepreneurs, or educate students about entrepreneurship. 
VentureBoard: An Online Entrepreneurship Platform
VentureBoard is an online entrepreneurship platform for students, entrepreneurers, universities, and organizations.  It is the basis of Blackstone Launchpad's website, and is also available as a stand-alone product.
Universities and organizations that adopt VentureBoard are provided with a way to organize advising for students and aspiring (or current) entrepreneurers, as well as provide resources and track the progress and performance of their spin-offs and startups.
Students and entrepreneurers that use VentureBoard through such an institutuion have access to mentorship opportunities, as well as resources such as a business model canvas, closed discussion boards, a search option to find potential business partners or interested parties, and other contextual resources.  Students and entrepreneurers can also express interest in seeking venture capital funding, alerting their mentor and institution so that they can provide potential connections.
Beyond Blackstone Launchpad, VentureBoard is currently used by University of Maryland College Park, NC State University and Duke University.
Ventureboard was created by Scott Block, Justin Searles, Avi Eisenberger and Jordan Goldstein, and students at the University of Maryland College Park.  The platform evolved to fill a gap they perceived in the ability of entreperenurially-minded students at their school to connect with one another to form successful startups.
More information can be found on VentureBoard's website, at ventureboard.co.
Impact On Students and Campus
<span style="font-size:large;"</span>
Recent LaunchPad Successes:
Q-Cigarettes - Drew Park, a fourth-year medical student at the University of Iowa Carver College of Medicine and a first-year master's student at USC's Keck School of Medicine, pitched his company's unique new treatment for tobacco dependence at Wake Forest's 2014 Retail and Health Innovation Challenge, taking home the grand prize of $25,000.   
O'Dang Hummus - After winning $15,000 at a Blackstone LaunchPad Demo Day, Jesse Wolfe, a University of Central Florida student, landed a deal with supermarket chain Publix, which will now carry his new salad dressing product.
Fever Smart - A Penn and Wharton collaboration, non-invasive fever monitoring technology: Fever Smart, won $10,000 at the first "Rise Above the Rest" student speed pitch competition.
Roar for Good - Wearable self-defense technologhy "Roar for Good" raised over $260,000 on Kickstarter, receiving more than 4,000 orders from 47 countries around the world.  "Roar for Good" will also compete for a $70,000 grand prize at the SBA InnovateHer Challenge Competition in March.
...and more! Click here for more recent success stories.
Community Impact
Blackstone LaunchPad not only helps budding entrepreneurs; it also aids the local economy surrounding the university the students are attending. The ventures that students create help increase the number of jobs available in the area, and expand the network of professionals in the region.
Nationwide & Statewide Impacts:
White House's Startup America Initiative- "Startup America is a White House initiative that was launched to celebrate, inspire, and accelerate high-growth entrepreneurship throughout the nation" More details can be found at this website.
California- Largest grant of $3.5 million, over 100,000 students affected within California, 350,000 students nationwide involved in networks created
Montana- Blackstone Charitable Foundation partnership with University of Montana, Montana State University and Headwaters RC&D creating 200,000 person peer community which encompasses 150 new ventures and has generated hundreds of jobs
Central Florida- Blackstone Charitable Foundation partnership established with $1.4 million grant to UCF and U. Miami, focus on entrepreneurship education in respective universities
Pennsylvania-Blackstone Charitable Foundation partnership est. with $3 million grant to Philadelphia and Temple University and University City Science Center, total of 40,836 students impacted
Ohio- Blackstone Charitable Foundation created annual $3.2 million contribution with Burton D. Morgan Foundation to be put towards numerous universities in Northeast Ohio, impacting over 72,000 students. The Burton D. Morgan Foundation invests in numerous entrepreneurially focused organizations and institutions to strengthen free enterprise
New Economy Initiative (NEI) (Michigan)- $2 million contribution to boost employment and restart the economy specifically in Detroit after economic crises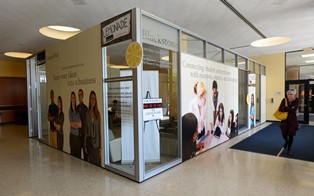 Launch Pad at Kent State University
Schools and associations with Blackstone LaunchPad Program 
California
UCLA
USC
Los Angeles Economic Development Corporation
Connecticut
Florida
University of Central Florida
Michigan
Montana
University of Montana
Montana State University
New York
Cornell University
New York University
Syracuse University
University at Albany
University at Buffalo
Pennsylvania
Temple University
University City Science Center
Philadelphia University
South Carolina
University of South Carolina
Texas
Texas A&M
University of Texas at Austin
University of Texas at Dallas
Ireland
NUI Galway Students' Union
University College Cork
All of these schools offer the Blackstone LaunchPad program and interested students can follow the multi-step process listed above to get involved.
Blackstone LaunchPad Contact
Alisha Slye - Global Director of Blackstone LaunchPad
Email: Alisha.Slye@blackstone.com
Blackstone Contact Information - Contact Us
As posted on http://www.blackstone.com/the-firm/overview/contact-us
United States 
International 
London
The Blackstone Group International
Partners LLP
Phone: +44 (0)20 7451 4000
Fax: +44 (0)20 7451 4001
Location & Directions
 
GSO Capital Partners LP
Phone: +44 (0)20 7758 9000
Fax: +44 (0)20 7758 9098 or 9099
Location & Directions
 
The Park Hill Group
Phone:  +44 (0)20 7451 4000
Fax:  +44 (0)20 7451 4091
Location & Directions

Beijing
The Blackstone Group
Phone: +86 10 6649 (7300)
Fax: +86 10 6649 (7301) Private Equity
Fax: +86 10 6649 (7310) Corporate Advisory
Location & Directions

Dubai
The Blackstone Group International
Partners LLP
Phone: +971 (0)4 401 9203
Fax: +971 (0)4 401 9201
Location & Directions

Dublin
Harbourmaster Capital Management Ltd
Phone: +353 1 436 0100 
Fax: +353 1 436 0101
Location & Directions


Düsseldorf
The Blackstone Group Germany GmbH
Phone: +49 211 8628400
Fax: +49 211 8628401
Location & Directions

Hong Kong
The Blackstone Group (HK) Limited
Phone: +852 3656 8600
Fax: +852 3656 8601
Location & Directions

Istanbul
The Blackstone Group International
Partners LLP
Phone: +971 (0) 4 401 9203 
Fax: +971 (0) 4 401 9201
Location & Directions

Mumbai
Blackstone Advisors India Private Ltd.
Phone: +91 (0)22 6752 8500
Fax: +91 (0)22 6752 8531
Location & Directions

Blackstone Fund Services India Private Ltd.
Phone: +91 (0)22 6752 8520
Fax: +91 (0)22 6752 8530
Location & Directions

Paris
The Blackstone Group International
Partners LLP
Phone: +33 (0)1 56 69 16 30
Fax: +33 (0)1 56 69 16 31
Location & Directions

Shanghai
The Blackstone Group
Phone: +86 21 6169 8188
Fax: +86 21 6169 8189
Location & Directions

Seoul
Areof Services Limited
Phone: +82 (2) 2198 2000
Fax: +82 (2) 2198 2010
Location & Directions

Singapore
Blackstone Real Estate Asia Pte Ltd.
Phone: +65 (6850) 7500
Location & Directions

Sydney
The Blackstone Group
Phone: +61 2 8016 7200
Fax: +61 2 8016 7201
Location & Directions

Tokyo
The Blackstone Group Japan K.K.
Phone: +81 (03) 4577 8400
Fax: +81 (03) 4577 8401
Location & Directions

 
For general inquiries please contact info@blackstone.com.
If your inquiry is associated with your desire for a position at The Blackstone Group, please visit the Careers page.
Contributors