Organization:Ashoka
Jump to navigation
Jump to search
Overview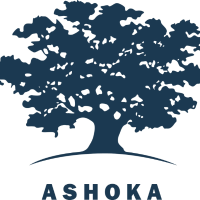 Ashoka builds networks of pattern-changing social innovators and select high-impact entrepreneurs, who creatively solve some of the worlds biggest social challenges, to become Ashoka Fellows. They believe that there is nothing more powerful than a new idea in the hands of a social entrepreneur.  Ashoka is practical in that they are highly attentive to the nuts and bolts of making things work, and visionary in that they often reframe the problem, build roles for others to participate, and cast a long term view for change at least at the national level. Ashoka's Venture and Fellowship program identifies and elects leading social enrepreneurs to the global Ashoka Fellowship and provides support, community, collaboration opportunities, and recognition.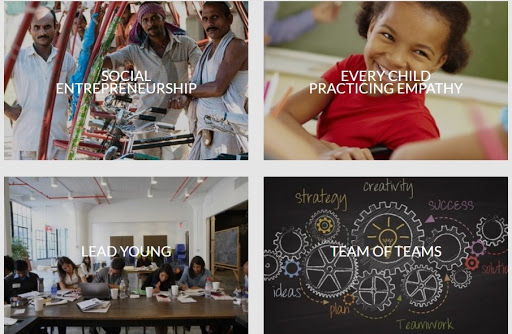 Ashoka builds and cultivates a community of change leaders who see that the world now reqiures everyone to be a changemaker. Together, we collaborate to transform institutions and cultures worldwide so they support chagemaking for the good of society.
Ashoka's four areas of focus and investments help people to understand and adapt to the world of accelerating change, where everyone is called on to be a leader:
Social Entrepreneurship
Ashoka has pioneered the field of social entrepreneurship, identifying and supporting the world's leading social entrepreneurs since 1980. Social entrepreneurs are individuals with innovative solutions to society's most pressing social, cultural, and environmental challenges. They are ambitious and persistent — tackling major issues and offering new ideas for systems-level change.
Empathy
Ashoka is bringing together a global network of the world's leading social entrepreneurs and other partners to work towards a society where learning empathy is a essential, parents insist that their children develop empathy, and institutions cultivate empathy in learning and in practice.
Lead Young
Everyone can be a change-maker and it is never too early too start. That is the premise that global non-profit Ashoka says is behind its new LeadYoung initiative, which seeks to inspire people with stories about successful social entrepreneurs and how they started their work at a young age.
Team of Teams
Living and working in our changemaker world requires breaking through silos, tearing down walls, and organizing in fluid, open, teams of teams.  
Purpose
Ashoka has identified the new framework needed for living and working together in this radically different world drawn from insights working with our global network of Ashoka Fellows, the world's leading social entrepreneurs. The four elements of the framework are empathy, teamwork, new leadership, and changemaking.
Empathy is crucial in a world where rules can't keep pace with the speed and complexity of change. Empathy-based ethics is fast becoming the cornerstone for our everyday dealings.
Teamwork relies on everyone having the capacity to work in fluid, open teams of teams to see and seize the ever-changing opportunities in this new strategic landscape.
New Leadership requires that every player on the team be an initiator. Each person must see the big picture and advance solutions that contribute to positive social outcomes.
Changemaking is the capacity to freely and effectively innovate for the good of all.
Distinct Differences From Other Offerings
Ashoka Fellows work in over 90 countries around the globe in every area of human need.  They are taking a different route by addressing social entrepreneurship, and seeking leaders who are willing to make a difference in the community. They are providing youth and up with the tools they need to become a social entrepreneur and make a difference and also build networks that help people see and understand this new framework, and take an action as changemakers.
Ashoka offers a life-time Fellowship program for individual Social Entrepreneurs. The Fellowship represents a great opportunity to spread the work and impact of these individuals as well as support them to scale up and grow. Additionally, Ashoka offers group entrepreneurs (Fellows working in the same sectors) the platform to develop broader social innovations together. 
Impact Achieved For Students And Campus
Ashoka selects the world's leading social entrepreneurs as Ashoka Fellows; the leading elementary, middle and high schools as Changemaker Schools when their students prioritize empathy, teamwork, leadership, problem-solving and changemaking; and colleges and universities as Ashoka Changemaker Campuses when they make social innovation an embedded core value.
Every two years, a selection of Fellows answer a battery of questions to help Ashoka assess the efficacy of the Fellowship program and how it could be improved. These studies consistently show that about 80 percent of Ashoka Fellows have changed a national-level system in at least one way within 10 years of their election to the Ashoka Fellowship. In 2013, 87 percent of Ashoka Fellows surveyed indicated that Ashoka had helped to increase the impact of their work, with 49 percent saying that Ashoka had made a "critical difference" in their efforts.
Ashoka U takes an institutional change approach to impact the education of millions of students. They collaborate with colleges and universities to break down barriers to institutional change and foster a campus-wide culture of social innovation.
Steps Required To Bring Resources to Campus
They currently have Nine programs: Ashoka Support Network , Ashoka U , AshokaChangemakers , Ashoka Changemaker Schools , Ashoka Executive in Residence , Ashoka Globalizer , Ashoka Venture and Fellowship, Ashoka Youth Venture , Ashoka Social Financial services
The selection process enables Ashoka U to make a comprehensive evaluation of the institution and helps us develop a portfolio of institutional strengths and unique contributions to the field.
Phase 1 – 360° Campus Scan: The 360° Campus Scan is an inventory tool designed as an empowering experience and structured process to assess the changemaking ecosystem at your institution, catalyze deeper commitment among your allies, generate new insights and ideas about what could work at your institution, and get feedback, recommendations, and comparative institutional case studies from Ashoka U. -­ US $7,500*
Phase 2 – Site Visit: Ashoka U conducts a selection site visit for interviews with senior leaders and other key allies on campus, and for final evaluation and coaching for the selection panel. - US $7,500* + Travel and Accomodations
 Phase 3 – Selection Panel: Two Change Leaders or campus representatives make their case in front of experts in the field, who decide whether the institution qualifies as a Changemaker Campus.
On­boarding: Within a week of the Changemaker Campus selection panel, we will notify you of your designation as a Changemaker Campus and begin to prepare for a launch and designation ceremony at the Ashoka U Exchange. - US $10,000*
Contact Information
Ashoka Global Headquarters
1700 North Moore Street
Suite 2000 (20th Floor)
Arlington, VA 22209
USA
Tel: 703-527-8300
Fax: 703-527-8383
Email: info@ashoka.org
54, 1st Cross, Domlur Layout
Bangalore 560071
India
Tel: 080-4274-5777
Email: india@ashoka.org
Created by:PREETHI KODURU, VENKATESH,, PRATHAP PUPPALA and HARSHA TEJA.