School:Oklahoma State University
Jump to navigation
Jump to search


2015 Project Pitch
Student Innovation and Entrepreneurship
When students think of innovation and entrepreneurship on Oklahoma State University's campus they will point you to the Riata Center for Entrepreneurship in the Spears Business Building. They offer a wide range of opportunities for students to learn or engage in entrepreneurship. Unlike most universities, the School of Entrepreneurship is an accredited school. They offer an undergraduate, masters, and PhD in Entrepreneurship along with a minor for both business and non-business majors. This is the place that will guide you in getting the help or information that you need. The School of Entrepreneurship has been open almost 6 years, and student enrollment has been growing every year. The Spears School will be getting a brand new building in 2018, and the School of Entrepreneurship and Riata Center will have the biggest space in the building with over 5000 sq ft. Innovation is embedded and encouraged by each college, which allows students to flourish in their creativity.
Here are some ways that students at Oklahoma State University are engaging in innovation and entrepreneurship.
Big Idea – Pitch and Poster Competition
Entrepreneurs Inspire Conference – Women in entrepreneurship
Entrepreneurship Club – providing students the resources they need to get invovled withing the university.
Veterans Entrepreneurship Program – providing service disabled veterans the resources they need to start their own company.
TedXOstateU - Ideas worth sharing
Inventors Assistance Services - Provides guidance and research
Entrepreneurship Club – Foundation for innovation
Inspire Conference – Programs for venture start-ups.
New Product Development – New product concept
Cowboy Idea Hatchery – Student Business Incubator 
Fulbright Program – Grants for students
New Venture Lab – Student business incubator
Cowboy Technology – Commercialization program
Innovation Engineering – technical assistance and business advice
Faculty Innovation and Entrepreneurship
Not only does Oklahoma State University offer an entrepreneurship degree, but also in twelve different colleges they provide opportunities for students to take entrepreneurship classes. Faculty is dispersed in different areas so if an agriculture student wants to develop a new feeder like 3cCattle they are able to take entrepreneurship classes. Faculty is given the option to apply for grants like the Presidents Cup, Fulbright, Provost, NCIIA, Koch, and fellowships within each college. The Riata Center of Entrepreneurship offers a facility fellowship and gives seed money to help develop their project. 
Oklahoma State prides itself on its innovative entrepreneurial programs for both students and faculty. At OSU, there is a program called Innovation Way, which consists of four businesses meant for engaging faculty and students alike to reach their full potential. One of these programs specifically tailored for faculty technology development is Cowboy Technologies, a catalyst for innovation, which aims to prepare start-ups and products for the market as well as connect professors with angel investors. However, developing these start-ups takes years or longer due to the lack of funding and staff at Cowboy Technology- making it a risk to some faculty to invest their time and business. Above Cowboy Technologies is the Center for Innovation and Economic Development as well as Innovation2Enterprise, who deal with the legality of production including government regulations and patent laws. However, OSU faculty are unaware of these programs as they have just recently opened for business. Moreover, staff is hesitant to get involved, as they don't want to risk their products in a new, risky program. OSU needs to continue to promote the integration of faculty into an environment that promotes innovation and local economic development. 
University Technology Transfer Function
Oklahoma State University offers a wide range of technology transfer. The Technology Development Center (TDC) covers various legal aspects of inventions originating from OSU faculties and students, which ranges from initial invention disclosures to filing patents and beyond. Their mission is to foster the creation of innovative technologies and to manage those technologies and other intellectual properties for the benefit of the University and the public.
TDC have various programs to support technology transfer. Their unique program called Technology Business Development Program identifies projects with high commercial potential and supports the advancement of those projects to the point of licensing. The program provides a series of internal grands that fund feasibility demonstration (up to $5000) and prototype development (up to $50000). It also features a high level of research faculty involvement, commercialization assessment and networking opportunites.  
TDC collaborates with Cowboy Technologies, LLC, which is a for profit entity established to provide early seed-stage activites for OSU-developed technologies. Cowboy Technologies picks TDC managed OSU technologies with high commercial potential and nurtures to take these to the next stage.
TDC also collaborates with qualified faculty researchers through a program called CoStart. This program facilitates the process of starting a company using OSU-licensed intellectual property by a faculty. CoStart Serves researchers who need extensive instrumentation that is unavailable outside of their university laboratory by allowing access to lab facilities at affordable reimbursement. 
University-Industry Collaboration
Oklahoma State University is apart of University-Industry Demonstration Partnership (UIDP). UIDP provides a unique forum for university and industry representatives to meet and discuss operational and strategic issues such as contracting, intellectual property, and compliance matters. The Technology Development Center maintains relationships with industry and makes intentional relationships to further their industry by inquiring about their needs that could be fulfilled by Oklahoma State's researchers. 
Oklahoma State University reaches beyond Stillwater, Ok in it's efforts to facilitate university-industry collaboration in the state. At the OSU-Tulsa campus, the mission of Helmerich Research Center is focused on "providing research, testing, technology transfer and education to advance the region's aerospace, energy, manufacturing, transportation, electronics and medical industries." Researchers at the center work with local companies on a wide range of projects. Oklahoma State University has worked closely with Infinite Composites Technologies, a local Tulsa company, on several projects that have received recognition for being groundbreaking in their field.
Regional and Local Economic Development Efforts
Oklahoma State University has partnered with i2E, Inc., a nationally recognized private not-for-profit corporation focused on growing innovative small businesses in Oklahoma and making a positive impact on the state's economy.
Oklahoma State University is also involved with Oklahoma Proof of Concept Center. The project is designed to determine optimal market alignment, create a commercialization road map and ascertain the amount of funding required to achieve initial product development and market entry.
OSU's Center for Innovation and Economic Development (CIED) connects the university with business and government, transforming vision into reality for Oklahoma's future and growth.
The food and agricultural center (FAPC) helps producers, processors and entrepreneurs add value to Oklahoma's food and agricultural processing industries.
The Oklahoma Agricultural Experiment Station (OAES) conducts research for the purpose of developing new knowledge to address the needs of Oklahomans. OAES research focuses on agriculture, natural resources, rural economies and social issues.
OSU's New Product Development Center (NPDC) links the innovative ideas and capabilites of Oklahoma's small- and medium-sized manufacturers with the knowledge and technical expertise of the land grant university faculty, staff, and students. Through this collaboration NPDC is positively impacting development and commercialization of economically competitive new products. It is also improving manufacturing practices that strengthen economies, create new jobs, improve capital investment and increase tax base.
The Inventor's Assistance Program (IAS) provides guidance and resources to Oklahoma's inventors. IAS is helping the inventors in the area of preliminary patent searches, market analyses, manufacturing referrals, and engineering analyses, prototyping, and model designing.
Oklahoma State University Research Centers and Facilities
Mission Statement
Oklahoma State University is a multi-campus public land grant educational system that improves the lives of people in Oklahoma, the nation, and the world through integrated, high-quality teaching, research, and outreach. The instructional mission includes undergraduate, graduate, technical, extension, and continuing education informed by scholarship and research. The research, scholarship, and creative activities promote human and economic development through the expansion of knowledge and its application.
Vision Statement
Oklahoma State University System will advance the quality of life in Oklahoma by fulfilling the instructional, research, and outreach obligations of a first-class, land grant educational system.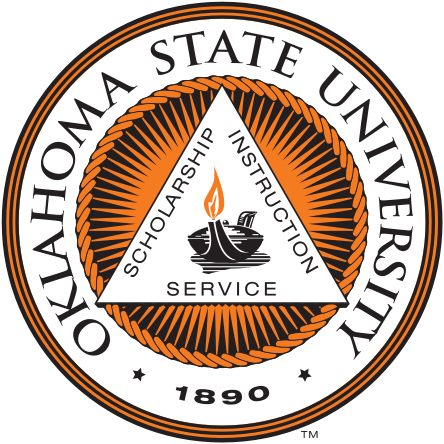 Landscape Canvas
Related Links
2015 Fellows:
2014 Fellows:
Oklahoma State University Student Priorities
---
---