Fellow:William Wall
Jump to navigation
Jump to search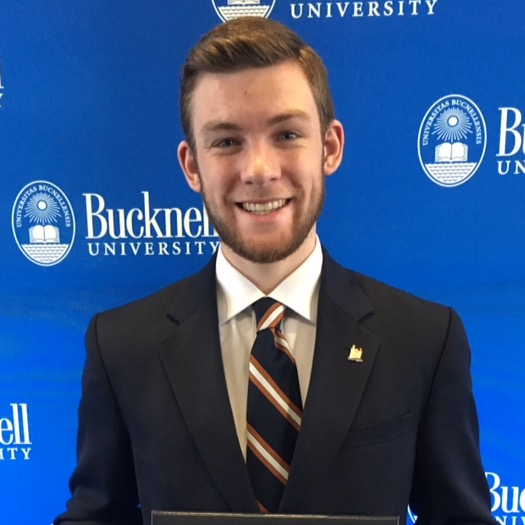 William Wall
William Wall, known as Billy by his friends and family, is a student at Bucknell University studying mechanical engineering. Aside from being a University Innovation Fellow, Billy is involved in multifarious organizations and teams on and off campus. One on-campus organization that is very important to Billy is being an executive programming chair on the Activities and Campus Events board. In this position, he independently plans and executes large-scale events hosting 300-2000 people using a budget of $5k-$15k and facilitating the jobs and duties of 40-60 helpers. He plans 2-3 of these large scale events each semester and assists in 8-10 additional events, as well. Additionally, Billy is the advertisement chair in the American Society of Mechanical Engineers, the mechanical representative for the Bucknell Engineering Alumni Association, the vice president of the Inter Residential Hall Association for the McDonnell building, and the co-founder and chief project engineer of the Bucknell robotics team.
Billy also enjoys being very active outdoors. He is on the Mudsharks ultimate frisbee team and plays multiple intramural sports in his free time. He loves running and going to the gym whenever he has time outside of course work and clubs. And he loves his hometown of Manasquan, NJ, a small beach town on the Jersey Shore well-known for surfing and fishing. When he is not working, he can be found participating in a slew of outdoor activities. He loves to surf; spearfish; mountain bike; hike/camp; play volleyball, soccer, and lacrosse; bodysurf; running on the beach; rock climbing; kayaking with his dogs; and many more activities. 
Billy loves his major and all of his campus activities and he hopes to bring innovation and reform in a positive manner to Bucknell University to better the campus community for both students, faculty, and the surrounding towns.
Related Links
How_to_Plan_a_Large_Scale_Event
---
---