Fellow:Victoria Cox
Jump to navigation
Jump to search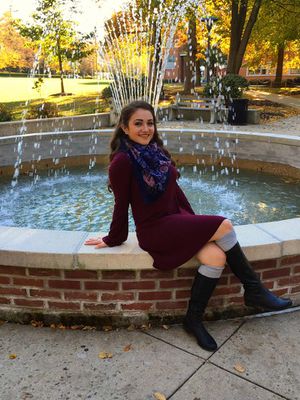 Victoria Cox is a University Innovation Fellow at York College of Pennsylvania in York, PA, USA. At YCP, she is pursuing a B.A. in Mass Communication as well as a B.A. in Public Relations, with a Speech Communication Minor. Along with her academic endeavors, Victoria actively engages in several extracurricular activities at York College. She is an Eisenhart Scholar, Student Ambassador, Orientation Leader, and sister of Phi Sigma Sigma. Victoria is also involved with York's theatre department and is the Social Media Chair of WVYC, York College's radio station. 
Originally from a small town in Southern New Jersey, community is a big part of Victoria's life. In high school, Victoria held the pageant title for her town and worked closely with town officials, volunteering at community events and attending town hall meetings. She has been fortunate enough to be able to continue her love of community and service while at York College, volunteering to teach an after school dance program for elementary students, working with a college preparedness outreach program, and coordinating future projects at a local school.
As a part of her scholars program, Victoria was enrolled in a design thinking first year seminar course that completely changed the way she viewed creative thinking and problem solving. The techniques and processes that she learned in that course are things that have stayed with her and greatly impact the way she views every day life. Victoria has a strong belief in the design thinking method and it's ability to get to the route of the problem to create an innovative, useful, and possibly even revolutionary solution. Keeping this into consideration, Victoria wants to have a positive impact on higher education. She has been lucky enough to have access to enlightening and life changing courses, (such as design thinking) as well as Maker Spaces on and off campus, but she knows that students everywhere do not have those luxuries. Victoria believes students should have more opportunities to create, explore, develop, test, and learn - not what is just required of their major studies, but of what interests them as individuals in conjunction with their field of study. As Albert Einstein once said, "Creativity is intelligence having fun," and students should be able to explore education in a way that will produce never before seen, revolutionary results. 
---
---