Fellow:Veronica Sabella
Jump to navigation
Jump to search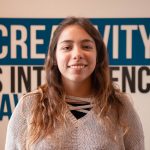 This picture portrays Veronica Sabella´s  spirit, except when she is either resting or solving cases in an innovative manner. As you can imagine, Veronica is currently studying Law at Universidad Catolica del Uruguay. She believes in making a difference, that is why she is involved in numerous extracurricular activities.
Veronica is a proactive, ambitious and upbeat person. She trusts in following her instincts and is true to her principles. Since she was a small child, she ceaselessly showed concerns about current world issues, as well as the belief that the best solution is created only if different perspectives are applied. 
Veronica took part of the MUN program in school years. Due to her outstanding perfomance, she was given the opportunity to travel to The Hague, in order to discuss international affairs with students from around the world.
Nowadays, she volunteered to organize "LOOP: Semana de Innovacion". She believes that, by joining the UIF program, she will be able to empower students to take an active role in the educational system.
---
---