Fellow:Trevor Jones
Jump to navigation
Jump to search
Trevor Jones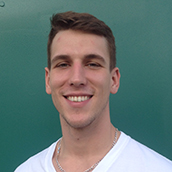 Trevor Jones is an Undergraduate student at Southern Iillinois University, Carbondale. He currently holds an Associates degree in Art from Lakeland Community College and is pursuing his Bachelors in Industrial Design with a minor in Marketing at SIUC.
In his first year at SIUC, he held a position as a Graphic Designer for the Center of Teaching Excellence. He is now an Undergraduate Assistant in the Subtractive and Additive Manufacturing Lab (SAM Lab), operating and maintaining the hardware and software for 3-D printers, laser cutting machines, and vinyl cutting machines. In his time working in the SAM Lab, he has discovered ways in which the campus can save costs and become more sustainable simultaniously. This method involves the recycling of plastics for the reuse in the commonly used 3-D printing processes used on campus.
One of Trevor's driving forces is to have a positive influence on the Earth's ecosystem. That is, to help mitigate or even reverse the damage that has occured due to modern industrialization. As a University Innovation Fellow, he has developed campus-wide strategies that break down the barriers between various school departments, promote collaboration between alternate fields of study, and merge Sustainability and Innovative and Entrepreneurial practices for research students on campus. The end goal of this collaborative research and action is to 3D print with mycelium, a potential biodegradable alternative for plastics.
For more information on these stragegies, go to the SIU Student Priorities page. He is focusing on "Option #4."
If you would like to help in any way, feel free to contact him at tnjones@siu.edu.
Connect with Trevor on LinkedIn.
Related Links
Souther Illinois University Student Priorities
University Innovation Fellows
Spring 2016:
Fall of 2015:
Spring 2015: