Fellow:Tracey Trickey
Jump to navigation
Jump to search
G'day, everyone! My name is Tracey and I'm a University Innovation Fellow. I'm originally from Australia, but currently live in the US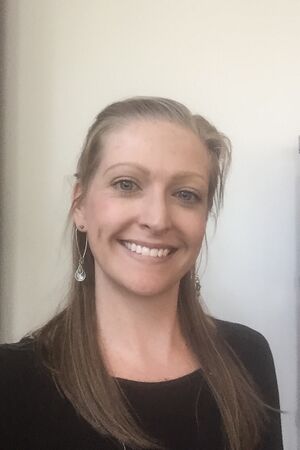 with my American husband and have gone back to school for a second time to get a degree in Interior Architecture and Design. I was a teacher for seven years and taught in Australia, Japan and London before settling down in beautiful Fort Collins, CO. After I graduate I am really interested in designing aged-care facilities for people suffering from Dementia and Alzheimer's.  A mentor told me her personal design story regarding an old woman with Alzheimer's who would forget to eat. The poor old woman would have to be tube-fed every few days to keep her alive, which was terribly distressing for the patient, the patient's family and the staff. My mentor said that she thought research-based design could alleviate this problem, so she designed a central kitchen where patients could roll up in their wheelchairs and see, smell and hear their food being prepared. This sensory information - sights, sounds, smells - triggered memories and old habits. My mentor said that within a week of the kitchen being completed the old woman was feeding herself again and no longer needed to be tube-fed. 
That is the power of design; the ability to improve the quality of life for those we care most about. 
And that's what makes me so excited to be part of UIF; the ability to change the lives of others for the better.
---
---