Fellow:Tommy Wang
Jump to navigation
Jump to search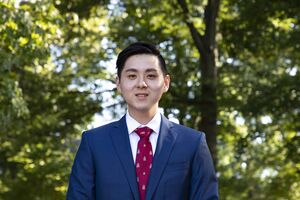 Name

Tommy Wang

School (Cohort)

Ohio University (2022 cohort)

Majoring in

Finance

Country

United States of America

Email
Bio
Hello, my name is Tommy Wang. I am currently a student at Ohio University studying finance, analytics, and business economics. I was born and raised in a rural community in Ohio. My upbringing provided me with a unique perspective that I would love to share with the world. My goal in life, though cheesy, is to improve the lives of those around me.
Growing up I looked up to my father. He was by no means the best father, some would say not even a good father. All humans, no matter how "good" or "bad" they are, have positive traits. The traits that I idolized in my father was his sense of determination, bravery, and work ethic. At the age of 18 my father immigrated to the United States as an illegal immigrant with debt worth more than his family was earning in a year. He was able to work his way up from a dishwasher in a restaurant to an entrepreneur with multiple properties. His story is my definition of the "American dream".
Though many believe that the American dream is dead and no longer exists, I argue that there has never been a better time for people to create the life that they want for themselves. I believe that the American dream is very much alive. I hope to be able to help anyone and everyone who is looking for and determined to gain the dream life that they want.
I hope that University Innovation Fellows along with a BBA will allow me to combine my creative and logistic sides. I hope to take my new knowledge and skills to help motivated individuals to create their own businesses. I have interests in entrepreneurship, securitization, and personal finance. Some people consider me a pessimist which I openly welcome. Though I support innovative ideas I push for people to consider the logistics of said ideas and if they would be realistically implemented. Every team needs a devils advocate.
Resume
EDUCATION
Ohio University                                                                                                                                                                                    Athens, Ohio
Bachelor of Business Administration                                                                                                                                                               (2024)
Majors: Finance, Business Analytics, Business Economics                                                                                                                         GPA 3.80
WORK EXPERIENCE
Ohio University, Analytics and Information Systems                                                                                                                      Athens, Ohio
Teaching Assistant                                                                                                                                                                   (August 2021- Present)
●     Upload and grade assignments for over 300 students in Ohio University's Qualitative Business Analytics courses
●     Assist students in learning course material and the functions of Microsoft Excel, improving their ability to efficiently use the program
●     Formulate a plan with professors and other teaching assistants on boosting collaboration between students in an online environment
Venture Raise                                                                                                                                                                                      Austin, Texas
Sales Engineer                                                                                                                                                              (May 2021- September 2021)
●     Present the Venture Raise platform during sales conferences to potential paying consumers allowing for the generation of revenue
●     Onboard venture capital connectors onto the Venture Raise platform, expanding awareness to new connectors and firms
●     Maintain relationships with connectors and potential clients resulting in improved communication between clients and Venture Raise
●     Research and upload connector's venture capital investor networks allowing for an improvement in the functionality of the platform
Ohio University, Finance                                                                                                                                                                     Athens, Ohio
Applied Investments Intern                                                                                                                                                 (May 2021- August 2021)
●     Create weekly reports on topics of portfolio performance, fixed-income, economic releases, and portfolio company earnings
●     Monitor a 3.3 million dollar portfolio of fixed-income securities for Ohio University during the summer season
●     Collaborate with members of the Fixed Income Management group and Ohio University staff in portfolio related decisions
Athens Dynasty  Inc.                                                                                                                                                                            Athens, Ohio
General Manager              , Rental Properties Manager                                                                                                                     (May 2017- May 2021)
●     Translate business calls and coordinate the services and repairs for the restaurant resulting in uninterrupted operations
●     Train new employees resulting in higher standards of customer service and food quality during fast-paced and high-volume operations
●     Find and evaluate potential tenants for housing units using online platforms such as craigslist resulting in undisrupted income
●     Preserve positive relationships with current and previous tenants while resolving conflicts concluding in satisfaction of all parties
INVOLVEMENT AND LEADERSHIP EXPERIENCE    
Select Leadership Development Group                                                                                                                                             Athens, Ohio
Member                                                                                                                                                                                    (August 2021- Present)
●     Engage and contribute to an extensive curriculum based on Stephan R. Covey's book 7 Habits of Highly Effective People
●     Attend Networking trips, visiting executives of multiple Fortune 500 firms and companies while participating in their trainings
●     Represent Ohio University on calls and in person events with donors, executives, and esteemed alumni of Ohio University
Fixed Income Management Group                                                                                                                                                     Athens, Ohio      
Vice President of Operations, Head Analyst, Analyst                                                                                                      (September 2020- Present)
●     Lead a team of analysts in researching and pitching investment-grade fixed income securities in hopes of generating alpha
●     Develop strategies and concepts for trading, portfolio management, and risk analytics improving understanding of our benchmark
●     Participate in extensive training regarding the fixed income markets, rates, Bloomberg Terminals, and asset-backed securities
●     Coordinate with other members in the management of 3.3 million dollars worth of investment-grade fixed-income products
VOLUNTEER EXPERIENCE
Chauncey Food Bank                                                                                                                                                                     Chauncey, Ohio
Volunteer                                                                                                                                                                                          (December 2019)
●     Organized for students of Athens High School to volunteer at the Chauncey Food Bank, for the winter holidays
●     Participated in organizing and handing out food to those in need and gained knowledge about philanthropic activities
●     Collaborated with other volunteers in organizing food deliveries to those in need and unable to access transportation
AWARDS
Ohio University Dean's List                                                                                                                                                             (2021- Present)
Edward A. Sprague Leadership Award                                                                                                                                                        (2020)
A scholarship apart of the McClure Foundation awarded to a student for outstanding leadership                                                                                                                                                       
Social media profiles