Fellow:Taylor Mau
Jump to navigation
Jump to search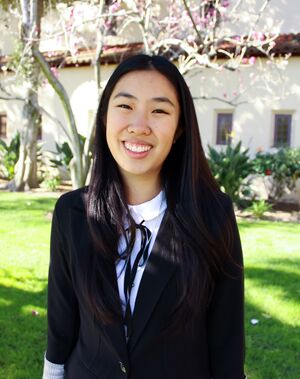 Taylor Mau is an undergraduate student majoring in Computer Science and Engineering and Electrical Engineering at Santa Clara University (SCU). She also is minoring in Innovation, Design, and Entrepreneurship. Taylor was born and raised in Hawaii. Taylor is heavily involved on her campus which is why she is currently the president of Maker Club and was the Vice President of ACM and IEEE at school. She is also the Marketing chair and member of the founding class of Theta Tau, the largest co-ed professional engineering fraternity in the United States. 
Working on projects is another thing that Taylor really enjoys. She has worked on the Tiny House project where she helped build an off-the-grid 238 sq. ft. house that rotated to track the sun.  She has also interned at FileMaker and Apple where she worked on scripting and machine learning, respectively.  She has also done research at Santa Clara University where she proved a Master's thesis theorizing the possibility diverting power to both the battery and the load to improve the efficiency of NanoGrids. She presented at the IEEE SusTech Poster Presentations in Phoenix, Arizona won 4th place out of 17.  
In her free time, Taylor enjoys bullet journaling and hand lettering as a way to stay organized and let out her artsy side. She also loves to go hiking, playing guitar and snowboarding.  
Related Links
Santa Clara University Campus Overview
Santa Clara University Student Priorities
Santa Clara University Landscape Canvas
Other Fellows at SCU:
Spring 2018
Spring 2017
---
---