Fellow:Tara Rahmani
Jump to navigation
Jump to search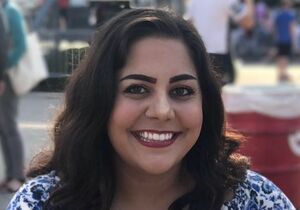 School: Milwaukee School of Engineering, B.S. Industrial  Engineering, 2020
Serving as UIF since: February 2018
What she does now: Program Manager at Real Industry
What that means:  Real Industry is a non-profit that educates, inspires, and empowers university students to thrive in the arts and technology industry.  We create hands-on programs where students work with industry mentors to tackle real-world problems. Students are exposed to new career paths, develop new skills, and rapidly expand their professional networks.
Helps to create a foundation for innovation and entrepreneurship on campus, foster collaboration between the different majors, build connections with MSOE and the community, connect with other UIF cohorts from neighboring schools, implement #uifresh during Welcome Week, redesign the overall MSOE experience
Contact her about: Design thinking workshops, finding the next generation of fellows at your school, how to engage faculty/staff in your movement, how to redesign the freshman welcome week experience, how to get kids interested in STEM, how to deal with conflict, talking about how much mental health matters, #metoo movement, how to make good kabobs, and if you just want to chat about life!
Email: tararahmani3@gmail.com
Phone: 414-861-0430
About Tara (UIF):  
Tara has helped to bridge the gap of communication between students and faculty/staff on campus.  Herself and the other awesome fellows have taken many leaps at MSOE.  They have... 1) Hosted design thinking workshops open to all students and plan to run similar workshops with faculty/staff and senior design groups 2) Revamped the study rooms in the residence halls to include whiteboards and other commodities conducive to studying and collaboration 3) Are in the midst of planning #uifresh for Welcome Week where everyday the incoming freshman will get stoked and 4) Participated in the Festival of Big Ideas with an Ignite Talk centered around both sides of sexual assault (very important topic in college!).  They plan to... 1) Collaborate with UW-Milwaukee fellows to bring TedX to the MIlwaukee Community 2) Host an MSOE Faculty Fair where students can network with faculty both in and out of their department 3) Create a "Before I die..._____" wall and 4) Create a Big Wall of Opportunity where students can share their passions to collaborate on projects outside of school.
About Tara (general):
Tara Rahmani is a Senior Industrial Engineering student at the Milwaukee School of Engineering (MSOE).  She wants to be an Industrial Engineer in the healthcare industry, preferably in a hospital, with the goal of decreasing the number of medical errors per year.  She gets excited about innovation and opportunities to be creative -- especially when in the realm of human-centered design.
Tara has been involved with the Society of Women Engineers (SWE) since the end of her freshman year. She held the position of Outreach Chair her sophomore year and President during her junior year.
Tara is also an advisor for the first SWE Next section in the state of Wisconsin at South Milwaukee High School. SWE Next is a SWE section for middle and high school students.  She is acting as a mentor for the members and helping them plan events such as plant tours and hands-on workshops.
Tara's passion doesn't stop with SWE.  She joined Student Government her senior year as a Parliamentarian and then transitioned to a Senator.  By representing the voice of the students, Tara helped faciliated a design thinking workshop with over 40 student leaders to brainstorm ideas on how to collaborate more between different student groups and how to get more students engaged.
Also during her senior year, Tara was a Resident Assistant (RA) of the robotics floor.  She fostered an inclusive community of 35 residents through study nights in her room under the twinkly lights and all cramming on the bean bag chair while ordering late night pizza.
Tara has had the honor of being recognized amongst 9 other Milwaukee community members at STEM in Style in February of 2018 - an event that recognizes the community impact these women have had in engaging students in STEM throughout the Milwaukee area.
Tara has also had the honor of being named one of Wisconsin's Top 25 Under 25 Innovators (Fall 2018).
---
---