Fellow:Talha Janjua
Jump to navigation
Jump to search
Originally from Islamabad, Pakistan, Talha Janjua is currently a sophomore at Union College in Schenectady, New York. He is pursuing a Bachelors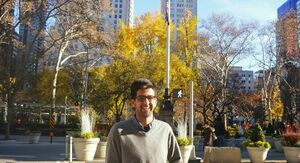 of Arts in History an Economics. Talha's experiences vary greatly and have immensely impacted the person he is today.
Being a writer himself, Talha wrote for numerous publications around the world and founded a Writers' Society prior to attending Union. At Union, Talha immersed himself deeply within the campus life. He joined the student-run newspaper, the school's investment fund, as well as the society for international students. In a short span of a year, Talha realized how people were divided in different segments of academia and how writing connected them unanimously. This led him, along with four other students, to constitute a three-week program that exposed high school students to multiple genres of writing demonstrating the powerful impact of written word used to describe personal experiences and articulate broader issues. The program was funded by the Davis Projects for Peace. This project, along with his ambition to drive societal change, sparked interest in Talha to think beyond the "self-created" divisions in academia and allowed him to get more involved on campus.
Talha also enjoys soccer, music, working out, and reading books. However, the most important thing to Talha are his friends and family. Being in a different environment can be gruesome, but Talha believes it can be made easier, as friends can always act as a support system. Talha strives towards a career in finance.
---
---