Fellow:Sydney Zachariah
Jump to navigation
Jump to search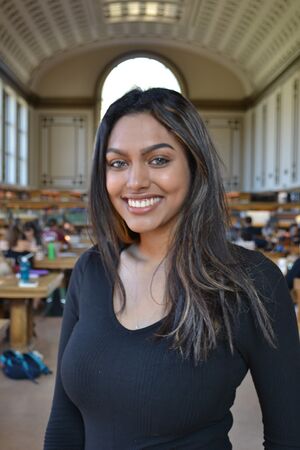 Sydney Zachariah is currently a 2nd year Undergraduate student at the University of California, Berkeley majoring in Public Health and Psychology.
She is currently focusing on co-founding a club on campus called the Invention Corps of Berkeley -- An organization that utillizes design thinking to provide solutions for Poverty, Society, Health, and the Environment. In addition to this, she works as a sales associate for a retail company. In the past, Sydney has created a company focused on teaching hip-hop dance to kids in underserved communities while also giving them a safe place to express themselves. Over the summer, she will be interning at two different organizations: one as a medical scribe for a hospital and one as an intern at a pharmaceutical company researching new drugs in which clinical trials and research will be the main focus of the internship.
Sydney was born and raised in the Bay Area. Coming to Berkeley, her goal was to find something she was passionate about. After venturing in the fields of business, biology, computer science, and economics, she finally decided to pursue a pre-medicine track in order to fulfill her passion to help others through the health field while also educating individuals and families on things that could greatly improve their lifestyle. Through medicine, Sydney feels as though she can change and save lives which is her ultimate goal for herself. Sydney loves to go on adventures with people and "go with the flow" instead of getting caught up in the stress of being a college student. To accomplish this, she does the things she loves most: dancing, reading, going to concerts, hanging out with her dog, and engaging in group cooking activities. Sydney's favorite quote is "It is never too late to be what you might have been." by George Eliot.
Related Links
University of California, Berkeley Campus Overview
University of California, Berkeley Student Priorities
University Innovation Fellows
Spring 2017
Sydney Zachariah
Fall 2013
Adam Eastman.
---
---