Fellow:Sudeepthi Komatineni
Jump to navigation
Jump to search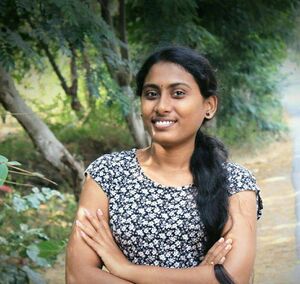 Sudeepthi Komatineni is a University Innovation Fellow Candidate and an undergraduate student pursuing her final year of Bachelor of Technology degree in the stream of Computer Science Engineering at K L University, India. She is a passionate learner, explorer and self-directed with the ability to learn and adapt. Hailing from the city of Guntur, Andhra Pradesh she got to live in 4 cities and never restricted herself within the stereotypic boundaries both physically and mentally. Being an amateur from her childhood she has been an active part of many curricular, co-curricular and extracurricular activities winning many competitions, the most notable being the Winning team of UC Berkeley Open Innovation Hackathon India in August 2017 and the Semifinalist of Master Orator Championship by Toastmasters International District 98.
Sudeepthi got involved in the University student activities early in her first year and has been extensively working for them since then. She is a License holder, Curator and Lead Organizer of TEDxKLU, the first of it's kind in and around Amaravati and TEDxKLUSalon.  She served the University's I&E Cell being a major part of it and worked as a Corporate collaborations coordinator for university's Techno Managment fest - Samyak. Apart from her student life, she worked as a Vision Guardian for a non-profit named Make A Difference, which is one of India's top 10 greatest places to work for, according to a survey. She worked there as an Academic Support Volunteer and a Fundraising Fellow for the city of Guntur. A MADster is what she calls herself with a lot of pride.
Sudeepthi Komatineni believes that the world is running a number race which has to be transformed by parallelly keeping up the pace with the current world. She is deeply influenced by the notions of Steve Jobs " Think Different " and Dr. A P J Abdul Kalam " Dream Big ". She consistently works on Adding life to her days instead of Adding days to her life.
RELATED LINKS
---
University Innovation Fellows Fall 2017:
University innovation Fellows 2018:
KL University Student Priorities 
KL University Landscape Canvas 2018
KL University Change Story Video 2018
---
---