School:K L University
Jump to navigation
Jump to search
Overview
K L University (officially the Koneru Lakshmiah Education Foundation) is a private university at Vaddeswaram near Vijayawada, Andhra Pradesh, India. Originally established as K L College of Engineering in 1985, it was upgraded to a university in 2009. With over 6 schools, 11 academic departments and 16,000 students in a serene and lush green 100 acre campus, K L University offers an enriching learning experience.
K L University is consistently ranked as the best university in all of Andhra Pradesh and as one of the top 10 private universities in India. It has robust infrastructural facilities and a budding entrepreneurship cell.
Promoting Student Innovation and Entrepreneurship
Entrepreneurship Cell
The KLU Centre for Innovation, Incubation and Entrepreneurship (CIIE) was established in 2013 to foster and catalyse the innovation and entrepreneurship ecosystem at the university. It has produced well over two dozens of startups in the last couple of years including a few which have already broken even. The CIIE conducts an array of awareness sessions and contests to identify potential entrepreneurs and provides academic benefits to the students as well. Final year undergraduate students have the option to pursue an entrepreneurial venture instead of a regular major project, where the CIEE will provide the space and seed capital until the startup grows to a self-sustaining phase.
Academic Support
There had been limited academic support to back entrepreneurship and innovation so far with only a single full time course dedicated to Entrepreneurship. However, all the students have option to pursue two certificate courses (of 40 hours duration) in the course of their study which inculcate the basics of innovation and entrepreneurship.
However, the students who venture out with a startup are given many concessions and facilities by the university. These include
20 percent attendance per semester
Option to consider their startup as the mandatory major project, thereby providing them lots of free time.
Space in the campus to setup their operations centre.
Inspiration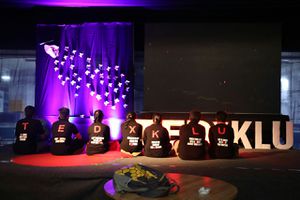 An array of events are held in the campus throughout the year to inspire students to take up entrepreneurial and innovative ventures. Some of them are
TEDxKLU: The inaugural edition was held in March 2017 by K.Sudeepthi. The diverse set of speakers included many self-made entrepreneurs and innovative designers. The next edition is scheduled in late 2017/early 2018.
Alumni Talk series: Conceived and sponsored by the Department of Alumni Relations, these (usually) monthly talks includes speakers who have been successful in their respective fields. Past speakers included employees of IBM, Amazon, Facebook, Instagram and many startup founders.
Other programs: Many other sporadic programs include the KLU Women's Forum, DB Talks, Distinguished speaker series and others.
Pitch events/programs
The annual pitch events and programs of the Entrepreneurship cell include
Startup Rendezvous: The annual flagship startup event of the Entrepreneurship Cell held over 2 days. Include many guest lectures by successful entrepreneurs/alumni and idea pitch sessions.
Monthly Ideathons: Held monthly providing an opportunity for students to pitch their ideas to the management and start a venture.
Make in KLU: A development program aimed at identifying and developing startups that run from the university.
Encouraging Faculty Innovation and Entrepreneurship
K L University has a robust faculty research and innovation programs. There are tens of faculties with patents and hundreds more with research publications in reputed global journals. There are over 31 research labs across 12 departments that catalyse the research activity. The faculty are currently undertaking sponsored projects worth ₹2 crore with ₹1 crore worth projects already completed.
Landscape Canvas Fall 2017
Landscape Canvas - Fall 2017 (debut cohort)
Landscape Canvas 2018
Landscape Canvas 2018 (cohort)
RELATED LINKS
K L University University Innovation Fellows Fall 2017:
K L University University Innovation Fellows Fall 2018:
K L University University Innovation Fellows Fall 2019:
K L University Campus Overview

K L University Student Priorities

K L University Fall 2017 Pitch Video
---
---