Fellow:Sopuruchi Ndubuisi
Jump to navigation
Jump to search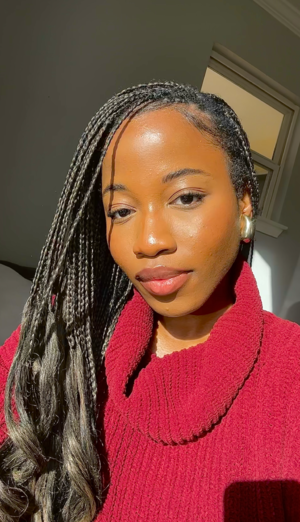 Name

Sopuruchi Ndubuisi

School (Cohort)

Fisk University (2023 cohort)

Majoring in

Art

Country

United States

Email
Bio
Born in Nigeria and currently an honors student at Fisk University, Sopuruchi is an aspiring artist and designer majoring in arts with a concentration in design with a profound passion for merging creativity and technology.
Having interned at respected tech companies including Tableau-Salesforce, Slack, Data Culture, and Jamcity, Sopuruchi has honed their design skills at the intersection of innovation and user experience. Their designs not only captivate visually but also prioritize accessibility, reflecting their dedication to making technology more inclusive.
Beyond their creative pursuits, Sopuruchi is driven by a deep-seated commitment to equity. They are motivated to ensure that technology becomes a tool for breaking down barriers and promoting inclusivity. Through their work, Sopuruchi seeks to bridge cultures and amplify underrepresented voices.
Achievements
Battle of the Brains Hackathon - 1st Place, Target Design Challenge - Winner, Zillow Housing Hackathon - 2nd Place, BESmart Hackathon - Best use of APIs and Technology, Western Digital Creator's Award, W.E.B DuBois Honors Scholar, PIMCO Future Leader's Scholar, Adobe Design Fellow, AEI Design Fellow, Slack 2023 Design Intern, Data Culture 2023 Design Intern, Tableau 2022 Design Intern, Jamcity 2022 Design Intern
Social media profiles
https://www.linkedin.com/in/sopuruchi-ndubuisi/
---
---