Fellow:Sofia Serb
Jump to navigation
Jump to search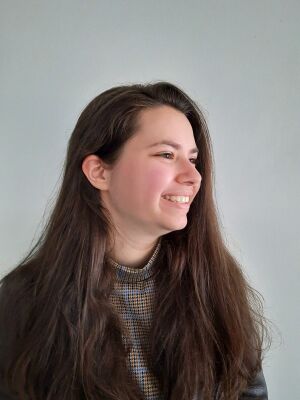 Name

Sofia Serb

School (Cohort)

Lucian Blaga University of Sibiu, Romania (2023 cohort)

Majoring in

Linguistics PhD

Country

Romania

Email
Bio
Sofia is a doctoral student in Germanic Linguistics, focusing on the use and impact of language and text in advertising. She grew up in Sibiu, Romania, where she attended a German-Romanian bilingual school. This is where she discovered her interest in foreign languages, social sciences, and developed her international collaboration skills through a variety of projects and international exchanges.
She decided to follow her passion for languages and pursued a double BA in Applied Modern Languages, majoring in German and English. Due to the extracurricular programs offered by the "Lucian Blaga" University of Sibiu, Sofia developed a passion for entrepreneurship and won several grants in the domain. This motivated her to enroll in a Master's program called International Communication in the Field of Economics (German Language), which combined all her strengths and professional interests. During her first year of the Master's program, Sofia worked as an account manager for one of the biggest companies in the IT and telecommunication field, after a series of smaller jobs and entrepreneurial initiatives that she had throughout high school and university,
In 2023, she was offered the opportunity to pursue her studies and enroll in a German PhD program to research the impact of languages in commercials. Sofia took this opportunity and is currently looking forward to conferences and fellow gatherings to enrich her professional network. In parallel, she has her own small translation company and volunteers regularly for social causes and involvement projects.
During her study time, Sofia participated in two Erasmus programs, a one year study exchange in Gothenburg, Sweden, and another 6 months student exchange in Brussels, Belgium, from which she greatly benefited. She was able to learn both Swedish and French, which she now speaks at an intermediate-advanced level. Additionally, she is actively involved in student associations, including the Erasmus Student Network, where she was the president of the local chapter. As a student buddy, she works to increase the international visibility of her home university.
Sofia is also a fellow of the Forthem Entrepreneurship program and is a skilled musician, playing the cello, guitar, and piano. When she is not playing music or spending time with her doggo, Sunny, she engages in social activities, such as playing board games. Among her other interests are the sports she practices, such as car racing, tennis, snowboarding, ice hockey, skiing, and longboarding, among others.
She is an open-minded individual who has traveled to more than 20 countries, enjoys meeting new people, and interacting with their cultures. If you would like to know more about her, the university, her UIF team, exchange programs, learn a new language or just chat, she would love to spend some time talking.
Achievements
• Forthem Summer School, Agder, Norway, 21st–25th of August 2023, Team Innovative Business Ideas, 1st place.
• Gaudeamus. "Contributions to Current Philological Research" Conference, 3rd edition, Facultatea de Litere a Universității din Oradea, 5th-6th of May 2023, German Section, BEST Paper of the German Section Award.
• Moderator of the "Time Management im Studentenleben" Seminar, Deutschen Kulturzentrum Hermannstadt, 14th of July 2022.
• Innobusiness Grant, 9th of May 2022- Business Plan Award • FameLab- Science for a better future"- Regional Hit 16th of April 2021- 1st place.
• "Petit Francais" Local Project Hit- 1st place (team)
• "Ulbs Smart" Innovative Ideas, 1st Hit, 2019, Winner
• ,,Lucian Blaga" Translation Competition- Honorable Mention. Faculty of Letters and Arts, 2019
• ,,Lucian Blaga" University Ski Competition, 2023- 3nd place, snowboarding
• ,,Lucian Blaga" University Ski Competition, 2023- 3rd place, skiing
• ,,Lucian Blaga" University Snowboard Competition, 2020- 2nd place, snowboarding
• ,,Lucian Blaga" University Ski Competition, 2019- 2nd place. snowboarding
• ,,Lucian Blaga" University Snowboard Competition, 2019- 2nd place, skiing
Social media profiles
https://www.facebook.com/sofia.serb.9
https://www.linkedin.com/in/sofia-serb-8103a7232/
---
---