Fellow:Sofia Arthurs-Schoppe
Jump to navigation
Jump to search
Sofia Arthurs-Schoppe is a U
niversity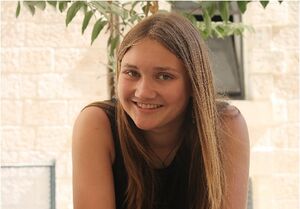 Innovation Fellow and an undergraduate student studying a double major of Chemistry and Philosophy in the honors program at William Jewell College. There she is involved in a number of organizations and groups, including: QUILTBAG a group working to ensure the fair and accurate representation of all students, particularly those within the LGBTQ+ community, and; INSA the on-campus international student organization which works to promote diversity and intercultural understanding within the Kansas City area.

Previously, Sofia was born and raised in a small town near Auckland, New Zealand, where she attended the local high school and studied an array of science based subjects intent on a career in medicine. However, after graduating early, and being offered a scholarship to study in an international boarding school in Israel -a unique school founded on the ideal of using education as a force for peace, and sustainability in the Middle East- she chose not to pursue that field. 
Rather, Sofia decided to accept the scholarship and, in 2014, she moved to Israel. Since then she has been traveling and living around the globe undertaking a variety of projects, including: volunteering as a medic in Thailand, working as a sports journalist in Macedonia, and working with Israeli NGOs to ensure the education of impoverished citizens of the West Bank.
Sofia aspires towards an eventual career in Journalism. Using this she aims to report on international affairs and domestic conflicts in order to communicate to masses the issues which affect and, sometimes, distort this reality in which we live.
Related Resources

William Jewell College
William Jewell College Strategic Priorities
Current Fellows
2016-2017 Leadership Circle: Sofia Arthurs-Schoppe, Meg Anderson, Conner Foote, William Hyde, Jesse Lundervold, Dalton Nelson, Erika Storvick, Denver Strong
2015-2016 Leadership Circle: Bradley Dice, Trevor Nicks, Ben Shinogle, Alex Holden, Macy Tush, Gretchen Mayes
2014-2015 Leadership Circle: Bradley Dice, James Milam, Kate McFerren, Amelia Hanzlick, Conner Hazelrigg
---
---