Fellow:Sofía Muñiz Irazabal
Jump to navigation
Jump to search
Sofía Muñiz, is a student of second year of International Business at Universidad Católica del Uruguay. She is Currently living at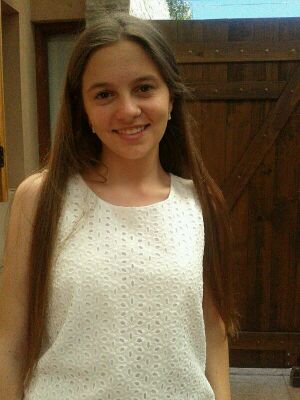 Montevideo, Uruguay. She is a candidate for the UIF program. She recently participated on a "Design Thinking" workshop as a facilitator, together with the other candidates of her University.
She is interested on building up her own entrepreneurship when graduating to experience being in front of a company and go ahead with her own projects finding needs and solutions for her community. In her future, she pretends to continue studying and training academically on her field.
From a very young age Sofía was interested on travelling, visiting unknown places and cultures. Growing up she starts finding a passion in business specially in international commerce.
At her spare time, she enjoys playing tennis, spending time with family, reading books and cooking.
On her campus, she is interested in creating spaces and activities where students from different careers or parts of the world can meet and exchange ideas, generating spaces to come up with innovative solutions.
Related Links
Universidad Católica del Uruguay Student Priorities
Universidad Católica del Uruguay Campus Overview
Fall 2017 Fellows
---
---