Fellow:Satya Narayan Padhy
Jump to navigation
Jump to search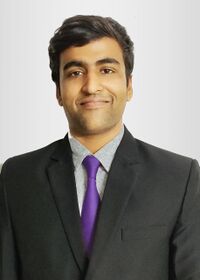 Satya Narayan Padhy is a University Innovation Fellow Candidate and an undergraduate pursuing his majors in Computer Science and Engineering at K L University. He is an enthusiastic learner and is always eager to come up with novel methods to solve problems.
Satya as a person always likes to meet new people and loves to sharpen his teamwork skills whenever required. He has been an active part of many curricular, co-curricular activities winning many competitions. The one he tells with utmost pride is a quiz conducted  by UNESCO where he stood 6th position in All India in the junior category.
Satya was very specific to his academia and spent most of the time to strengthen his skillset in the first year at the University. But as the time passed away he got into various organizations which carved out leadership skills in him. He got into Peer- Mentoring which was an initiative of the UIF FALL-2018 and successfully delivered his duties by leading a team of 20 people. Apart from Peer mentoring he was also a Student Coordinator who assisted the freshmen in building up their coding skills. He believes that the exposure he got during his tenure as School Captain in his high School helped him a lot to hone his skills and also led to relieve him from public speaking which he loves to do at all the time. Satya is deeply influenced by the works of Dr APJ Abdul Kalam who is an epitome of success and also draws a lot of inspiration from various mythological books belonging to Indian Culture and traditions. He is a person who likes to start the day with a newspaper because he believes one should be always connected to society and should know the things surrounding him. 
Satya believes its not possible to taste success all the times and one needs to have patience in order to embed the taste of success in one's life. He firmly believes "It's better to bow sometimes than to bend forever."
Links
K L University Campus Overview
K L University Student Priorities
K L University University Innovation Fellows Fall 2019:
---
---