Fellow:Salama AlZarooni
Jump to navigation
Jump to search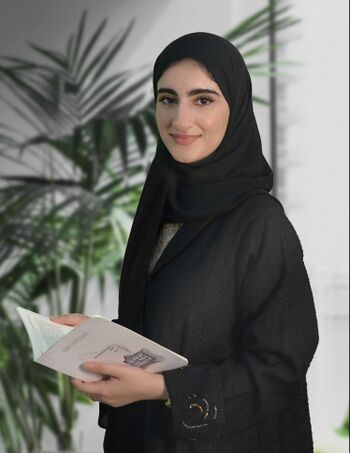 Bio
Salama is a University Innovation Fellow from the Spring 2021 cohort. She is an international student from Abudhabi, United Arab Emirates.
She spent most of her education at Al Nahda National Schools before moving to the Khalifa University to pursue her higher education. Currently, she is a senior student in electrical engineering with a focus and concentration in power systems.
In the pursuit of new creative endeavors, Salama was excited to find univeristy innovation fellowship program with her current studies in electrical engineering. Salama is passionate about electrical engineering and is involved in several organizations and projects around that field. She believes that she can bring ideas from both worlds and provide valuable contributions to the team.
Apart from electrical engineering, she has enhanced her teamwork abilities and cultivated a reputation as a major contributor through organizations and leadership roles. She is a collaborative team player who is always searching for opportunities to impart valuable insights. With these qualities, she is able to facilitate positive change and impacting outcomes.
Achievements
Salama was honored to be in Khalifa University's College of Engineering Dean's list in both Spring 2019 and Fall 2020, and also been in the President's list of Spring 2020. Due to being on top of 15% students of scoring a high GPA, she has been granted a membership to the Golden Key Honor Society. Salama is also a member in IEEE student chapter club in her university.
Besides academic achievements, Salama has recently learnt to play chess and spends her free time to learn more about it to compete with her friends and surroundings. She also enjoys cycling, traveling, and striving to constantly learn new stuff.
Social media profiles
LinkedIn: http://linkedin.com/in/salamaalzarooni
Instagram: https://www.instagram.com/salama_alzarooni/
---
---
---