Fellow:Robin Bonatesta
Jump to navigation
Jump to search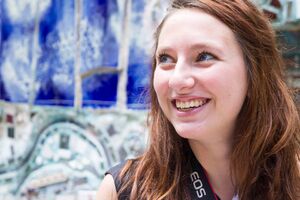 I'm Robin Bonatesta, a double major in Fashion Merchandising and Computer Science at Kent State University. I'm the assistant manager of the TechStyle Lab, the technology center for fashion students. I also help manage a store in downtown Kent where fashion design students can sell their designs. Additionally, I work as Kent's Google Student Ambassador. 
As a student, I lead HacKSU, an organization for students interested in web/software design and development. Through HacKSU, I teach once a week and plan Kent Hack Enough, an annual hackathon. I also work with HacKSU, the TechStyle Lab, and our Blackstone Launchpad (a student business accelerator) to host an annual Fashion Hackathon focused on wearable technology. I also co-founded a yoga and tai chi group on campus where student entrepreneurs and makers come together to relax and hang out once a week. I attend hackathons almost every other week during the school year and I out-eat all the other Kent State hackers at free meals. I love food.
Besides my areas of study, my favorite things in the whole world are cats and dogs, sleeping, eating, graphic design, and entrepreneurship. 
Updates: 
Since training, I continued to lead HacKSU, Kent Hack Enough, and the Fashion / Tech Hackathon, scaling and developing a sustainable leadership team. I also started The Fridge, a student led coworking space in the library and continued to work at the TechStyleLAB, a digital prototypinng lab within the Fashion School. In 2015, I traveled with UIF to Stanford and Draper Universities, sharing my story and helping to facilitate. Later that year, I held a UIF Regional Meetup at Kent State University, which focused on hands on making and rapid prototyping. I was recently brought back for the 2016 Annual Meetup as a member of the FAB team. 
In May 2016, I graduated and started working full time in Cincinnati as a full stack developer for a fashion/tech company, Cladwell and as a Venture for America fellow.
Related Links
Kent State University Strategic Priorities
University Innovation Fellows:
Spring 2016
Fall 2015:
Spring 2015:
Matthew Allen
Fall 2014: Robin Bonatesta