Fellow:Ranjithabomma
Jump to navigation
Jump to search
RANJITHA BOMMA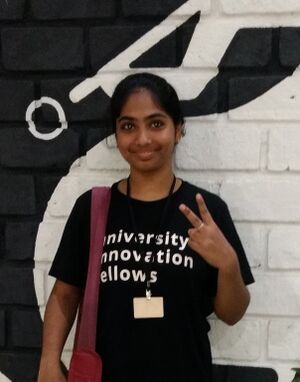 Ranjitha Bomma is a University Innovation Fellow in training.She is currently studying Computer Science  at Sri Venkateswara University College of Engineering ,Tirupati.Her interest in computer science and Engineering made her to get admission into S.V.University.     
                  Being a student in S.V.University ,she participated in many activities and organised many events.She was part of a National level Technical fest "Cynosue" ,that was held in her college.She is a student representative of her class.She is interested in problem solving and innovation.She want to become an Entrapreneur and very interested in making ideas into real and believes in practical based learning rather than traditional way of learning. 
                 In her view  Engineering is not just an undergraduate program like get into the course and get a certificate, rather its an important  phase of  every student to go in a right path of his career.She feels that it is important that every student should be exposed to engineering and innovation ,and feels both engineering and innovation go hands on hand.Her fields of interest are Web Designing and Data Sciences and Coding.
           She loves her parents and her parents supported her in everything that she is interested and she loves her college and friends. She is not satisfied with the ecosystem of her college and feels that every student should cope up with the rapidly changing technology.She is interested in extracurricular activities like painting and performing arts.She loves music and learning classical music.She enjoys playing games like tennecoits,throw ball.  Her inspiration is steve jobs,Robin sharma. Her motto is "Believe in yourself,be clear about your dream and work hard ".
Related Links
Sri Venkateswara University College of Engineering
Sri Venkateswara University College Of Engineering Student  Priorities
S.V.University Project pitch video
---
---