Fellow:Rachel Deeds
Jump to navigation
Jump to search
At a young age, Rachel discovered her passion to help those around her and decided to explore the engineering field when she went off to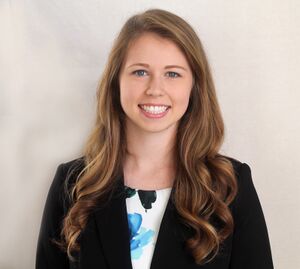 college. She is currently a junior at the University of Tulsa studying Mechanical Engineering with a minor in Innovation and Entrepreneurship. 

After graduation, Rachel plans to work in the engineering sector, while looking for opportunities to integrate her interest in consumer research into her career path.
She enjoys bringing a smile to everyone's face, and in her effort to spread joy, she participates in a crazy number of organizations on campus, but enjoys every moment of her hectic, fast-paced schedule! At least three times a week, you can find Rachel outside on the Ultimate Frisbee field tossing the disc and running drills with her teammates in her role as President and Co-captain of TU's first all-female club sports team. Ultimate has taken her to countless tournaments across the country, creating a network of friends everywhere she travels. In addition, she volunteers as a project leader for an on-campus engineering organization called Make A Difference Engineering, where her group is designing and building a therapy device for children with special needs at a local Tulsa school. Rachel can also be found welcoming prospective and incoming students to campus as she works as both a University Ambassador and Orientation Leader.
As a change-maker, she was selected as a Society of Women Engineering Future Leader (SWEFL) after leading as President of her collegiate section. She continues to be a catalyst for ground-breaking, new ideas and focuses on increasing the opportunities and participation of women in areas where they are currently under-represented. Rachel takes a proactive, solutions-oriented approach to addressing gender inequality in her field of study and life in general.
Related Links

Fellow 2018 Spring Cohorts:
---
---