Fellow:Rachana Parupudi
Jump to navigation
Jump to search
      Rachana is an undergraduate student in Electronics and Communication Engineering (ECE) in the Godavari College of Engineering & Technology (GIET), Rajanagaram,East Godavari District, Andhra Pradesh, India.  She is also a University Innovation Fellow, Spring 2017 Cohort of the Stanford University, California, USA.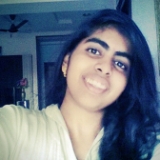 GIET is a noted autonomous institution affiliated to the Jawaharlal Nehru Technological University (JNTU), Kakinada.  The college is situated 49 kms away from Kakinada and 17 kms from Rajamahendravaram, both in East Godavari District.  Rachana joined GIET in September 2014 after qualifying the Engineering and Medicine Common Entrance Test. 2014 .  Admission into the esteemed institution was also on the basis of ranking Rachana secured in the Indian Institute of Technology, Joint Entrance Examination (IIT-JEE), May 2014.
     Rachana had also qualified in the entrance examination for Architecture and received offers for admission in Vijayawada and New Delhi.  Rachana eventually opted to join GIET as it is located near her home-town Kakinada, which incidentally is the birthplace of her mother.
    Rachana is very knowledgeable in five languages including her mother tongue Telugu.  She can read, write and speak fluently in English, Hindi, read and write in French, speak in Bengali and Telugu.
      Before joining GIET, Rachana did her schooling in DLF Public School, Sahibabad, Ghaziabad District, Uttar Pradesh, India and Hyderabad Public School, Hyderabad, Telangana State, India.  She always scored high rank in her academics.  While in school Rachana earned a gold medal in Informatics Olympiad conducted by Microsoft Corporation, USA.  She also attended many Olympiads, including Macmillan Olympiad, Australia.
        Rachana is a prolific speaker in English, Hindi and Telugu and very adept in debating. She is naturally endowed with entrepreneurial and legal skills and attended summits, conventions and workshops on entrepreneurial skills while in college.  Rachana also has skills to organise literature clubs, which she did with great flair both in school and college.  She is developing a concept known as INDIM (Innovate, Discover and Market) Hub which, in due course, will take the shape of a start-up cell to help budding techno-entrepreneurs to develop and hone their entrepreneural and marketing skills.  Her skills in techno-entrepreneurial area has come in handy in developing the INDIM Hub.  Her active participation in college techno-meets aided in conceptualising the INDIM Hub.  Rachana is also very keen to assimilate new ideas put out in the incubation centres of various institutions.
 Written by: Rachana Parupudi
Related Links :-
Pitch Video Click Here :- https://youtu.be/HOL8IAwZIbc
Campus Overview Click Here :- http://universityinnovation.org/wiki/Godavari_Institute_of_Engineering_%26_Technology
Student Priorities Click Here :- http://universityinnovation.org/wiki/Godavari_Institute_of_Engineering_%26_Technology_Student_Priorities
Team Members :-
---
---