Fellow:Paola Cabrera
Jump to navigation
Jump to search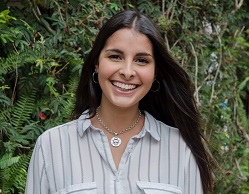 Paola Cabrera is an undergraduate student at Catholic University of Uruguay, who is actually pursuing a career as a lawyer. She was born on December 13, 1998 in Montevideo, Uruguay.
When she was little, she used to live in a farm, not so far from Montevideo. One of her earliest childhood memories is of riding her first horse called "Tormenta" for the first time. She really enjoys being in contact with nature, and she loves how riding horses brought her closer to nature.
Paola enjoys travelling to different countries, and she strongly believes that meeting foreign people is the best way to be open-minded, because people can learn a lot from others and their respective cultures. Also, she is keen on learning foreign languages. She has studied english, portuguese and arabic. The reason why she is interested in studying arabic, is because her grandmother's parents were arabic, and even though her grandmother was not born in Siria as her parents, she knows a lot about the culture, which interests Paola a lot.
She is a very positive person and she thinks that all the people should be able to see opportunities for success, even in the worst of times.
In her spare time, she likes playing the guitar, and cooking, both activities that she do to relax and clear her mind.
Paola joined the UIF program because she is sure that it is a great an unique opportunity that will help her in her life not only professionally but also personally.
Nowadays she believes that she has gained a lot of experience throughout the training, and she feels very grateful to have met such a nice human group, her UIF mates.
She thinks that this program is the best opportunity to encourage people, especially students, to improve their own time in university. And she is excited to cooperate, and contribute with her grain of sand to help our community.
Related Links
Universidad Catolica del Uruguay Campus Overview
Universidad Catolica del Uruguay Strategic Priorities
Paola Cabrera
---
---