This site will go under maintenance from 25-11-2020 to 30-11-2020. It might not reachable during the maintenance period.
Fellow:Pambayun Hemas Savira
Jump to navigation
Jump to search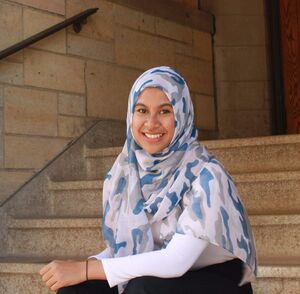 Name

Pambayun Hemas Savira

School (Cohort)

University of Saint Thomas (2020 cohort)

Majoring in

Computer Science

Country

Indonesia

Email
Bio
Pambayun (pronounce: she/her) was born and raised in Surabaya, Indonesia. Her friends and family usually call her Pam (pronounced "pohm"). She is currently an undergraduate student at the University of St. Thomas and an Aquinas Honors Scholar. She was a Neuroscience major, but decided to change her major to Computer Science because she likes the challenges of solving puzzles that Computer Science has to offer. She also intends to minor in Statistics and Entrepreneurship.
Pam is passionate about being present in her community, especially with celebrating diversity and internationalism. Actively involved on campus, she served as the leader for the 30th International Dinner the Spring of her first year of college (2018), the president of Globally Minded Student Club (2019-2020), and a program coordinator for Diversity Activity Board (2019-2020). She is starting her role as a Resident Advisor on a Global Community floor, a tutor for introductory computer science classes, and a treasurer for Computer Science Club in Summer 2020. She has also been working at one of the libraries on campus.
In 2016, Pam was selected as one of the recipients for Kennedy Lugar - Youth Exchange and Study (KL-YES), a full scholarships exchange program funded by the U.S. Department of State. During her exchange year, Pam was involved in the speech team at her host high school. She received 3rd place in section and had the honor to compete in the state level. After her exchange year, she had to re-do her senior year in Indonesia. While having to complete her "second senior year," she volunteered for EducationUSA, and occasionally gave talks about her exchange year experiences for younger students than her.
During quarantine, she created tutorial videos and uploaded them on Youtube to help students in Indonesia who are looking for colleges and scholarships in the U.S.. One of her videos got over 6,000 views as of late August 2020.
Achievements
Leading E.D.G.E Award (Dec 2019, University of St. Thomas, Biology Department) - An award established to recognize and honor the most outstanding students in core biology classes. Recipients of this award are recognized for their excellent academic achievement, and their notable efforts of participation.
Informative Speech State Participant (Apr 2017, Minnesota State High School League) - Against native speakers, Pam received 3rd place in section and had the honor to compete in the state level.
Kennedy Lugar - Youth Exchange and Study (Aug 2016 - June 2017, U.S. Department of State) - a full scholarship exchange program, funded by the U.S. Department of State, to bridge understanding between the U.S. and countries with significant Muslim population.
Social media profiles
Linkedin: [www.linkedin.com/in/pambayun-hemas-savira]
Instagram: https://www.instagram.com/pambayunhsvr/
---
---