Fellow:Nicholas Ooi
Jump to navigation
Jump to search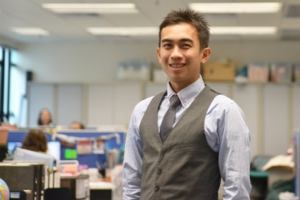 Name

Nicholas Ooi

School (Cohort)

Lingnan University (2020 cohort)

Majoring in

Mathematics, Marketing, Infection Diseases and Public Health

Country

Hong Kong | Malaysia

Email
Bio
Nicholas OOI (Nick) is the Senior Project Officer at the Office of Service-Learning, Lingnan University. He is also the Programme Manager of the Lingnan Entrepreneurship Initiative (LEI) which promotes the concept of Social Innovation and cultivates innovation culture and entrepreneurial spirit in a liberal arts context. Nick is experienced in conducting Design Thinking workshops for students and he has conducted more than 80 workshops with accumulations of a total of more than 600 training hours. After joined the Teaching and Learning Studio at Stanford d.School and Participatory Design Training from MIT D-Lab, he begins to design different artifacts to improve students learning from different design methods.
Achievements
Nick was invited to be the speaker for TEDx Lingnan University with the topic of "How can small actions make a big impact on society?" to encourage the concept of Active Ageing and Intergeneration Collaboration in the community. As a community leader, Nick joined the Tuen Mun District Council, Tuen Mun North East Area Member Committee team to support community development. In the year 2019, he was a member of the IEEE Special Interest Group of Humanitarian Technology (SIGHT) Communication Committee Team, mainly to kindle passions about humanitarian technology and connect with a global movement.
Nick is currently pursuing his Ph.D. in Infection Diseases and Public Health at the City University of Hong Kong, with the topics focus on Marine Conservation. He obtained his Bachelor of Science in Applied Mathematics with Computing and major in Pure Mathematics at the University of Tunku Abdul Rahman, Malaysia in the year of 2008. In 2017, he received his Master of Science in Marketing Management from the Hong Kong Polytechnic University. In the year 2018, Nicholas OOI obtained his Design Thinking knowledge from the Teaching and Learning Studio by the d.School of Stanford University.
Social media profiles
https://www.linkedin.com/in/nicholasooi/
---
---