Faculty Champion:Nicholas Ooi
Jump to navigation
Jump to search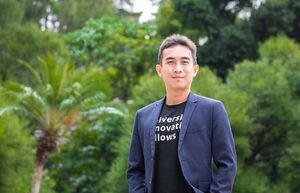 Name

Nicholas Ooi (黃田麒)

School

Hong Kong Baptist University

Majoring in

Applied Mathematics with Computing,
Marketing, Education, Business Management

Country

Hong Kong | Malaysia

Email
Bio
Nicholas OOI (Nick) is currently the Innovation Lead @ TriAngle at the Centre for Innovative Service-Learning, who promotes the concept of Social Innovation and cultivates innovation culture and spirit at Hong Kong Baptist University. TriAngle is a Social Innovation co-working space for social innovators and entrepreneurs for social good at HKBU to gather, network and make an impact through creativity, interactivity and collaborations.
He was a Programme Manager of the Lingnan Entrepreneurship Initiative (LEI) at Lingnan University in 2021. Since 2017, LEI has reached more than 20,000 beneficiaries and has organized more than 250 events related to innovation and entrepreneurship. Up till now, Nick and his team have incubated more than 80 start-up and social enterprise teams and continue to build the I&E eco-system in the New Territories West. He was also the host of the Hong Kong Techathon from 2019 till 2022.
Nick is experienced in conducting Design Thinking workshops for students, and he has conducted more than 80 workshops with accumulations of more than 800 training hours. After joining the Teaching and Learning Studio at Stanford d.School and Participatory Design Training from MIT D-Lab, he begins to design different artifacts to improve students learning from different design methods. In 2020, Nick was invited to be one of the Faculty Innovation Fellows by the University Innovation Fellows Programme at Stanford d.School.
In 2021, Nick received the Dr and Mrs James Tak Wu Awards for Outstanding Service Award at Lingnan University. The awards recognise and reward staff members and students who have consistently demonstrated outstanding service to the University or community.
Achievements
Nick was invited to be the speaker for TEDx Lingnan University with the topic of "How can small actions make a big impact on society?" (Youtube: https://www.ted.com/tedx/events/13784) to encourage the concept of Active Ageing and Intergeneration Collaboration in the community. As a community leader, Nick joined the Tuen Mun District Council, Tuen Mun North East Area Member Committee team, and Airport Authority Hong Kong Member of Community Liaison Groups at Tuen Mun District to support community development. In 2019, he was a member of the IEEE Special Interest Group of Humanitarian Technology (SIGHT) Communication Committee Team, mainly to kindle his passions for Social Innovation and humanitarian technology to connect with a global movement.
Nick obtained his Bachelor of Science in Applied Mathematics with Computing and a major in Pure Mathematics at the University of Tunku Abdul Rahman, Malaysia. In 2017, he received his Master of Science in Marketing Management from the Hong Kong Polytechnic University. In 2018, Nicholas OOI obtained his Design Thinking knowledge from the Teaching and Learning Studio by the d.School of Stanford University. And in 2019, he was certified as a facilitator for Lego Serious Play Technique by Rasmussen Consultancy in London, UK. In 2021, Nick proceeded with his studies with the Doctor of Business Administration from the University of Wales Trinity Saint David, UK. The topic of his studies is the effect of the COVID-19 Pandemic on the social enterprises in Hong Kong.
Social media profiles
https://www.linkedin.com/in/nicholasooi/
---
---