Fellow:Nelson Fernandes
Jump to navigation
Jump to search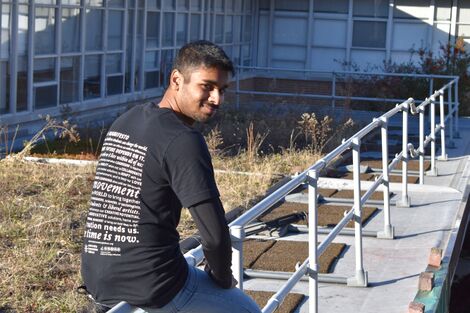 Inducted into UIF: Fall 2019

University: Southern Illinois University Carbondale

Degree: Mechanical Engineering Undergraduate; Specialization: Energy Engineering; Minors: Sustainability, Continuous Improvement, and Math

What can you contact me about? Developing leadership skills, professional development, topics in sustainability and renewable energy and engineering, interdisciplinary learning, design thinking methodology, running, jokes, Chicago!

Email: nelsonfernandes7jr@gmail.com

Phone: 1-847-440-6014

Website: https://sites.google.com/view/nelsonafernandes00/home

Green Roof Website: http://greenroof.siu.edu/
Nelson Fernandes is a Mechanical Engineering undergraduate at Southern Illinois University Carbondale. Born and raised in Chicago, ventured down to Southern Illinois (6 hours) for university. Made a wide variety of friends along with joining different organizations. In addition to the Innovation Fellows, an executive member of Undergraduate Student Government, Engineering Student Council, Leadership Development Program, Robotics. Currently expanding his knowledge in renewable energy through the European Energy Centre and will become an Energy Management Technician which provides the credentials to lead and manage clean energy projects!
One important organization Nelson was a member of, is the Leadership Development Program where students undergo an intense two year program of 5:30AM workouts and 6:00AM morning meetings. As a first year, we focus on leading ourselves through developing our servant leadership skills and leading a project once a semester. As a second year, I stepped into a Coaching position where I guided four first year members through the year by reinforcing the primary leadership practices and project management skills. The growth I have made during my time in the program allowed myself to grow into the person I am today. One defining moment was leading our yearly Applied Project. This Applied Project was a three day event at a local electronics company where I led 15 undergraduate members and three Black Belt Six Sigma Masters in a major lean manufacturing project where we redesigned a process for receiving incoming packages which is a major bottleneck as well as a route for their tugger train as well as how to better organize their inventory for optimal and efficient process. A leader who focuses on building relationships with the team and planning ahead to make sure the job gets done. And the skills I have learned, enabled me to develop my U.I.F. project into something larger than originally thought.
As a University Innovation Fellow, Nelson worked with the College of Agriculture specifically by revitalizing and modernizing the existing Green Roof to become an innovative space for multidisciplinary research to be housed. The roof was installed in 2010 for agricultural research; however, became increasingly underutilized between the retirement of the professor who held ownership and lack of ownership among those involved. The plan became to revitalize and modernize the space through a project where a team of students will be recruited for have a major clean up along with installing an autonomous irrigation system, to solve the watering needs, data acquisition device, the previous system's contract expired several years ago and was not renewed, and a wind turbine. The next step is incorporating engineering and agricultural students' research on the roof and increase the research utilization from 1%. Yes, among the 0.1 acre of available space, approximately one percent is occupied for research, while boosting recognition of the space among students and faculty for opportunities. The space was funded by the Student Green Fee; therefore, belongs to the students rather than the Agriculture Building it resides on.
Aside from the Green Roof project, Nelson has hosted several Design Thinking Workshops specifically for the Green Roof in person and online with other SIU Fellows. With the COVID-19 pandemic, Nelson and his fellow Fellows decided to host more workshops to collaborate with our peers and friends around the world they have met at the FH Salzburg's Alps Meetup. In the Spring 2020, Nelson and several other Fellows from SIU traveled to Salzburg, Austria, and participated in their Alps Meetup. Enjoyed every minute of the sleep deprived trip and soaked every experience possible. The most noteworthy experience is working in an Urban Mobility workshop to redesign ways of better utilizing the parking spaces of the FH University. (https://www.youtube.com/watch?v=qqLravPcswM&feature=youtu.be)
Was a UIguide during the Fall 2020 semester for Fordham University and Iona College in New York. During the 2021-2022 academic year, Nelson led a Temporary Wind Turbine, Campus Solar Feasibility, and Internet of Things Irrigation System in conjunction with the SIU Green Roof! Learn more here: http://greenroof.siu.edu/
Related Links
SIU University Innovation Fellows
Fall 2019
---
---