Fellow:Neeraj Deshpande
Jump to navigation
Jump to search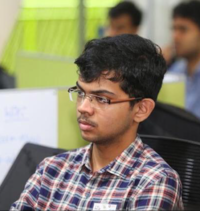 Neeraj Deshpande is a young mind filled with energy and positivity, pursuing Undergrad Degree in Computer Science and Engineering at KLS Gogte Institute of Technology India. He's been the part of University Innovation Fellows (UIF) team identified for Fall 2018, along with his other peers.
Neeraj could build a fairly balanced profile with the ingredients such as good and consistent academic performance, participation in Socio-Intellect Activities such as Debates, Hackathons, Tech Paper writing and presentation and articles etc, coupled with contributing his bit to the society through platforms such as Rotaract. Neeraj is passionate about the current affairs, quizzing and cricket.  Neeraj was a slightly introvert to begin with, but the platforms such as UIF and other student clubs in the institute and "Right" kind of friend circle has made him to be more active and visible through positive thoughts and actions.
Neeraj plans to see something useful and visible changes to happen in the teaching learning system of the institute using an innovative concept of Students mentoring their peer mentees and strike a win-win deal. Neeraj and his fellow team members would be building an application which would be one of the objectives of team UIF for 2018. You could see Neeraj on campus, either  debating with his friends about tech updates and current affairs or in the off campus mode he would be busy in writing critical reviews on social media and also watching cricket.
Leadership Circle Fall - 2018:
Neeraj Deshpande
Leadership circle - Fall 2017 :
Leadership circle - Fall 2016 :
---
---