This site will go under maintenance from 25-11-2020 to 30-11-2020. It might not reachable during the maintenance period.
Fellow:Nathan Smialek
Jump to navigation
Jump to search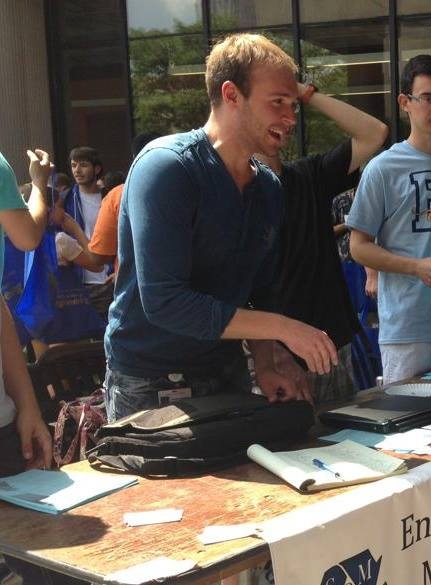 Bio
Nate is a junior Bioengineer at the University of Pittsburgh, his work involves primarily entrepreneurial engineering management and design. He currently runs an organization known as Engineers for Sustainable Medical Development (ESMD). The group works hand-in-hand with clinicians at UPMC (Universty of Pittsburgh Medical Center), and international conglomerate, to develop medical technology. He is leading a design team that has a provisional patent filed in conjunction with the University of Pittsburgh on a medical device created for clinical application. EMSD also works to bring practical engineering to the classroom by leading weekly workshops using arduinos, simple motors, and SolidWorks. He is focused on expansion of the group, they have forged a relationship with the Office of Technology and Development at the University of Pittsburgh to help patent the medical devices that come out of the club. As president, he is currently managing five design projects which are funded by multiple sources including the Department of Bioengineering, ESMD, and the Coutler program. His mission is to spread this initiative across the campus and throughout the nation by collaborating with similar organizations and raising interest in entrepreneurial endeavors.
M-OCT
Nate led the team comprised of Ian McIntyre, Stephanie Lee, and Harrison Harker that created the M-OCT (Mount for Optical Coherence Tomography). The team collaborated with Kira Lathrop to create a specialized mount to image various stem cell niches of the eye during optical surgery. On Monday, September 24, 2013 the mount was used during four surgeries to diagnose degenerative disorders and help in the effort to restore sight to blind pediatric patients. The team looks to further develop the M-OCT as a tool used to help restore vision, diagnose degenerative disorders, and image areas of interest.
Related Links
University_of_Pittsburgh_Student_Priorities
University Innovation Fellows
Spring 2016:
Spring 2015:
Fall 2014:
Fall 2013:
Fall 2012: