Fellow:Ian McIntyre
Jump to navigation
Jump to search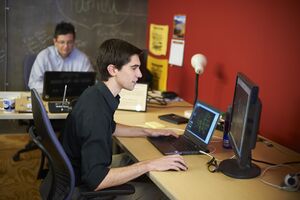 Ian McIntyre (UIF cohort Spring 2015) is a 21-year-old studying bioengineering and electrical engineering at the University of Pittsburgh. He is passionate about spurring undergraduate innovation, creating cross-disciplinary teams, and providing opportunities for real-world, hands-on learning. Ian's efforts are towards empowering students in entrepreneurial thinking.
From the start, Ian was enthralled with his engineering studies, particularly with all-things coding and electronics. As a sophomore, he joined Engineers for Sustainable Medical Development (ESMD, now DesignHub), an undergraduate organization with a mission to collaborate with clinicians and to create creating novel, sustainable medical devices. Ian started a design project with his undergraduate friends Nate, Stephanie, and Harrison. The project went from idea to functional prototype in nine months and has been critical in helping UPMC surgeons restore vision to children. Ian has since served as ESMD's Vice President and Entrepreneurial Consultant. He has expanded the club from no more than 15 undergraduate bioengineers to a diverse team of over 100 engineering and business students. He develops technical and entrepreneurial classes for ESMD workshops and supervises students who are commercializing their design projects.
Ian was an intern at the Human Engineering Research Laboratories and designed a device to measure sidewalk accessibility for pedestrians who use wheelchairs. He operated in two capacities: to advance the technology, and to assist with customer development  for a future business. The effort led to a University of Pittsburgh spin-out based around the project. Ian is a co-founder of PathVu, Inc. and manages his company with contracts spanning across the country. He is privileged to have work closely with the University of Pittsburgh Innovation Institute and OTM and is a proud member of the Alphalab Gear Accelerator program in Pittsburgh, PA.
Ian served as a student director for the University of Pittsburgh's first 1000 Pitches competition, the world's largest elevator pitch competition hosted by MPowered Entrepreneurship. He is a four-time finalist in the Michael G Wells Student Healthcare Competition and a winner of the Randall Family Big Idea Competition. He collaborates with faculty and students to change the way we teach engineering. He and his team are striving for an innovation curriculum that provides not only experiential learning but also a fun introduction to engineering. He volunteers with the Music Engineering Lab and helps other students produce their music. Ian enjoys hacking his phone; engineering business models; biking and sprinting; and playing the piano.
Related Links
University_of_Pittsburgh_Student_Priorities
University Innovation Fellows
Spring 2016:
Spring 2015:
Fall 2014:
Fall 2013:
Fall 2012:
---
---