Fellow:Nate Gillespie
Jump to navigation
Jump to search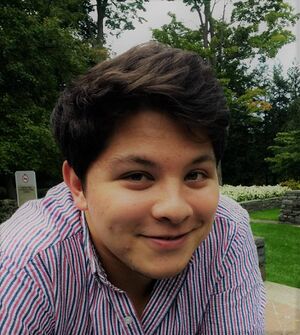 Nate Gillespie is a University Innovation Fellow and a 3rd-year Music and Psychology Double Major at Union College. He has a passion for research at the intersections of music and cognition, and hopes to pursue graduate work in music composition, psychoacoustics, and cognitive ethnomusicology. He believes that the problems of today's world cannot be solved through the methods of any one discipline: cross-pollination between fields is the only way to reach lasting solutions to ideological, economic, and academic conflicts - to this end, Nate has embraced leadership roles across the board in the arts, student government (the Union College Minerva Program), and in academic research labs. He has won numerous student research grants through Union's Undergraduate Research Fellowship and Learn Something, Teach Something Funds, has presented his research projects at conferences throughout New York State, and currently works at the Union College Schaffer Library as a Peer Research Consultant. Nate is also a 2018 Game Audio Network Guild Scholar.
Nate is passionate about streamlining and deepening the undergraduate research experience at Union College: he hopes to standardize the Sophomore/Scholars Research Seminar Courses and help Union students become better informed on how they can more effectively allocate funds, network, and innovate in the pursuit of their research goals.
Raised in a Filipino and Irish family in the heart of Chicago, Illinois, Nate is a proud Chicago Cubs Fan, and is the servant/friend/owner(?) of a 13-year old German Shepherd - Hairy Potter. On his free time, Nate enjoys running, baking, and urban farming.
---
---