Fellow:Nagamedha Sakhamuri
Jump to navigation
Jump to search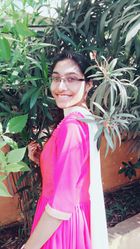 NAGAMEDHA SAKHAMURI is an undergraduate doing her Computer Science Engineering at Rayapati Venkata Ranga Rao & Jagarlamudi Chandramouli College of Engineering(R.V.R&J.C College of Engineering),Chowdavaram,Guntur.She completed her schooling from NRI's Indian Springs,Guntur.She is a University Innovation Fellow in training.
                    Medha is a nature lover and she loves to Dance.She love taking snaps and capturing moments.She is a calm,cool and sensitive person.She is passionate about teaching.She feels it is the best Profession.Her aim is to become a good software engineer and to help the people in as many ways  as possible.Her goal is to change the way education works.She  has a thought of changing the present  stressful education system which today's generation are not liking much  and she also wanted to see her country(INDIA) as a developed country.According to her you can change something you wish through education only.So,everyone has to be educated and she is interested in providing education to poor people.According to her students should be encouraged in the areas they are interested in,so that we can bring the best in them out which in turn helps to better something.
                    Medha is very must interested in Psychology.She is a person who learns from her experiences.She love meeting people(which is always fun)and learning something new from them.She is in learning process to better herself and her Ecosystem.She always stands first in helping her peers.
Leadership circle Fall 2017 -
College wiki page-
http://universityinnovation.org/wiki/R.V.R_%26_J.C_College_of_Engineering
Student Priority page-
http://universityinnovation.org/wiki/R.V.R_%26_J.C_College_of_Engineering_Student_Priorities
---
---