Fellow:Mirage Joshi
Jump to navigation
Jump to search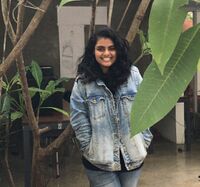 Mirage Joshi is a candidate of the University Innovation Fellowship Program from KLS Gogte Institute of Technology, India and is pursuing her Bachelor's degree in Architecture. Mirage is one of the college representatives from the National Association of Students of Architecture. She has been collaborating with her peers for minor projects on and off campus. She aims to become a change maker in the campus and work for the betterment of the institution. Mirage has successfully completed her 16 weeks of professional practice which gave her the exposure in the vast world of architecture.
Architecture has always inspired her in all the aspects. The design process for a structure requires a lot of research and brainstorming over it, just like the challenges in our campus do. Mirage has always been fond of solving challenges and having deep discussions over the topic resulting in numerous creative and innovative solutions over it. The other way round, creative thinking and having fruitful discussions have complemented her studies in the field of architecture. 
Mirage believes that one of the major quality which will be a necessity in the coming corporate world is "Creative Thinking". She says "think out of the box" is what everybody says, but only a few do so. Her aim as a change maker in the campus is to inculcate creative thinking in minds of young entrepreneurs. 
Mirage seeks deep interest in music, doodling, poetry and talking to people. In her free time you'd find her with headphones and doodling on papers.
Leadership Circle Fall - 2018:
Mirage Joshi
Leadership circle - Fall 2017 :
Leadership circle - Fall 2016 :
---
---