Fellow:Meira Alhassani
Jump to navigation
Jump to search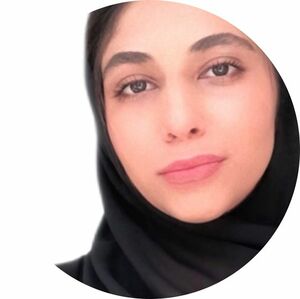 Name

Meira Alhassani

School (Cohort)

Khalifa University of Science and Technology (2022 cohort)

Majoring in

Aerospace engineering

Country

United Arab Emirates

Email
Bio
Meira Alhassani is a University Innovation Fellow known as an ambitious sophomore Aerospace engineering student at Khalifa University. As a learner and throughout her academic journey, Meira made mistakes, but she learned from them, and these mistakes changed her to be the person she is today. She's thankful for every moment and challenge she went through because it made her think deeply about herself and her value. Meira learned to value herself in different environments, be who she is, and never change her beliefs and boundaries for anyone.
The past few years changed Meira and her perspective on education in general. Corona's situation opened her eyes to things she should be thankful for, things that she used to have in her daily routine before the pandemic like going to school/university, family gatherings, feeling safe to go out/travel, etc. She learned that situations make you acknowledge the great things that you already have in your life. Meira is thankful for everything, and because of the challenges she went through, she learned that if you have a passion for something, it means you have the power to achieve all your dream, no matter how challenging the circumferences. During the past years, Meira has achieved her academic goals during the pandemic, which is considered a significant achievement. She's still walking through her path of dreams and ambitions.
In pursuing new opportunities and as a student, she believes in herself and her abilities because Meira believed stormy days give you strength and wisdom. Meira saw the UIF program as an opportunity to fly to a world full of hope, creativity, innovation, and ambition.
Achievements
Meira is a community immunization ambassador from MBRU. Moreover, She won a writing competition in 2017-2018, and her story were published by the Abu Dhabi department of culture and tourism. She participated in technology-related camps such as TDRA CAMP and UAEAI CAMP.
As an ambitious student, Meira's second publication was published by a series of "Arab Youth Blogs" launched by the Arab Youth Center in cooperation with the Abu Dhabi Center for the Arabic Language at the Department of Culture and Tourism. This series allows Arab youth to participate in various topics and issues that concern them and affect their future. Meira had the opportunity to take a role as an undergraduate research assistant in a longitudinal writing study to generate knowledge about student writing skills. She Assisted in collecting and analyzing data for a longitudinal study.
Social media profiles
- LinkedIn: www.linkedin.com/in/meira-alhassani-334242241
- Instagram: meira_ahmed1
- Twitter: Meira_Ahmed1
---
---