Fellow:Megan Miller
Jump to navigation
Jump to search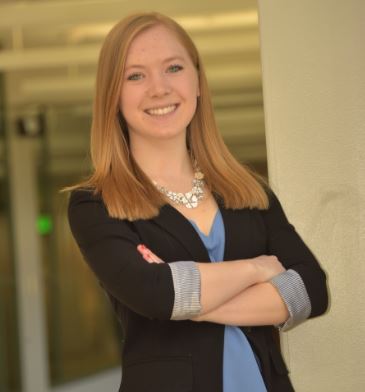 Megan Miller is a current University Innovation Fellow from Western Michigan University in Kalamazoo, Michigan. She is a sophomore with a double major in Marketing and Management in the Haworth College of Business with a Minor in General Business. Megan is from Lake Orion, Michigan, in the Metro Detroit area. Megan is an active member in the Lee Honors College, three student organizations on campus, as well as working two jobs in the Haworth College of Business.
The three student organizations Megan is a part of are: The Student Leadership Advisory Board (SLAB), AdClub, and the Innovation Club.  She holds the Marketing Coordinator position for SLAB. This organization was created to be the connector between the Student Body of the Haworth College of Business and the Dean. Through this organization, Megan has been a part of restructuring this organization to focus more on innovating the student experience for Business Broncos and hosting events to get first-year students acclimated to the resources and organizations available in the Haworth College of Business. She is also in charge of creating posters, fliers, and three social media accounts for the organization. As the SLAB Representative for AdClub, Megan focuses on bringing AdClub's voice to SLAB meetings and relaying SLAB's activities to AdClub. Megan is also a member of the Innovation Club on WMU's campus, which is a student organization designed to involve students from all majors to develop new ideas on and off campus as well as providing a makerspace for student use.
In the Haworth College of Business, Megan is also a Front Desk Assistant in the Zhang Career Center. In the Career Center, Megan helps with various administrative tasks, and assists Career Specialists and the Employer Relations team with Career Development events. She is also an Ambassador for the Haworth College of Business's Dean. She is the face of the student body interacting with potential donors, employers, faculty,  and prospective students. 
Megan loves to spend her free time traveling, and spending time with family and friends.She also loves to golf, watch any type of sporting event, and be outdoors. Megan also loves to volunteer for the community or just simply spend time relaxing.  
Related Links
Graduated Fellows: Persefoni_Lauhon, Mackenzie Preston, Zach_Crawford
Current Fellows:  Jill Puckett, Nathan LaWarre, Daniel Mozel, Saleh Mohamed, Andreas Hobelsberger, Megan Miller
University: Western_Michigan_University
---
---