Fellow:Marius Vasile Codrea
Jump to navigation
Jump to search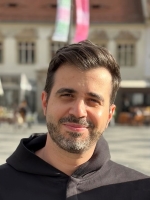 Name

Marius Vasile Codrea

School (Cohort)

Lucian Blaga University of Sibiu, Romania (2023 cohort)

Majoring in

Industrial Logistics

Country

Romania

Email
Bio

My name is Marius Codrea and I use my deep cognitive flexibility and digital skills to deliver out-of-the-box solutions for making the lives of others easier.
Marius Codrea is a member of the SAP EWM implementation team at a manufacturing company in Sibiu. He is born and raised in the heart of Romania, in the city of Alba Iulia, and has moved since 2017 to Sibiu where he currently lives with his wife Naomi and their soon-to-be born son E.L.
He has been working as a consultant for EU funded projects, project manager, volunteer, unskilled laborer, Production Manager Assistant and SAP EWM consultant. Marius Codrea does not shirk jobs for which he might be overqualified and applies the same diligent and qualitative work ethic to any task he is assigned. His skills and knowledge have been noticed in the company he has been working at for the last years, being promoted from unskilled laborer to Production Manager Assistant and to SAP EWM consultant. He is constantly searching for new methods of improving processes through automation for the benefit of the team and of all the employees.
Marius Codrea is a constant learner and is always trying to develop new skills and to expand his knowledge. He has a bachelor's degree in accounting and management information systems and is currently pursuing a master's degree in industrial logistics at "Lucian Blaga" University of Sibiu. He has recently received an A2 German language Certificate, he is an expert in Micro Expressions and Subtle Expressions, a public procurement expert, an anti-discrimination mediation expert, a socio-educational animator, a vocational counselor, and a biblical studies graduate, among others.
He has a passion for working with young people and for discussing life's toughest questions. He has organized over 11 summer camps for teens full of competitions and fun activities but also deep discussions and debates. Marius Codrea holds himself to a high standard of educational and work ethic and in his personal life. He is an active member in the Christian community he is a part of with a deep love for the One who radically transformed his life, for his wife and son, and full of empathy towards others.
Achievements

Marius Codrea has successfully implemented SAP EWM at the manufacturing facility in Sibiu, together with a transnational team of colleagues from Vienna and Karlsruhe.
He is one of the top three employees of the year that summitted improvement proposals, out of which 9 were approved, 6 of them being major improvements of business processes through digitalization and automation.
Social media profiles

https://www.facebook.com/marius.codrea.7/

---
---