Fellow:Mandira Marambe
Jump to navigation
Jump to search
Mandira Marambe is a University innovation Fellow pursuing a BSc. in Engineering and Minor in
Physics at Smith College,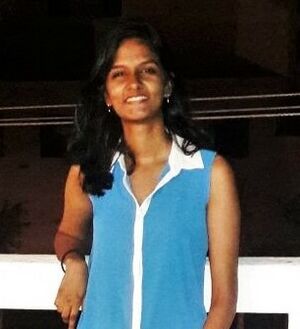 Massachusetts. She is part of a circle of five UIFs at Smith, and has also worked with design thinking methodologies in the classroom.In her spare time, Mandira volunteers with the Science Outreach Program, is on the editorial board for an online journal, and is involved with several student organizations on campus. She spent the past summer interning in the Autonomation Research & Innovation department of MAS holdings in Sri Lanka, where she worked on projects focusing on automation for the sewing industry.
Having grown up in Sri Lanka, she loves sunshine and spicy food. She is also an avid reader, puzzle enthusiast, and enjoys most kinds of creative stimulation (writing, DIYs, etc). Mandira is a strong believer in spending her time doing what she loves, and hopes to follow her passions to wherever they lead her.
Related Links:
Smith_College Student Priorities
University Innovation Fellows Fall 2016
---
---