Fellow:Malaika Wanjihia
Jump to navigation
Jump to search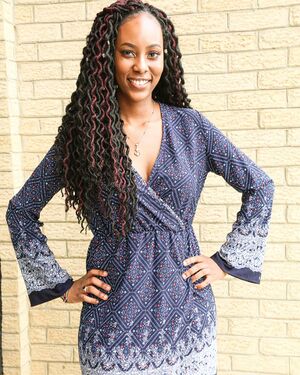 Malaika Wanjihia, is a University Innovation Fellow and she is an Electrical Engineering major with a concentration in Cyber Security at Morgan State University. Malaika Wanjihia was born in Baltimore, Maryland and her family is from Kenya where she visits often. She identifies herself as a Kenyan woman and loves her culture very much.
Malaika, has a passion for community service and loves giving back to her community and helping others. She tutors and mentors middle-high school students from inner city Baltimore in Math and Reading and encourages them to dream big and challenge themselves to reach their goals. She also has participated in many mission trips which were both inside and outside of the country. Her two most recent mission trips were to Haiti and Jamaica where she taught Math and English to students from elementary to high school. She learned a lot about herself and what it means to be a good leader and truly listen to the needs of others. Malaika loves to travel the world and has gained a global perspective from all of her travel experiences.
Malaika loves to try new things, she has built a 3D printer with friends for fun, and also completed research that focused on bluetooth sniffing devices. She recently just finished an internship at Lockheed Martin Rotary and Mission Systems Base in Orlando, Florida. She was working as a systems engineer for the Joint Strike Fighter F-35 Fighter Jet Autonomic Logistics Information System Enterprise testing team. She got to complete action requests where she helped the customers with Fighter Jets figure out solutions to the problems they had with them.  She also cleaned up regression scenarios for her program and made diagrams that focused on interface controlled documents that showed the triggers and messages that went between Lockheed Martin and external parties. Her favorite part of the internship was automating test cases within an initial readiness check for the Enterprise Testing team. She got to learn a different type of code and also built more of a software logic into her brain, she thought it was cool to automate things that people initially had to do manually.
Entrepreneurship is very important to Malaika. She has a small business of her own where she sells hats and clothes that she makes. She has had the opportunity to have the clothes she's made featured in fashion shows and also showcased at events. She has been able to use her creativity to make cool hats and clothing and hopes to expand her business and leadership skills in the future and own a company of her own that develops medical devices. Malaika also loves to play soccer, she loves to dance and try new foods. She also has skydived from a plane at 14,000ft which gave her a more fearless attitude and a willingness to be comfortable with being uncomfortable.
---
---