Fellow:Maite Serantes
Jump to navigation
Jump to search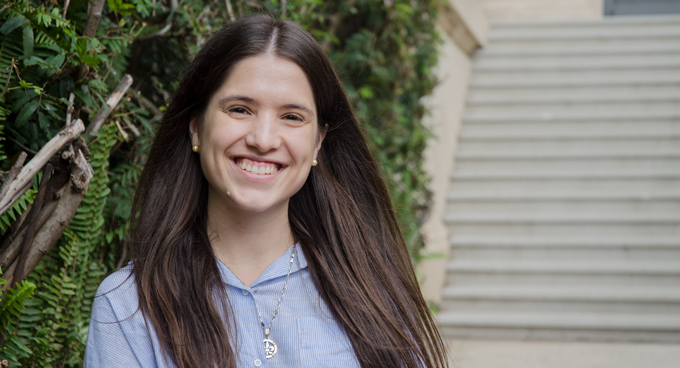 Maite is a University Innovation Fellow and student of Catholic University of Uruguay. 
She is currently in her third year of studies towards a major in Food Engineering. 
Ever since she was a little kid she enjoyed being around others, learning new things and traveling. For these reasons, she has always jumped to every opportunity that lets her broaden her horizons and discover the unknown.
Maite is a person who loves challenges and she usually grasps every opportunity she can to prove herself. For instance, she set herself to learn Chinese and she has been studying it for the past five years.
As time went by, her passion for challenges grew stronger and has defined in a great deal her personality. She tends to be a very cheerful and open-minded person but, at the same time, she is meticulous, responsible and hardworking. She is prone to seeing the world from a very different perspective than most people which makes her way-of-thinking quite unique.
The choice of her major was not an easy one. In fact, it took her a lot of pondering and consideration. Shortly before the deadline, she finally made up her mind to specialize in Food Engineering since she felt interested in serving society by assuring good quality food. 
 Maite looks to the future with eagerness and enthusiasm. She hopes to continue with her studies as well as taking up every opportunity to travel and learn as much as she can.
Related links
Universidad Catolica del Uruguay campus overview
Universidad Catolica del Uruguay strategic priorities
Maite Serantes
---
---